Description
Beats 2 Go Presents: OshDub V2
Featuring the "Where's Wally?" Tour!
Walter Wilde
Support from - TYRO
WOLFBITER - ULK
ASTRALYZE - SMALLWORLD
Sponsored by: Barley & Hops, State Farm - Erik Hosking, Z107.3, Electrified Entertainment & The Electric Lounge
April 4th, 2020.
Doors 7:00PM
Sunnyview Expo Center
500 E County Rd Y
Oshkosh, WI 54901
Ages 18+
Tickets
https://oshdubv2.eventbrite.com/?aff=B2G
Walter Wilde
WALTER WILDE (vancouver)
Subcarbon // Circus Records // I.AM.Audio // NSD: Black Label
http://bit.ly/walltify
http://bit.ly/wallybook
http://bit.ly/wallycloud
http://bit.ly/wallygram
http://bit.ly/Wallytweet
Group page http://bit.ly/wildeones


TYRO
Subcarbon // Circus Records // Firepower
Soundcloud: bit.ly/Tyrocloud
Facebook: bit.ly/Tyrobook
Spotify: bit.ly/Tyrofy
Twitter: bit.ly/Tyrotwitter
Insta: bit.ly/Tyroinsta


WOLFBITER
http://wolfbiter.net/

ASTRALYZE
https://soundcloud.com/astralyze

SMALLWORLD
https://soundcloud.com/dj_smallworld
**The Worst Party Ever Stage**
Presented by Bass Music Mafia, Night Hawk Ent.
Production by: MidKoast Entertainment
In alphabetical order...
Crysus, Grandeur b2b Krug the Wizard, Jegz, MoonB3ams, Mumbee, Sleepy Turtle, Wxstedfxntxsy.


Business sponsorship packages are still available. Please contact us directly for more information on those.

For the "Supporter Ticket Package" Here is a preview of the shirt you will receive with your order. *Design is subject to change*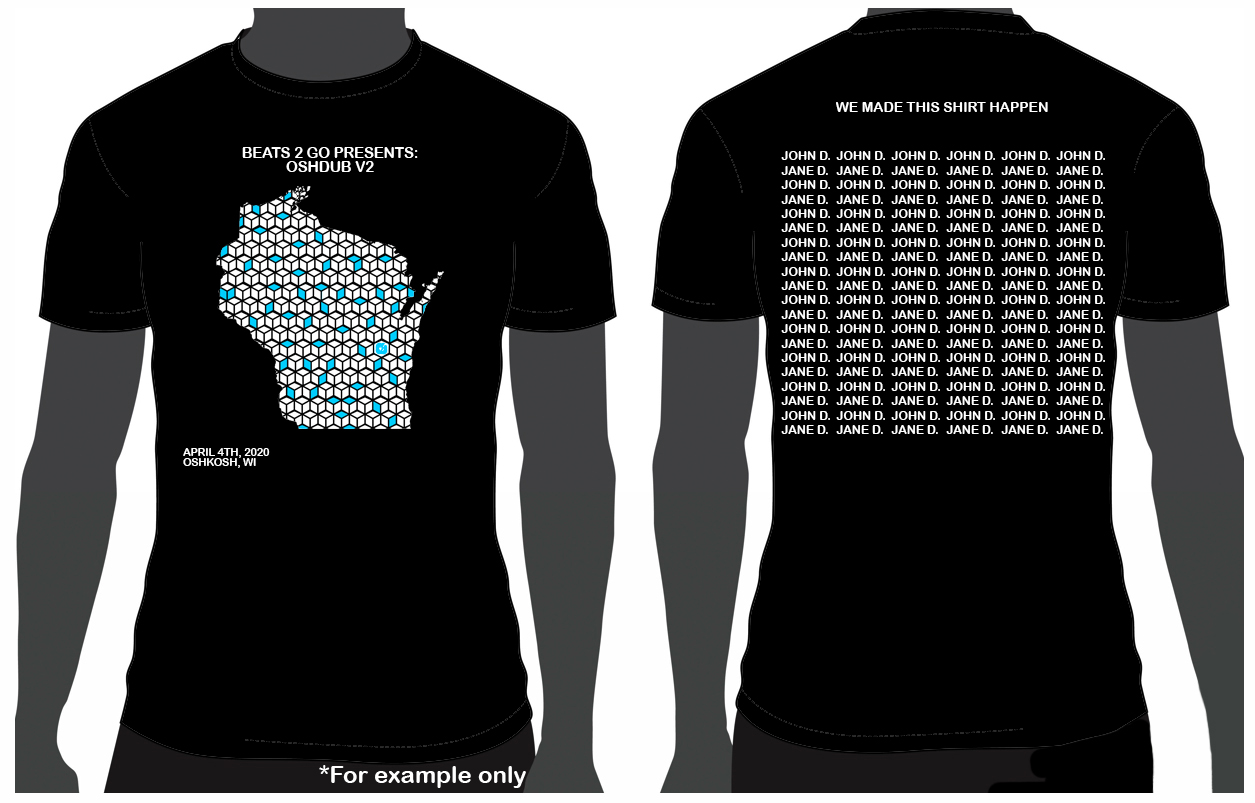 For this show we are also doing something different, we are adding a second fundraiser. During the summer of 2019 the Boys & Girls Club of Oshkosh lost its Center Director, Lori Fields, to cancer. Lori worked for the Boys & Girls Club for over 25 years. The impact she had on thousands of children and their family's lives is immeasurable. In memory of Lori, the Boys & Girls Club have set up a memorial fund. This fund is to be used for families in need of basic needs. This could be clothes, food, transportation, etc... All donations will go directly to this fund. I, Jordan Wilcox/Beats 2 Go, will match up to $1000. If we reach the $1000 mark of donations (or more which would be incredible) I will donate an extra $500.


Please direct all questions to Beats 2 Go LLC or Jordan Wilcox

All sales are final. Tickets may be subject to per ticket fees, order processing fees, and additional taxes.