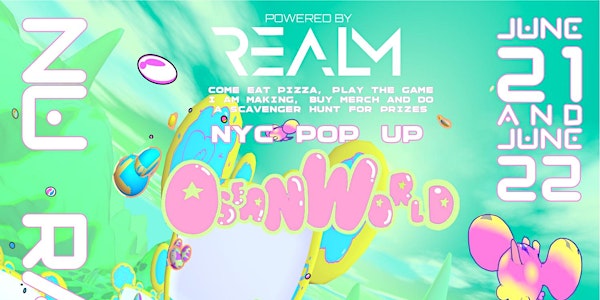 Oseanworld x Realm: NU RADIO Room Pop-Up
Sales Have Ended
Registrations are closed
About this event
ⓃⓎⒸ ⓅⓄⓅ ⓊⓅ Oseanworld ™ 𝕩 Realm
June 21st & 22nd ⛓☘️💿
2pm - 8pm
251 Elizabeth St. New York, Ny 10012
ᴵⁿᶠᵒ -
+ eat pizza
+ scavenger hunt
+ buy and win merch
+ play the unreleased 𝐍𝐔 𝐑𝐀𝐃𝐈𝐎 Game!
Oseanworld and Realm have created a pop up experience and optional interactive scavenger hunt across Manhattan.
You can participate in the 𝐍𝐔 𝐑𝐀𝐃𝐈𝐎  scavenger hunt by downloading the Realm app and following the map to locations where you can win Happy Coins which can be redeemed at the pop-up. The more locations you find, the more Happy Coins you can win.
Or you can visit the pop-up to hang out, play the 𝐍𝐔 𝐑𝐀𝐃𝐈𝐎 Game, buy merch and eat pizza (both days @ 4 - 6pm).
Happy Coins can be redeemed at The 𝐍𝐔 𝐑𝐀𝐃𝐈𝐎 Room for Oseanworld merch (while supplies last) and digital items which will be usable in the 𝐍𝐔 𝐑𝐀𝐃𝐈𝐎 Game upon its launch later this year.
The app will be available for download from the link below on the morning of June 21st.
Download the Realm app here!
About the organizers:
Oseanworld
Osean is a 25-year-old digital artist from Decatur, Georgia, working at the intersection of anime, themes of self actualization and Gen Z pop culture. Inspired early on by imagined adventures, monsters, fairytales, as well as anime-themed virtual games, including IMVU and Gaia Online, today he is shaped by the pervasive influence of technology on his generation. He was raised forming a sense of self both online and in person, while navigating an economy that values social networking and virality above all else.
Realm
Realm is a mobile-first, play-to-own, impact-driven metaverse featuring AR, VR and mixed reality experiences. Users can create stories, add gamification layers such as event ticketing, live audio, 3D sound, vibration, flying, racing and so much more. REALM´s mission is to empower everyone to thrive from metaverse experiences that create real-world impact. ⅓ of all profits go to environmental projects, their impact partners include Plasticbank, Eden Reforestation Projects and Brokoli. The more users interact with the platform, the more they create a positive impact in the real world. Realm is a play2own, trade2own, build2own value system with all creations belonging to the creators including all IP & data. It accepts both Crypto and Fiat alike with $REALM as the utility token. $REALM can be traded on a number of exchanges including Uniswap, Pancake Swap and Gate.io. ⅓ of the revenues generated by the platform are returned to token holders, rewarding platform users and builders, and growing a community of change-makers.