Join us on January 23rd, 2021 for OSDPC's Annual Gala!
About this event
Being Together While Far Apart: Hope for Our Haiti
This year's OSDPC Gala will be Virtual, so everyone can come together and show their support for Haiti. Please be sure to mark your calendar for this event! We have a sparkling evening planned of music and fun!
Event Details:
Date: January 23rd, 2021
Time: 7:30pm - 10pm
Zoom Link: To Be Announced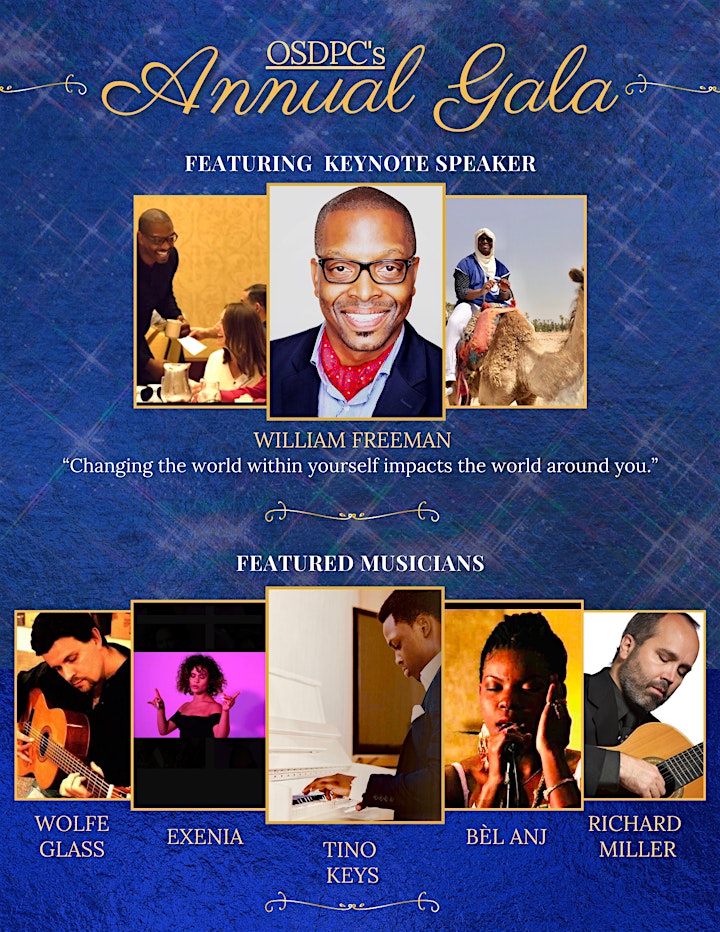 Keynote Speaker
William Freeman - "Changing the world within yourself impacts the world around you."
William Freeman captures the hearts and minds of his audience with witty but thoughtful messages that bring change to anyone who hears them. His world travels make his messages even more compelling and motivating for the listener.
Musicians
Wolfe Glass
Wolfe Glass is a multilingual singer/songwriter born and bred in New York City. He studied Brazilian music while living in Brazil for three and a half years and has also spent time in West Africa where he studied with a guitar master.
Tino Keys
Tino Keys decided to learn guitar at the age of 5 and switched to the piano a few years later. His primary musical influences are Gospel and Haitian music (Konpa) — Gospel because he was raised in the church and Konpa because of his Haitian roots.
Exenia (ek-SEN-ya)
Exenia (ek-SEN-ya) is a rising singer/songwriter with a background in partnered dance, especially West Coast Swing. She recently made the move from NYC to Los Angeles to pursue her ambitions, and she comes from a Haitian family with a long history of music and dance.
Richard Miller
Richard Miller is a 7-string guitarist who performs, lectures, and teaches the music of the African Diaspora with an emphasis on his native Brazil. Performing credits: Lincoln Center, Kennedy Center, the White House. Teaching credits: Columbia University, Georgetown University, and his own online school Balanced Guitar.
BÈL ANJ
BÈL ANJ is a versatile singer from Les Cayes, Haiti, who moved to the US at the age of 12. BÈL ANJ has performed at a number of Hollywood-based musical events, including folkloric dancing, and has worked as a model, appeared in movies, and sings with a number of Boston-based bands. She can be found on social media as @belanj_ everywhere.
We're excited to see each of you online for this event as we come together to bring Hope For Our Haiti!
Register to save your spot and to ensure that you receive all future updates leading up to the Gala.
All donation links to raise money for this event are listed below:
Purchasing a ticket at $25 or more will grant you admission to the gala. We will contact you by email with the Zoom link.
Organizer of OSDPC's Annual Gala - A Virtual Benefit
For more information about the event or to purchase tickets please call 617-407-2638 or email us at info@osdpc.org