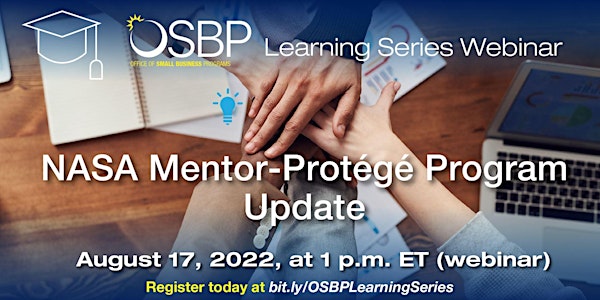 OSBP Learning Series: NASA Mentor-Protégé Program Update
Small businesses, we want to help you navigate the federal contracting process.
About this event
As NASA continues to innovate in the space exploration, scientific, and research industries, small businesses will be critical to its missions. Each program plays a unique role in cultivating the vendors needed to ensure enduring success.
Join us for an exclusive update from the NASA Mentor-Protégé Program (MPP). NASA is committed to providing small businesses with opportunities to participate in both NASA prime contracts and subcontracts. The NASA Mentor-Protégé Program encourages NASA prime contractors to assist eligible Protégés, thereby enhancing the Protégés' capabilities to perform on NASA contracts and subcontracts. In addition, the MPP fosters the establishment of long-term business relationships between these entities and NASA prime contractors and increases the overall number of these entities that receive NASA contract and subcontract awards.
Attendees can expect to learn more about the eligibility requirements, benefits of participation, and the types of agreements that NASA currently has in place. Our speakers will also unpack NASA's core responsibilities related to the MPP, analyze agreement evaluations, discuss the necessary steps to establish a NASA Mentor-Protégé Agreement, and review the current listing of approved mentors. This is an opportunity you do not want to miss. Register today in order to secure your spot. Seating is limited.
Log-in information for this online class will be sent after individuals register, and reminders will be sent the day before and the day of the webinar.