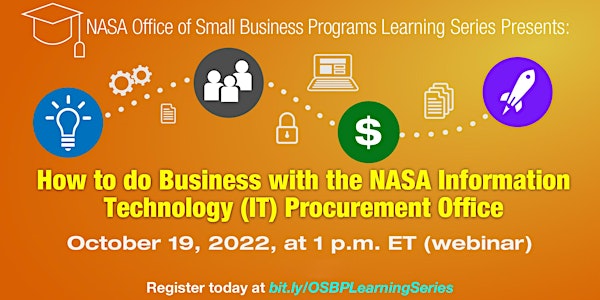 OSBP Learning Series: How to do Business w/ the NASA IT Procurement Office
Small businesses, we want to help you navigate the federal contracting process.
About this event
As NASA continues to innovate in the space exploration, scientific, and research industries, small businesses will be critical to its missions. Each entity plays a unique role in cultivating lifelong success.
The NASA Information Technology (IT) Procurement Office has Agency-wide responsibility for providing guidance and support to NASA Centers, geographically dispersed across the United States, Headquarters Mission Directorates, and Mission Support Offices as well as planning, conducting and processing IT procurement actions above the Simplified Acquisition Threshold. The vision of the Office of Procurement is to explore and execute innovative, effective, and efficient acquisition business solutions for Information Technology requirements to optimize capabilities and operations that enable NASA's missions.
In this learning series you will learn the many ways you can do business with the NASA IT Procurement Office, including participation in NASA's Governmentwide Acquisition contract, Solutions for Enterprise-wide Procurement (SEWP). Our speakers will take a deep dive into the IT Procurement Office Portfolio and how small businesses might access and participate in opportunities for each area.
Log-in information for this online class will be sent after individuals register, and reminders will be sent the day before and the day of the webinar.
If you have any additional questions, email them to the NASA Office of Small Business Programs at smallbusiness@nasa.gov.
Additional details will be provided momentarily.
**Webinar speaker and topic are subject to change**