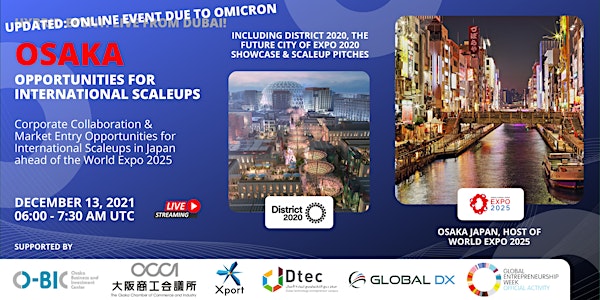 Osaka | Opportunities for International Scaleups ahead of World Expo 2025
Learn About Corporate Collaboration Opportunities for Scaleups ahead of the World Expo 2025 in Osaka Japan, the World's 3rd Largest Economy!
About this event
ONLINE EVENT DUE TO OMICRON: OPEN TO SCALEUPS FROM ANYWHERE IN THE WORLD!
Japan remains the world's 3rd largest economy, & is rapidly embracing open innovation, which is creating huge opportunities for international companies in specific niches (eg. HealthTech, FinTech, Smart Cities, Advanced Manufacturing...).
But due to a lack of awareness & support, many international scaleups still do not recognize the huge potential, or are unable to effectively engage with the market.
Our goal is to help scaleups understand the market, access opportunities, facilitate successful partnerships with Japanese corporations, & provide them with access to critical services to support their subsequent market entry.
This event is for Scaleups, SMEs, & Startup supporters from anywhere in the world, to:
- Learn about market entry & corporate collaboration opportunities for Scaleups in Osaka, Japan, its plans for the World Expo 2025, & its efforts to become a leading smart city & international financial hub
- Hear about how the current World Expo facility in Dubai, UAE will transform into District 2020, a human-centric future city & innovation ecosystem
- Hear pitches from leading MENA FinTech, Smart Cities, & HealthTech Scaleups, looking to scale into the Japanese market
All attendee Scaleups will also receive:
- Free Japan market entry consultation
- Business matching with Osaka corporations (for eligible sectors only: FinTech, Smart Cities, Digital Health/Life Sciences, CleanTech, Advanced Manufacturing)
Organizers: Osaka Business and Investment Center (O-BIC; composed of Osaka Prefecture, Osaka City, and the Osaka Chamber of Commerce and Industry)
Cooperation: Osaka Startup Ecosystem Consortium, The Foundation for International Trade & Industrial Co-operation (ITIC), Japan External Trade Organization (JETRO) Osaka, Xport, Global DX, Dtec
Date: Monday, December 13, 2021, 06:00am ~ 07:30am UTC (check your timezone)
Format: Online (Zoom - link will be sent post-registration)
Language: English and Japanese (simultaneous interpretation available)
Agenda:
Greetings:
MC: Adam Claydon-Platt, Director & COO, Global DX
Mr. Negoro, Executive Director, O-BIC
Guest of Honor Address: Consulate-General of Japan in Dubai
Dtec: The largest technology innovation hub in the MENA region: Hans Henrik Christensen, Vice President, Dubai Silicon Oasis Authority (DSOA)
Session 1:
District 2020 Present & Future: Tala Al Ansari: Director, Innovation Ecosystem & Scale2Dubai, District 2020
Session 2:
The Japan Market Opportunity
Adam Claydon-Platt, Director & COO, Global DX
Osaka Investment Environment
Yu Liang, Deputy Director, O-BIC
Osaka's Startup Ecosystem
Natsuki Takano, Urban Management Division, Hankyu Hanshin Properties Corp.
Opportunities & Support for Scaleups in Osaka | Why we chose Osaka
Adam Claydon-Platt, Director & COO, Global DX
Session 3:
Pitches by MENA Scaleups interested in the Japanese market (3 companies)
Q&A / Feedback by Japan experts
Questions about this event?
We would love to hear from you. Click the "Contact" link at the bottom of this page to contact us anytime.