The Jones Assembly presents ORVILLE PECK - The Road to Luck!
About this Event
This show is now a full capacity indoor/outdoor show and more general admission tickets have been released! Click the green Tickets button to purchase.
Please be wary of purchasing tickets from a resale or third party website. The only official ticket seller for The Jones Assembly is Eventbrite and official sales pages for all shows can be found at The Jones Assembly website music page HERE.
This show was rescheduled from March 2020, to May 14, 2021.
Doors at 6:30. Full bar and walk-up food window available.
Advance GA $25 | Mezzanine $55 (21+)
Day of Show GA $30
Booth tickets are $65/person and are sold in packages of 8 (floor booths $520 total) and 6 (mezzanine booths $390 total). Booths include complimentary valet parking and table service at a private reserved booth.
The mezzanine is accessible by stairs. For ADA accessibility, please see floor level ticketing or contact info@thejonesassembly.com with any questions.
Rain or shine event.
No re-entry. No refunds. No smoking. ALL AGES show.
Under 16 must be accompanied by parent or guardian.
Support acts are subject to change without notice.
More questions? Visit our website HERE
VIP Packages:
Platinum Spurs VIP ($125)
One (1) general admission ticket
Dedicated early entry into the venue
Meet & Greet with Orville Peck
Personal photograph with Orville Peck
Limited-edition 2020 tour poster signed by Orville Peck
Exclusive Orville Peck merchandise gift
Official Orville Peck VIP Sheriff's Badge Pin
General Store shopping opportunity before general doors
Iron Hoof Merchandise Bundle ($75)
One (1) general admission ticket
Dedicated early entry into the venue
Limited-edition 2020 tour poster
Exclusive Orville Peck merchandise gift
Official Orville Peck VIP Sheriff's Badge Pin
General Store shopping opportunity before general doors
For questions about VIP packages, please email info@future-beat.com. Package purchasers will receive an email approximately (3) days prior to the show date with VIP details.
Orville Peck
Website | Spotify | Instagram | Facebook | Twitter | YouTube
Orville Peck is country music's newest outlaw.
His handmade, fringed masks, which obscure his features except for a pair of ice blue eyes, belie his deeply personal lyrics, while his ornate Nudie suits recall the golden age of country.
Since the March 2019 release of his debut album, Pony, on Sub Pop Records, the enigmatic singer-songwriter has been featured on NPR and in Billboard, The New Yorker, Rolling Stone, The Los Angeles Times, Uncut, The Fader, The Bluegrass Situation, and Vogue.
The record, which Peck self-produced, draws from country music's rich traditions, while his unique and haunting baritone weaves through twelve original songs.
As a touring musician who has lived on three continents, the nomadic and solitary lifestyle of the cowboy is one that Peck embraces. "This town has always bored me / And baby, that's including you," he snarls on "Take You Back (The Iron Hoof Cattle Call)."
The songs of Pony, filled with heartaches, hustlers, and highways, are scenes pulled from that restless life.
Steel guitar and soaring falsetto bring an austere desert landscape and lost love to life on album opener "Dead of Night." Over gentle banjo, he details tumultuous relationships with a biker, a boxer, and a jailer on "Big Sky."
Throughout Pony, Peck puts his own spin on Country & Western tropes, singing over cracking whips and even letting out a "yeehaw" on "Turn to Hate." "Old River" is reminiscent of Marty Robbins' landmark 1959 LP Gunfighter Ballads and Trail Songs, and "Roses Are Falling" features a recitation—a once-popular part of country music that's largely fallen out of fashion over the decades—that would make Hank Williams' alter ego Luke the Drifter proud. On "Queen of the Rodeo," he tells the story of a drag queen. The album's lone nonautobiographical song, the foreboding "Kansas (Remembers Me Now)," is a tale of two doomed outlaws on the run.
"True country music is not about instrumentation, it's not about the color of your skin, and it's not about your sexual orientation," says Peck. "It's about the crossroads of drama, storytelling, and sincerity."
Peck's masks and theatric stage presence immediately grab audience attention, similar to the way Dolly Parton and Johnny Cash's larger-than-life images captured him as a young man. However, it's his voice and his songwriting, influenced by Parton, Loretta Lynn, Townes Van Zandt, and Gram Parsons, that have captivated a fan base as extensive and diverse as his musical tastes.
Citing artists from Ernest Tubb (the first country artist to use an electric guitar at the Grand Ole Opry) to Kacey Musgraves, Peck says, "Every decade or so, there comes a new batch of artists that shake up the question of 'what is country?'
"I'm in the middle of that more often than not these days. I kind of like it, because I think I'm in good company."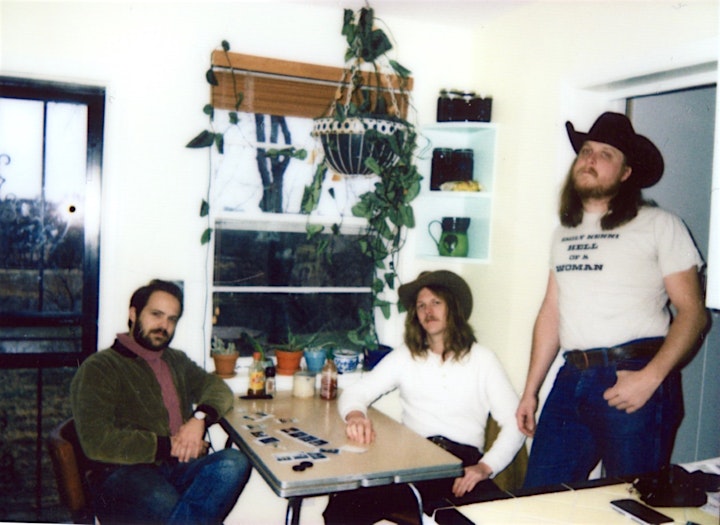 Teddy & The Rough Riders
Teddy and The Rough Riders were born in Nashville, TN. A group of childhood friends who grew up in the spotlight of "music city", they've cut their teeth in the local honky tonk/ country scene, as well as rock clubs across the US. They play their own modern style of Country Rock that sets them apart from the Americana folk scene encompassing New Nashville.
TRRs newest release "The Congress of Teddy and The Rough Riders" was recorded at their home in the alleys behind legendary Music Row, and combines heavy hitting rockers full of screaming pedal steel with their Appalachian bluegrass style close harmony. Country-Rock is just a genre, but Teddy and The Rough Riders are able to truly branch both sides of the spectrum, turning Rock fans into cowboys, and hillbillies into head bangers.
CROWD NOTICE / RELEASE
PLEASE BE AWARE THAT BY ENTERING THE JONES ASSEMBLY, YOU CONSENT TO YOUR PHOTO, VOICE AND/OR LIKENESS BEING USED, WITHOUT COMPENSATION, IN PHOTOS AND VIDEOS FOR EXPLOITATION IN ANY AND ALL MEDIA, WHETHER NOW KNOWN OR HEREAFTER DEVISED, FOR ETERNITY, AND YOU RELEASE THE JONES ASSEMBLY, ITS SUCCESSORS, ASSIGNS AND LICENSEES FROM ANY LIABILITY WHATSOEVER OF ANY NATURE.
DO NOT ENTER THIS AREA IF YOU DO NOT WISH TO BE SUBJECT TO THE FOREGOING.
Performers
Date and Time
Location