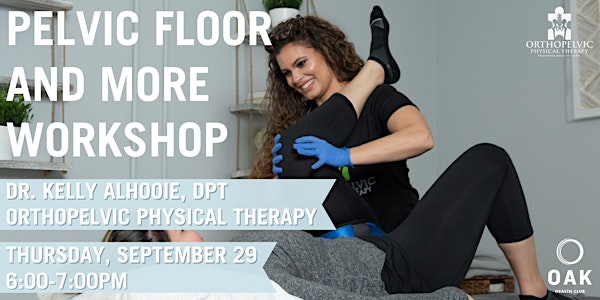 OrthoPelvic PT: Pelvic Floor and More Workshop at OAK Health Club
Join OAK Health Club for a Pelvic Floor and More Workshop with OrthoPelvic Physical Therapy!
When and where
Location
OAK Health Club 19945 Riverside Commons Plaza Ashburn, VA 20147
About this event
Your pelvic floor is the base of your core and its function affects your entire body. Properly strengthening and stabilizing the pelvic floor helps create a strong foundation for all movement.
Maybe you have carried a child, are going through peri-menopause or are post menopausal and noticing changes in your body. Perhaps you exercise regularly or are an athlete who does lots of high impact sports. This workshop is for anyone who is interested in improving their pelvic floor health.
In this workshop Dr. Kelly Alhooie will go over:
+ Intro to the pelvic floor
+ Prolapse
+ Leakage
+ Pelvic floor health
+ Q&A time
This event is open to everyone. Members, non-members, friends, family, all are welcome!