Description
Come early for our Potluck Supper at 6 :00 PM. Orpheus Jazz starts at 7:30. Bring your "ax" and stay after to jam or perform solo or spoken word at our open mic (open til 10 pm)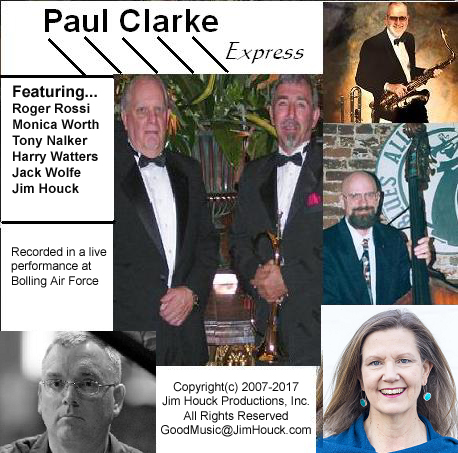 We're happy to have Orpheus Jazz back at Stillwaters (third time!) They play all the great standards (The Nearness of You, I'm in the Mood for Love to name a few). And if the night is right, you may see (or be?) dancing on the grass under the stars.
PLUS you can take home their new CD FIRST TAKE: Orpheus Jazz (with the Paul Clarke Express), featuring Monica Worth on vocals. Please read on for complete bios of the artists.

ORPHEUS JAZZ is directed by Jim Houck (upright bass); tonight's players feature: Ray Mabalot (keyboard) Roger Rossi (flugelhorn and trumpet) Bruce Baldwin (drums) and Monica Worth (vocals). https://www.reverbnation.com/orpheusjazz

"Orpheus Jazz, whether they are backing up a singer or playing on their own, is a fine tuned musical instrument. Their style of Full Speed Ahead Jazz is a very unique sound. The group gives us a fresh, new brand of jazz that is being widely accepted by its audiences. Sometimes you'll hear reminisces of the styles of Getz, Jobim, Kenton and others of that ilk. Their delightful tonality is evident in the blends, nuances and sublties of their craft.--Review Magazine
"This Music Just Sparkles" says John O'Brien of Buck Creek Jazz Band.
"I Heard your outstanding jazz band and was blown away!" says Robert Lighthouse. (And we agree!)

Come to Stillwaters: Eat. Listen. Dance. Play. See old Friends (...and meet new ones too)!
Peace through Music,
Mary and Jeff
PS Polite leashed pets are welcome at our outdoor shows. And you're welcome to come and go (for whatever part of the evening works for you).
6:00 pm Potluck Supper (plates, paper cups, plastic utensils, tables and chairs always provided) 7:30 pm Concert (donation to performers requested)
9:00 -10:00 pm open mic / dessert

Musicians featured on the CD:
DRUMS: PAUL CLARKE, A native Washingtonian, Paul began playing drums during his HIgh School years. Although he did not ofically travel as a State Department Jazz Ambassador, Paul did serve as a diplomat and musician during his assignement with the State Department (1965-1994. He played with various Jazz Ensembles in Laos, Vietnam, Burundi, Brazil and Tansania. Back in the U.S. since 1995, Paul played drums with various Big Bands including, Bob Sauer, Doc Dikeman, Difficult Run, Swing Shift, Take Note and the Martinsburg Jazz Ens.
TRUMPET and FLUGELHORN: ROGER ROSSI, Rog is recently retired from "The U.S. Army Band" where he finished a 33 year career as a Sergeant Major and trumpet soloist with "The Army Blues Jazz Ensemble". He has performed with jazz greats such as Clark Terry,Doc Severinson, Arturo Sanduval, Maureen McGoverin, The N.Y. Voices and many more. His travels have taken him around the world and across the U.S. to many colleges and jazz festivals. He has performed for seven different presidents and many world leaders at the White House and State Department. Rog can be heard on many big band recordings and is considered to be a fine section player. He has been free lancing on trumpet and drums in the D.C. area for 35 years. He is most proud of his many fine students who have gone on to be successful performers and teachers.
SAXOPHONES: JACK WOLFE, was born and raised in Washington, D.C. While teaching in the Montgomery County schools for 41 years he also performed professionally, working in the commercial and jazz fields for Washington area contractors, the Baltimore Symphony Orchestra, the National Symphony Orchestra, and various independent contractors. Through the years, he has worked for and with nationally known entertainers and musicians - far too many to list here.
PIANO: TONY NALKER performs widely in Washington, D.C., currently serving as jazz pianist with the Smithsonian Jazz Masterworks Orchestra, the National Symphony Orchestra Pops, and the U.S. Army Blues. Since 1989, Tony has been the pianist
of the premiere jazz ensemble of the U.S. Army, the Army Blues, and is currently the group's enlisted leader. Nalker plays for the highest levels of the U.S. government and military and has performed on USO tours to Iraq and Afghanistan. He has also toured on musical diplomacy missions throughout the world for the U.S. State Department.
VOCALS: MONICA WORTH has performed as a vocalist for nearly 40 years. She made her first professional appearances in high school, traveling to nightclubs throughout the Washington, D.C. area, chaperoned by her voice coach, Ron Amos. She has been
fortunate to collaborate with a fine cadre of musicians, including Keter Betts (longtime bassist for Ella Fitzgerald), drummer Jimmy Cobb (who recorded with Miles Davis' on the influential album "Kind of Blue"), pianist Larry Willis (who has accompanied
Carmen McRae, Dizzy Gillespie, Stan Getz, Clifford Jordan and a dozen more jazz giants), and Steve Novosel, (bassist for Roland Kirk, Al Grey and David "Fathead" Newman).
BASS: JIM HOUCK, originally from Baltimore, Maryland, Jim Houck has been a bass player from an early age and began performing while still in high school. Jim has performed/toured with The Guthrie Theater, Paula Kelly and the Modernaires, Russ Carlyle, Marilyn Sellers, Easy Smith, Ed Berger and the Jazz All-Stars, Gene White, the Ron Lee Quintet, Augsburg College Orchestra Jazz Band and Concert Band and many others.