Location
Annankatu 16
16 Annankatu
00100 Helsinki
Finland
Join us for the this fall's first ONLINE SuoMu Evening Cuppa on the 9th of September!
About this event
UPDATE TO THE PROGRAM: DUE TO COVID-19, WE ARE ARRANGING THIS EVENT ONLINE. REGISTER FOR EVENT AND YOU GET THE LINK IN EMAIL BEFORE IT!
IN ENGLISH (scroll down for Finnish):
We will hear Natalia Ritari who shares her experience teaching design courses at Helsinki based elementary schools.
The courses were part Ornamo's and Designmuseum's Desigakatemia project.In addition, Petra Ilonen gives an introduction about Ornamo and Mari Savio will present SuoMu's activity and future visions. After the talks we have time for open discussion and networking.
In beginning of 2020, SuoMu – the Finnish Association of Design Learning started series of events devoted to meeting like-minded others and discussing the field of design learning in a relaxed environment. Our aim is to create a platform where we can share ideas and materials, provide peer support as well as contemplate the past, now and the future of design learning.
Main language of the event is English.
Any questions or ideas? We'd love to hear from you – Get in touch at suomu@muotoilukasvatus.info

SUOMEKSI:
Tervetuloa Suomen Muotoilukasvatusseura ry:n (SuoMu) syksyn ensimmäiselle iltateelle Ornamon toimistolle 9.9!
Ornamon ja Designmuseon järjestämän Designakatemian ohjaaja, muotoilija Natalia Ritari kertoo Helsingin kouluissa toteuttamistaan muotoiluoppimisen kursseista, joilla suunniteltiin väistötiloja ja käsiteltiin koulukiusaamista.
Lisäksi Petra Ilonen kertoo Ornamosta ja Mari Savio esittelee SUoMun toimintaa. Tämän jälkeen on aikaa vapaamuotoiselle keskustelulle ja verkostoitumiselle.
SuoMu aloitti iltatee-tapahtumasarjan tammikuussa 2020. Tavoitteenamme on rakentaa kasvava ja kehittyvä muotoilukasvatukselle omistettu foorumi kaikille muotoiluajattelusta kiinnostuneille. Verkoston avulla voimme jakaa materiaaleja, ideoita sekä metodeja. Sen avulla voimme kannustaa ja tukea uusia muotoiluajattelijoita ja löytää ratkaisuja sen yleistymiseen ja soveltamiseen.
Tapahtuman pääkieli on englanti.
Ideoita, kysyttävää? Ota yhteyttä suomu@muotoilukasvatus.info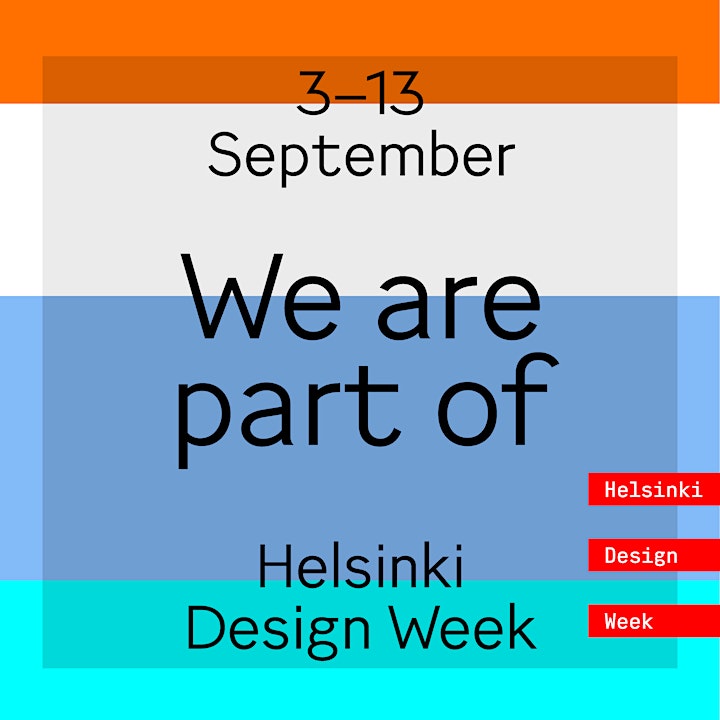 The event is a part of Helsinki Design Week's official festival programme. The largest design festival in the Nordics takes place 3–13.9.2020
Tapahtuma on osa Helsinki Design Weekin ohjelmaa. Pohjoismaiden suurin designfestivaali Helsinki Design Week järjestetään 3.-13.9.2020.
https://www.helsinkidesignweek.com/