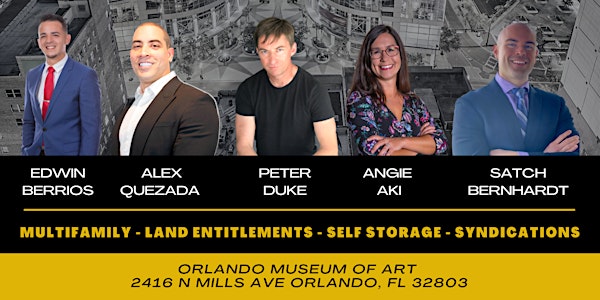 ORLANDO'S REAL ESTATE INVESTMENT AFFAIR 2022
A one of a kind, exclusive real estate investment event for qualified professionals. This will be an event that you do not want to miss.
When and where
Location
Orlando Museum of Art 2416 North Mills Avenue Orlando, FL 32803 United States
About this event
On Friday, August 5th, we are hosting our 2nd annual REI Affair in Orlando, Florida. This event will cater to both active and passive investors who are seeking an opportunity to network and collaborate with other established industry professionals. All attendees must meet at least one of our eligibility requirements in order to attend this event. These specific criteria were put in place to ensure that our guests are gaining the most value from their time spent. Per the request of many of our VIP investors, we have developed this qualifying process to enhance the networking element of this gathering. We hope that the relationships and connections built during this event will result in positive collaborations and partnerships. To RSVP, please contact us via phone or email.
EVENT TOPICS:
Multifamily, Land Entitlements, Self Storage, Syndications
Phone: 407.606.6480
Email: contact@PeoplesIndustryInvestments.com
Eligibility Requirements: Must meet at least one (1) of the criteria
- Accredited investor status
- 3 Rentals (no time constraint)
- 3 Flips (no time constraint)
- $250k (Personal/Business Funds)
*In the event you do not meet any of the following criteria, you can contact us directly for a qualification by exception.*