Orlando Tap Festival 2018

Saturday, June 23, 2018 at 9:00 AM

-

Sunday, June 24, 2018 at 4:00 PM (EDT)
Event Details
Orlando Tap Festival June 23-24, 2018 - DESTINATION TAP!
Professional Tap Dancers and Teachers will be hosting workshop classes and performing in live jam performance with world class jazz band. Students will have an opportunity to perform in a student showcase.
Student Showcase is a additional performance opportunity for students to perform live on stage in front of a audience with live music and world class dancers. This experience is open to all levels. Additional tuition is $35. 
Live Performance tickets to watch is $25 a ticket. Open to the public.  
Marshall Ellis Performing Arts Center - 1300 La Quinta Drive Orlando FL 32809
The Official Sponsors for Orlando Tap Festival!
Marshall Ellis Dance School
Hope you can join us again this year! 
Here is the faculty for 2018!
Nicholas Young
Nicholas Young is a dancer, musician and choreographer, and a 2015 Bessie Award recipient. He previously was a member of the off Broadway sensation STOMP, where he performed the lead roll, acted as rehearsal director, and spent 10 years with the show. Nicholas began his professional carrier at the age of 16 with Tapestry Dance Company of Austin, TX. Since moving to New York, Nicholas has performed with multiple tap companies and shows and is thrilled to have found a home with Michelle Dorrance's company, " Dorrance Dance ". Nicholas has collaborated with Michelle on two large company works including ETM " Double Down" and  "Works & Process " a site specific work performed in the Guggenheim Rotunda. In addition to " Dorrance Dance " He is director of the multi-faceted dance and percussive program Institute for the Rhythmic Arts, and Artistic Director of his own experimental arts company SoundMovement.
Lisa La Touche
Originally from Calgary, Alberta and based in New York City, is a highly regarded and sought after dancer, teach and choreographer.  Lisa's credits include being an original cast member of SHUFFLE ALONG on BROADWAY choreographed by Savion Glover and directed by George C. Wolfe. She appeared on the 70th annual TONY Awards and Maya & Marty on NBC and became recipient of both the Fred Astaire award for "Outstanding Ensemble in a Broadway show" and the A.C.C.A. Actor's Equity Award for "Outstanding Broadway Chorus". She also appeared as a principal dancer in Amazon's Original TV series  Z- The Beginning of Everything starring Christina Ricci, with choreography by John Carrafa. Previous highlights have also included touring with Savion Glover his  production STEPZ, and also performing in both New York's Off-Broadway and the North American touring casts of STOMP. She was also in the original ensemble of Dormeshia Sumbry-Edwards "Sophisticated Ladies" where they performed weekly at The Cotton Club in Harlem and also a member of Jason Samuel Smith's company A.C.G.I. 
Lisa continues to perform, choreograph and teach world wide and has worked endlessly North America, London, Germany, Switzerland, China, Japan, Brazil, etc and appears at endless festivals and conventions.  Most recent endeavors include a month residency teaching at the Hinton Battle Dance Academy in Tokyo nurturing the development of their dancers' tap dance education.  She was a proud faculty member of the School of Jacob's pillow under the direction of her mentor Dianne Walker, has been a guest at both The Juilliard School, New York University and the Joffrey Ballet School. She appears as guest faculty at Broadway Dance Center and is currently artist in residence at The American Tap Dance Foundation in New York City and loves sharing her passion within eager up and coming professionals of all ages. She is currently expanding her artistry and studying in-depth the craft of acting at Susan Batson Studios, and works with vocal coaches Shelton Becton and Susan Eichborn Young. She believes whole heartedly that we are all to trust and follow our inspirations and welcome a journey of unlimited opportunities.  Please visit www.lisalatouche.com
Anthony Morigerato 
Anthony Morigerato is a tap dancer, director, and Emmy nominated choreographer. He is the founder and director of OPERATION: TAP, an online forum that is dedicated to immersing tap dancing into the public's consciousness. Anthony is also the producer of am dance productions which has produced live theatrical performances and film in NYC since 2006. As a performer anthony was a soloist and member of Michael Minery's Tapaholics (2002-2012), the lead tap dancer and choreographer for the musical group Matt and Anthony (2009-2012), a soloist and associate choreographer for Stacey Tookey's still motion (2012-present), and a guest artist for various festivals, benefits, industrials, seminars, and performances since 1999. Anthony has appeared as a choreographer and or a performer on several television shows including America's got talent, the Arsenio Hall Show, So You Think You Can Dance, and the Tony Danza Show. Anthony holds the world record for "most tap sounds in one minute" having made 1,163 sounds. Anthony is an accomplished dancer in all disciplines having trained at Marymount Manhattan College where he performed the works of Robert Battle, Elizabeth Higgins, Jiri Kylian, David Parsons, Katie Langan and William Soleu. he has served as a teacher and adjudicator for dance organizations, competitions, theater schools, and dance studios throughout the nation since 1999, having student s go on to perform in all aspects of the performance industry. He is currently touring the country with Nuvo Dance Convention, The Dance Awards, The Dance Teacher Summit, and Slide.
Daniel Hunalp
Born and raised in Deltona, FL, Daniel Ryan Hunalp began taking dance classes at the age of 6 at Mariam and Valerie's School of Dance Arts in Sanford, FL. Studying all types of dance throughout his schooling he went off to many specialty schools through his training as a young dancer. On full scholarships to both Sarasota Ballet (he attended for three years) and Ann Reinkings Broadway Theatre project (attended twice) where he furthered his skills. As a performer Daniel has worked with the Tap Dogs and numerous dance companies in FL and in New York City. He has been the dance captain for shows in front of Cinderella's Castle in Walt Disney World in Orlando. Performing beside pop stars such as Miley Cyrus, Jonas Brothers, Hillary Duff and Debbie Ryan on ABC. Performing in Regional Theatre across the country in the musicals, West Side Story, Oklahoma and Guys and Dolls. Most recently Daniel was part of the original cast for Norwegian Cruise Line on The Pride of America in Hawaii to originate the role of Fred Astaire. As a teacher Daniel started teaching tap and jazz at his childhood studio to the younger boys at the age of 15. After moving to New York he was asked to be a sub tap teacher at the Broadway Dance Center. Now back in Orlando, FL Daniel teaches tap, jazz, and musical theatre at dance studios around the central Florida area. Having taught and judged on the faculty for Access Broadway with Ron DeVito and also on the faculty for MA Dance competition he always wants to pass on what was so well taught to him from his teachers and the people he looks up to. Dance is not what makes the person. Who that person is, is what makes the dance.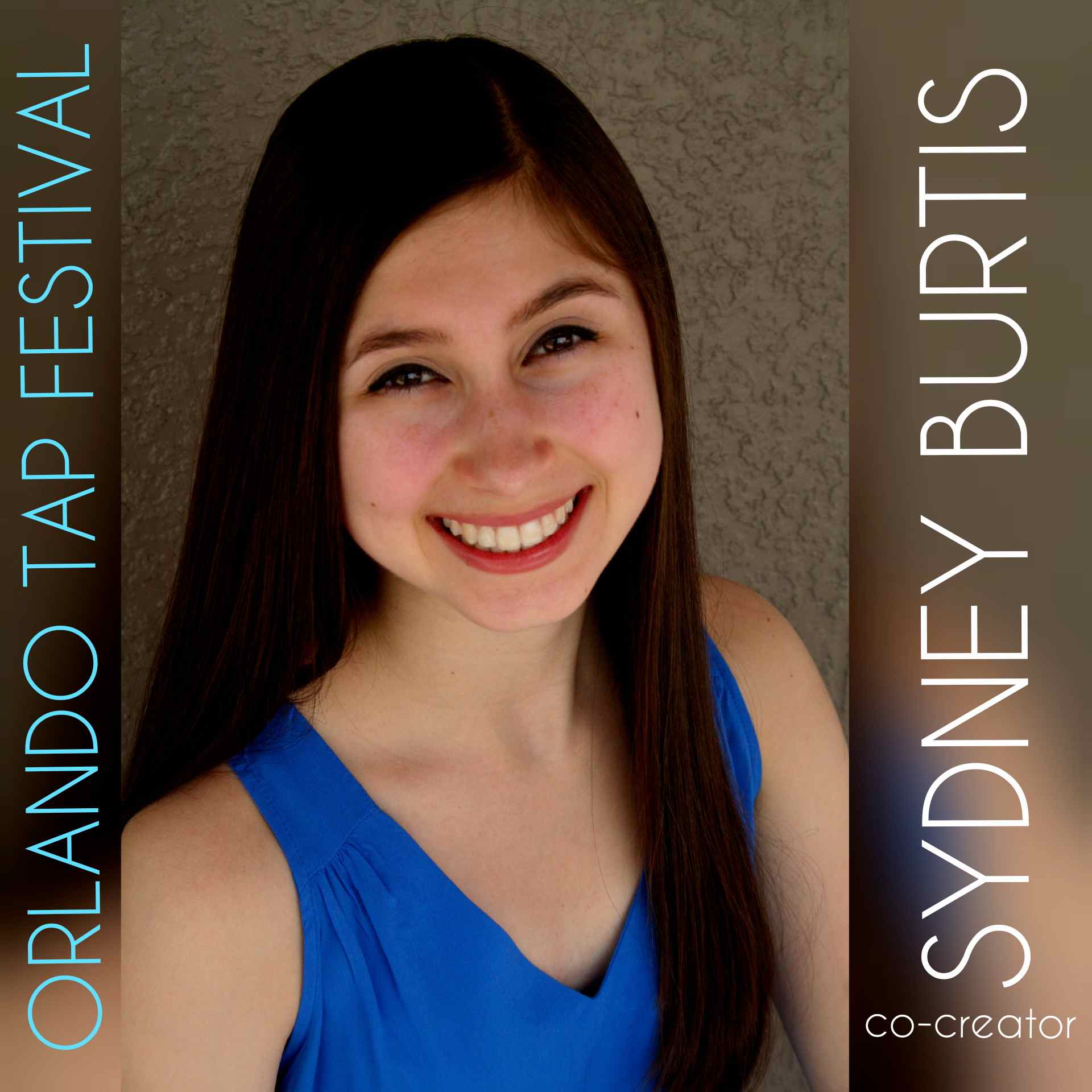 Sydney Burtis - Co-Founder
Born and raised in Orlando, Florida, Sydney began dancing at the age of three and has trained at various dance schools in genres such as ballet, jazz, contemporary, hip hop, and tap.  Her love for tap dance was nurtured at 8 years old by her mentor and teacher, Danny Wallace.  Sydney travels throughout the US training under artists such Michelle Dorrance, Sarah Reich, Derick Grant, Anthony Morigerato, Melinda Sullivan, Ted Louis Levy, Jason Janas, Jason Samuels Smith, Aaron Tolson, Nick Dinicolangelo, Chloe Arnold, and more.  
At age 12, Sydney landed the role of ballet girl Keeley Gibson in the National Broadway tour of Billy Elliot where she performed for audiences all over the United States and Canada.  In 2013, she was the first tap dancer to win an Adrenaline Dance Convention national title, which enabled her to travel with the convention assisting in all genres of dance.  In 2014, she appeared in Dance Spirit Magazine's "You should know" as well as other publications such as Dance magazine, Dance teacher magazine, and the New York Times. She was a selected soloist in New York's Tap city showcase "tap future" performing choreography by Michelle Dor rance. Sydney has also performed in pieces choreographed by Derick Grant in the American Tap Dance Foundation's "Rhythm in Motion".  She has been honored to share the stage in performances with Sarah Reich, Melinda Sullivan, and Ted Louis Levy. In 2017 at 16 years old performing her own choreography, Sydney was named a National YoungArts Finalist and silver award recipient.  Recently, she was one of 24 tap dancers selected out of hundreds to train in the tap program at the historical Jacob's Pillow, under the direction of Michelle Dorrance and Dormeshia Sumbry Edwards.  
Sydney is a rising senior in high school and takes dance classes at Marshall Ellis Dance School. She mentors a handful of young tap dancers and teaches and choreographs for dance schools throughout Florida, including her own. For the last four years, she has been a member of Nick Dinicolangelo's Hands Down Tap project tap company based out of NJ. Sydney dreams of attending college in NYC and having her own tap company one day.
Marshall Ellis - Co-Founder / Producer
Founder and Owner, Marshall Ellis Dance School
Artistic Director, Dance Theatre of OrlandoMarshall Ellis is a driving force in the burgeoning Central Florida arts community, creating an environment where professional dancers and students alike can cultivate their talent and artistry, and where innovative approaches to dance inspire growth in the arts and entertainment.The founder and owner of Marshall Ellis Dance School and artistic director of Dance Theatre of Orlando, Ellis has trained, traveled and danced around the world, performing solo and principal roles throughout Europe, Asia and the United States. He is a former principal dancer for Orlando Ballet, dancing under the direction of the renowned Fernando Bujones and serving as Company Representative. After his years at Orlando Ballet, Ellis became the principal dancer for Cirque du Soleil – La Nouba, where he performed the company's premier ballet role. He also became an Equity dancer and principal dance captain at Walt Disney World, performing in "Beauty and the Beast Live on Stage" and "Festival of the Lion King."Ellis's credits include performing with NSYNC in the NFL Pro Bowl Halftime Show and dancing with Neil Patrick Harris in the Disney Parks Christmas Day Parade.A native of Alabama, Ellis began dancing at age 6, winning regional and national titles in competitions. At 15, he enrolled in the Alabama School of Fine Arts and begin studying ballet under the direction of Therese Laeger. Upon graduation, he received the Prix D'Excellence de Danse, ASFA's premier award.From there Ellis joined Ballet Austin, and subsequently was invited to dance under full scholarship at Images of Dance, London Studio Centre's classical ballet company. During his time in London, he received the coveted Dave Rymer Trust Prize.Throughout his career, Ellis has worked as a teacher and choreographer at organizations including Alabama School of Fine Arts, Orlando Ballet School, STEPS Program for at-risk children, Walt Disney World Resort and Dance Masters of America. His choreographed works for students and companies have been performed and awarded in Youth American Grand Prix, and his professional work has been performed by ASFA, Arova Dance Company, Cirque du Soleil, Orlando Ballet and ME Dance, Dance Theatre of Orlando. He has served as a guest teacher at organizations throughout the United States and currently works as a guest choreographer at Rollins College.When Ellis formed his professional company in 2011, his vision was to introduce innovative ideas that would enrich the arts community and provide an outlet to feature artistic talent. To that end, he has mounted numerous original productions, and he became the founder and producer of the popular I Dance Orlando Festival and Orlando Tap Festival, both annual events offering instruction and performance opportunities for dancers. Ellis is also Artistic Director for the ME2 pre-professional dance company and Creative Director of the ME1st junior dance company. He owns and operates ME Theatre, a performing arts venue that gives local and international artists a platform to create and showcase artistic talents. He built on his success by opening ME Dance School in 2014, with the goal of providing students with an environment where they can cultivate their talent and artistry to its fullest potential. There he has developed his unique Fusion program, featuring a blend of classes in ballet, pointe, jazz, tap, hip hop, contemporary, aerial and tumbling. In 2017 he introduced the Elite Training Program, an intensive, full-time ballet program designed to train the next generation of dancers. In addition to dance, Ellis has a longstanding passion for media design and created his production company, WME Design, in 2008. He has self-produced more than 40 shows and events and served as lead designer on many more for client organizations. WME Design offers graphic design, videography, photography and music editing. Ellis is married to Alex Schudde-Ellis, who is an Equity dance captain at Walt Disney World Resort, a dancer at Universal Studios Florida and a teacher at ME Dance School.
When & Where

ME Theatre (Marshall Ellis Theatre)
1300 La Quinta Drive
#3
Orlando, FL 32809


Saturday, June 23, 2018 at 9:00 AM

-

Sunday, June 24, 2018 at 4:00 PM (EDT)
Add to my calendar
Organizer
Marshall Ellis Dance School Located 1300 La Quinta Drive Orlando FL 32809