Description
Click register on the upper right, then follow prompts to enter your promotional code for a free pass.

Angelbeat is hosting this technical workshop focusing on IT security/ransomware, social media compliance, wireless/mobility, dockers/containers and private/public/hybrid cloud, featuring dynamic presenters including a Microsoft keynote by world renown and Florida-based IT Evangelist Blain Barton. Great content on today's (and tomorrow's) top issues.

Scroll down to see the full agenda and follow links to see company information and speakers' biographies. Click here to download presentation guidelines that are followed by all participants, which makes the program so worthwhile for technology professionals, business executives, etc.

Join your peers from CNL, Fedex, Fiserv, Northrop Grumman, HD Supply, Infrastructure Engineers, Park Square Homes, National Retail REIT, Orange County Schools, Osceola Schools and many more organizations who are confirmed attendees.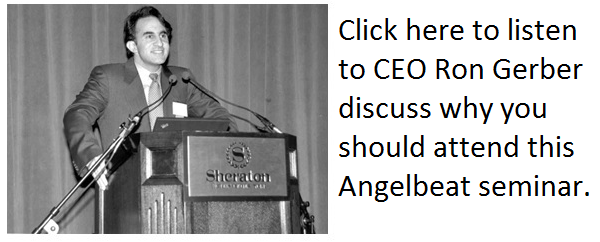 As one Walmart attendee states, "Of all the seminars I attend, your format is by far the best. Brief informative talks from vendors, followed by one-on-one time at their booth to find out more. I am out of the office for less than a day yet I have access to all the different solutions. This year I will follow up with two vendors." As another IT Director commented, "Thanks for hosting a very informative meeting with vendors that tied in well; it was an integrated picture of technologies that work together to create a complete infrastructure solution for the workplace."

Every attendee receives a full hot breakfast, complimentary WiFi, plus 3 CPE credit hours towards your CISSP or other certification. There are drawings for gift cards and other prizes at the end of the event (must be present to win).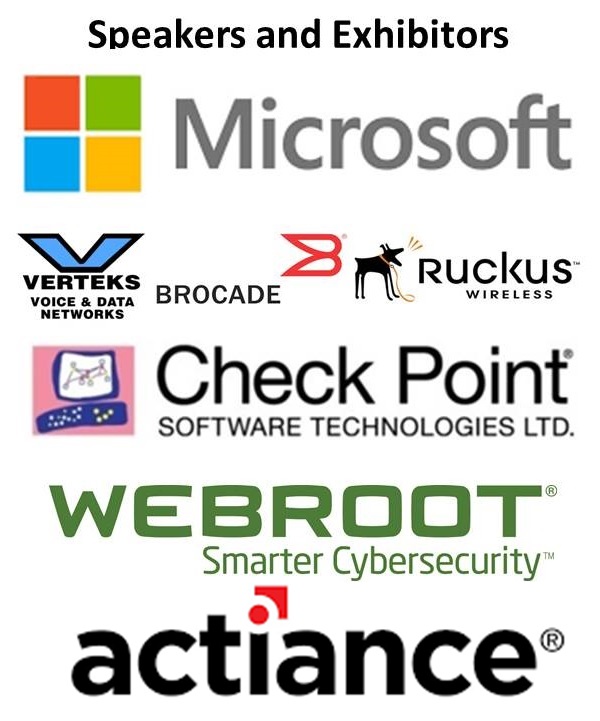 Agenda

7:30 - 8:40: Registration Begins, Full Hot Breakfast and Coffee Served, Exhibit Area Open with Product Demonstrations, Time For Peer Networking/Interaction

8:40 - 9:00: Lets Get Real About Security and Stopping Ransomware with Webroot
We are at war. The enemy is organized and highly motivated, and continually develops new ways to launch cyberattacks and beat security defenses, regardless of vendor. Despite this, the market is filled with outrageous claims and buzzwords designed to make certain vendors look better or worse than their competition.

Caught in the crossfire are enterprises who have been entrusted to protect their employees. So how can enterprises make sure they give their employees the best defense? In this technical and highly relevant presentation, Webroot will cut through the fluff and focus on what Enterprises need to defeat the velocity and ingenuity of modern attacks, including stopping the latest Ransomware

9:00 - 9:20: Social Media Security/Compliance with Actiance
Your organization is likely using Facebook, LinkedIn, Twitter, Snap, Reddit, Skype for Business, Salesforce Chatter, Instagram and other social media applications to do business. In fact, these channels have already surpassed email as the primary communications tool for many organizations. So, what are the information security, compliance and data governance implications?

• If you are in a regulated industry, then you likely have an compliance obligation to capture and preserve these tools – just like email
• If you are faced with litigation, you will likely experience the need to discover and produce this information for court
• If you are publicly traded corporation, you need to think how these tools might impact your brand and lead to the misuse of intellectual property - or even worse significant and negative impact on stock price, sales and profit. Consider United Airlines after they dragged a passenger off the plane, which is the top trending topic on social media for days, for all the wrong reasons.
- How are you prepared to deal with encrypted and/or disappearing messaging platforms such as Snap or Signal?

In short, every organization should be thinking of how these new forms of communications can create new business, technology, security, legal, and compliance risks. Learn from Actiance how you can fully harness these rich social communications tools while staying ahead of the risks.

9:20 - 9:40: Protecting Confidential Data and Mission-Critical Applications in a Rapidly Changing IT Security Battlefield with Check Point
Security engineer Derek O'Flynn from Check Point will lead a discussion on the rise of new and more sophisticated malware, and how threat actors are using Return Oriented Programming (ROP) and polymorphic code to attack confidential data and mission-critical applications. New threat vectors/areas of attack such as mobile devices and east/west data center traffic will be reviewed.

9:40 - 10:10: Wi-Fi Network Architecture, End User Performance Requirements, Wireless/Mobile Security with Ruckus Wireless, now part of Brocade
By the end of 2013 there were more mobile devices than people on earth, and by 2020 it is predicted that 30 Billion devices will be connected to the internet. This is not surprising, given that every tablet, laptop and smartphone can only connect to the Internet via wireless, the rapid adoption of Bring-Your-Own-Device (BYOD) programs by organizations of all sizes, and sensor-based industrial applications for remote data capture in warehousing, distribution/logistics, mnaufacturing, etc.

This massive influx of devices has introduced a new era in the world of Wi-Fi. IT professionals are facing enormous challenges, balancing capacity, flexibility, financial and QoS requirements, while simultaneously evaluating new technologies like 802.11ac. Plus there is increased demand for machine-to-machine mobile communications, seamless management of wired & wireless network connections, and enhanced security to support Big Data initiatives while preventing Internet-of-Things (IoT) attacks (wifi-enabled thermostats and cameras were the source of the mid-October DDoS attack).

Fortunately experts from Brocade and Ruckus, along with their regional partner Verteks, will help you understand these issues and offer practical solutions. They will demonstrate cloud-based management sytems that control remote access points, help you understand how different antennae designs can improve coverage, and why access points from different vendors, even if they operate under the same 802.11 standard, nonetheless have vastly different performance.

Cofffee and Snack Bar, Product Demonstrations and Exhibit Area Opens, Peer Networking

10:40 - 12:00: Private/Public/Hybrid Cloud Strategies, Linux & Windows Containers, Integration with Microsoft Azure
In the opening part of this session Blain Barton, world renown Cloud Architect/Technology Evangelist at Microsoft and a dynamic/engaging presenter, will discuss the strategic/financial tradeoff and decision-making process between expanding internal IT resources (capex, buying more network/storage hardware) versus using third party/public cloud/service providers (opex, renting these same capabilities).

Then more technical discussions, starting with the similarities and differences between a container and a virtual machine, followed by a walk through/demonstration of enabling, creating, deploying and managing Linux and/or Windows containers/resources. There will be an evaluation of when to use which containers, why and how. FYI, a container is an isolated and portable operating environment, often viewed as the next evolution of virtualization that works at the Operating System (not Hardware) level. It provides a mechanism for IT to deploy services in a portable, repeatable and predictable manner.

For those who are new to containers, this content serves as a jumpstart to accelerate your learning of containers. If you already have experience on Linux containers, the session familiarizes you with the specifics of Windows containers, plus helps bridge and extend your skills for bringing business value to both Linux and Windows communities.

The session ends with a detailed assessment of the top five new features in Microsoft's Azure cloud platform for 2017, and how to integrate your organization's public/private/hybrid cloud and container strategies.

End of Speaking Sessions, Product Demonstration and Exhibit Area Open, Raffle Prize Drawings for gift card and other great items!

FAQs

What are Angelbeat's privacy and optin/optout policies
Each attendee acknowledges/understands that financial support from Angelbeat sponsors allows him/her to attend this event at no cost, and that the sponsors will be given your contact information 2 days after the event for follow-up email and telephone communications. All sponsors are required to provide you with an opt-out option, allowing you to be removed from their database

However each attendee can opt-out of sponsor follow-up by informing Angelbeat staff at the event, or by emailing Angelbeat immediately after the event, but before Angelbeat releases the attendee list to the event sponsors.

If you have any questions regarding Angelbeat's privacy policies and how your contact information is used, please contact CEO Ron Gerber directly at 516-277-2057 or at rgerber@angelbeat.com.

Who might be available to receive the special Promotional Code and free pass
There is a special promotional code, that will allow you to attend for free, that is only available for end user IT professionals who work in the telecom/network/storage/security/data center/desktop/purchasing departments of corporations (private and publicly-held, large and small), universities, school districts, government agencies, hospitals/healthcare providers, pharmaceuticals, insurers, manufacturers, retailers, financial services/banks, real estate, legal/accounting/services, transportation/logistic firms, etc. and use, support, approve and/or are involved in or influence the decision to buy the products and services offered by our sponsors. This is also available for managed service providers who oversee the IT department for small-to-medium businesses. Please contact the event organizer at registration@angelbeat.com if you do not know this code.

Reporters from major newspapers, websites and other media outlets are eligible for a free pass and must submit in advance their media credentials to the event organizer for approval.

All other individuals who are not end user, IT professionals must pay the registration fee.

In all cases Angelbeat reserves the right to accept or reject a registration at its sole discretion.

What are my transport/parking options getting to the event
Detailed driving directions and parking instructions will be sent out to all attendees one week before the event.

What is the dress code
Suggested dress is business casual.

What if you have special dietary needs/restrictions
If you have special dietary needs/restrictions, then please email Angelbeat below. We will do our best to accommodate any and all requests.

What if I am a Federal/Government employee and cannot accept free meals, free registration and/or win raffle prizes
If you are a government employee and cannot accept free meals nor free registration, then you can use another promotional code to attend at a discount. Please contact the event organizer at registration@angelbeat.com if you do not know this code.

Each sponsoring company/exhibitor handles its own raffle prize drawing; Angelbeat itself has nothing to do with these prizes and attendees are not automatically entered for any raffle prize drawing. Since each attendee must individually signup to win a raffle prize, then government employees (who are not eligible to win these prizes) can simply not signup for the drawing.