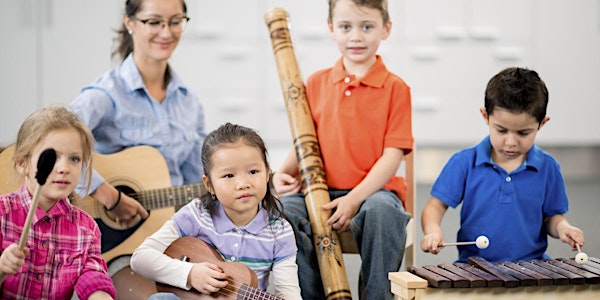 Orlando Music Camp 2023
Orlando Music Camp 2023 Avalon School of Music (Click 'read more' to see all details) June 5-9 June 19-23 July 10-14 July 24-28
Location
Avalon School of Music 12946 Tanja King Blvd Orlando, FL 32828
About this event
53 days 5 hours

Mobile eTicket
Orlando Music Camp 2023
Avalon School of Music
(Click 'read more' to see all details)
4 weeks available! Participate in one or several!
June 5-9, 2023
June 19-23, 2023 (sold out)
July 10-14, 2023 (sold out)
July 24-28, 2023
9am-2pm Mon-Fri each week with a closing concert at 3pm each Friday
Come join us for the only music summer camp of its kind in Central Florida!  Students of all skill levels have the opportunity to immerse themselves in a custom-tailored musical experience. In addition to learning about a variety of different instruments and musical concepts, all participants will have the opportunity to perform multiple pieces for the final concert! Activities include fun music theory workshops, instrument-specific master classes, stomp, small instrument and/or vocal ensembles, and more. Whether it is piano, voice, guitar/ukulele, drums, or a combination of these, students will really enjoy and grow with this camp!
What Makes Orlando Music Camp Amazingly Unique?
Orlando Music Camp has taken the successful Orlando Drum Camp structure and concept (see history below) and applied it to more instruments including piano, guitar, ukulele, and voice. While there are many camps out there that have a strict curriculum, set staff members, and repetitive cookie-cutter structure, Orlando Music Camp is never the same thing twice. The reason for this is that we strive to gather personalized information about each student's experience level, instrument choice (if any), and potential goals (if any), and custom tailor the whole camp around the set of students. Ensembles are put together based on experience and age and can feature a wide variety of instruments. For example, based on the unique traits of all our registered students, we can put together group piano or ukulele ensembles, vocal groups, a rock band, a body percussion ensemble, or even something wild like 4 drumsets! Our staff members will select and in many cases even compose the music specifically for the students in their group. We also strive to work with students individually. For example, if a 13-year-old advanced piano student is looking to accelerate his/her growth, we will make sure to put him/her in situations that will challenge him/her in a fun and unique way. This could be by preparing a solo piece in a week for the concert, or by playing together in a band as a new setting. Likewise, we can have 5-year-old participants that may not have any musical experience whatsoever and just want to have fun. We group him or her with students of similar needs and prepare activities that make exploring music an amazingly fun experience. 
If you have questions about what your child will accomplish in the camp, please contact us at info@orlandomusiccamp.com  
Tentative Schedule:
9:00-9:45 am - Group Icebreaker and Instrument of the Day - Students will have a chance to interact with each other with musical games as well as learn and play instruments from around the world they probably have never seen before.
9:45-10:30 am - Rhythm/Theory Workshop - Students will be separated into medium-sized groups categorized by age and music reading experience. We will have groups ranging from those, "have never held any musical instrument in their life" to, "I just made my all-state band."  Staff members will teach students how to read music in creative and innovative ways by using games, outdoor activities, friendly competition, songs, and more. Learning how to read music has never been more exciting!
10:30-10:45 am - Snack Break - Time for a quick snack (please pack) and opportunity to socialize.
10:45-11:30 am - Small Ensemble - Students will separate into small groups to work on a musical piece that they will play for the concert. These are custom-tailored groups that can feature piano and/or ukulele ensembles, mixed instrument band settings, vocal groups, or percussion ensembles. They will apply the skills they learned from the rhythm/theory workshop in a group setting and will be separated into groups based on age, experience level, and instrument.
11:30-12:30 pm - Lunch and Recess - Students will be able to have their home-packed lunch and time to socialize. We allow for free time to play sports outside or indoor card/board games inside. This is a great time to make new friends!
12:30-1:15 pm - Instrument Specific Masterclass - Students will be separated by age and experience level into small groups. Featured instruments include piano, guitar/ukulele, and drums. Students will learn anything and everything from piano technique and scales from beginning to advanced, how to shred on guitar or accompany a band, and how to play from the simplest drum beats for those that have never held drumsticks before, to very advanced grooves including but not limited to Samba, Funk, Jazz, Rock, Bossa Nova, and Fusion. Students will also learn about drumming for a band, how to do fills, drum solos, and much more! Since we keep group sizes small, students will have plenty of time to play the drums.
1:15-2:00 pm - Large Ensemble and/or Stomp - Students will separate into larger group sizes to prepare a second piece of music for the concert. This could involve choreography and household items as instruments (stomp), a large choir, or other possibilities! This piece will be performed for the concert as well. For a better idea of what Stomp is like, click here for a video example. After this final activity and a day full of interactive activities, students will leave with a smile on their faces and ready for a nice long afternoon nap.
History
Orlando Music Camp, originally "Orlando Drum Camp", was born from Paolo Tursi's (see organizer biography below) high-school senior project in 2011. He realized that during summertime, many children get stuck at home playing video games and watching TV instead of doing something fun and productive to help them grow. Also, he noticed that most music camps in the area catered more to musically serious high-school students while mostly neglecting the younger population.  In an effort to combat these issues, Paolo prepared and organized a week-long Drum Camp and called it DC11 (Drum Camp 2011). His goal was to help working parents by providing a uniquely beneficial and fun solution. During the inaugural year, the camp included 11 students and 3 instructors total. In 2012, the number grew to 15. In 2013, the number of students grew to roughly 25 and more instructors were brought on board. Every year since, Paolo has worked hard to improve structure, organization, and quality. From 2014 and onward, every Orlando Drum Camp has served more than 30 students each week, with the highest enrollment being 52 students for 1 week making it the largest camp in Central Florida of its kind! Throughout these years, Paolo has invested in instruments from around the world to captivate the interests of the curious camp participants. Up to this day, he has gathered over 100 instruments that campers play during the week and for the concert. These include over 30 hand drums, several drum sets, xylophones, Indian tabla drums, a handmade Eclipse drum from Israel, lap harps, a theremin, and even folkloric furro and tambora drums that he had to travel to Venezuela to pick up! Several camp participants come back year after year, and some have even become camp instructors! Jessie Otaiza is the only student that has attended ALL drum camps, first as a student for the first 4-5, and then as an instructor every year after! John Maruri also attended the camp for several years and then later became an instructor. 
With participants coming back year after year, Paolo had to keep things interesting by changing activities and organizing campers into unique new groups to play new instruments, and composing entirely new musical percussion pieces. The struggle to produce new and exciting musical opportunities for repeat campers led to some creative pieces. Two of these pieces are "Rhythmic Raindrops", and "Party Stools". " Rhythmic Raindrops" is a body percussion piece that was inspired by listening to raindrops outside one day. The sound of the drops on different outdoor materials immediately prompted Paolo to pull out paper and pencil and start writing this piece. Months after the camp that year, the piece was featured in a Percussion Ensemble Concert at Colonial High School. The idea for "Party Stools" came when Paolo attended a wedding reception which he personally found to be uneventful. While sitting down at his assigned table and watching people dance music that he was not interested in, he pulled up the stool next to him and started hand drumming on it. Never mind what everyone else thought! Amused, he started writing ideas for stool music on a napkin while at the event. The completed piece was a hit that year at drum camp and was performed numerous times in the following 2 years. It was performed at a percussion ensemble concert and even won 3rd place at a company talent show! John and Jessie (mentioned above), were 2 of the 4 members that performed this piece.
In 2019, the Orlando Drum camp ran successfully for 2 weeks, and it felt very smooth. A lot of effort had been made to automate the process, and this had been achieved. The question was, "How can this be improved?"  After some post-reflection, Paolo realized that the current system needed to be expanded to include piano, guitar/ukulele, and voice. After 9 years of experimentation, Paolo has developed a system to successfully arrange student groups, and this can be easily applied to new instrument groups. The structure and concept are the same but feature more instruments and ensemble possibilities. In 2020 Orlando Music Camp was born, and continues the success of its predecessor, Orlando Drum Camp! If you have more questions, you can email us at info@orlandomusiccamp.com
Click here to see a concert from one of our previous Orlando Drum Camps!
FAQs
What time is it from?
The camp goes from 9 am-2 pm each day, and the final concert is at 3 pm on Friday which means that we will keep the students on Friday through the concert. All students will be given an Orlando Music Camp shirt to wear for the final concert.
I work from 8 am-5 pm and may have transportation problems. Is there a solution for this?
Several parents have this concern. There will be staff on-site as early as 7:30 am, which will allow for early drop-off. The Avalon School of Music where the camp will be held is open until 9 pm, and students can practice in available practice rooms, or spend their time with some of the child activities in the lobby (coloring books, games, etc.) while they wait to be picked up. A small fee of $10 per child for each hour AFTER 2:30 pm will be charged. This excludes Friday when the concert performance is scheduled. For example, if you will be picking up your child at 4 pm Monday-Thursday and then leaving him/her to stay through the concert on Friday, the total cost would be $40 ($10 x 4 days). If you have any additional questions about this, contact us at info@orlandomusiccamp.com
What is the age limit/requirement? Will my 4-year-old be placed in a group with a 15-year-old?
We accept participants between pre-k and 12th grade. All groups are separated by age first, then ability level. Pre-K participants will be in another group and will not mix with the other students; high schoolers as well.
What does my child need to bring to the camp each day?
Lunch will NOT be provided, so each student must bring his/her lunch and snacks with them each day. In order to avoid personal belongings like lunchboxes, instruments, and/or drumsticks being mistakenly taken by someone else, please write the names of the participants on them. Last but not least, a positive attitude is required!
Are your staff members and volunteers background-checked?
Yes. We are "Ask the Seal" Certified. We need to ensure the maximum safety for our students.
ELECTRONICS USAGE:
AT ORLANDO MUSIC CAMP, WE BELIEVE THAT PARTICIPANTS SHOULD HAVE THE OPPORTUNITY TO FULLY IMMERSE THEMSELVES IN A WONDERFUL ACADEMIC, INTERACTIVE, MUSICAL, AND SOCIAL EXPERIENCE. WE FEEL THAT TECHNOLOGY, WHILE HELPFUL IN MANY WAYS, CAN BE A DETRACTION TO THE OVERALL EXPERIENCE OF THE BEAUTIFUL WORLD THAT SURROUNDS US IN A GIVEN MOMENT. IN ORDER TO PROMOTE POSITIVE HUMAN INTERACTION AND FOCUSED LEARNING, WE HIGHLY ENCOURAGE STUDENTS TO LEAVE ALL ELECTRONICS AT HOME OR TO TURN THEM IN TO OUR FRONT DESK STAFF AT THE START OF THE DAY, WHO WILL GIVE THEM BACK TO EACH INDIVIDUAL STUDENT AT DISMISSAL.
WE UNDERSTAND THAT PARENTS WANT TO BE ABLE TO COMMUNICATE WITH THEIR CHILDREN AT ANY GIVEN MOMENT; FOR THIS REASON, WE ARE NOT MAKING A MANDATORY BAN ON ELECTRONICS USAGE AND WILL LEAVE IT AT THE DISCRETION OF EACH FAMILY. WE WILL BE PROVIDING PARENTS WITH A LIST OF CONTACTS TO CALL OR TEXT IN CASE OF ANY EMERGENCY OR REQUEST. 
PLEASE CONSIDER THE OPPORTUNITY OF AN ELECTRONICS-FREE INTERACTIVE ENVIRONMENT FOR YOUR CHILDREN.
Registration
What's the refund policy?
If the cancellation is done within 24 hours of the registration, a full refund can be given. After 24 hours of registration, no refund can be given.
Can I update my registration information?
Yes.
Are there any discounts available, i.e. family or multi-week discounts?
Yes! If you have multiple children attending, select the "family rate" option for the ticket type, which provides a $10 discount per child, assuming you enroll at least two family members or more.
For more information, email us at:
info@orlandomusiccamp.com or call us at 407-770-0323.
Frequently asked questions
I work from 8 am-5 pm and may have transportation problems. Is there a solution for this?
What is the age limit/requirement? Will my 4-year-old be placed in a group with a 15-year-old?
What does my child need to bring to the camp each day?
Are your staff members and volunteers background-checked?
What's the refund policy?
Can I update my registration information?
Are there any discounts available, i.e. family or multi-week discounts?
About the organizer
Organizer: 
Paolo is the founder of Orlando Music Camp (originally Orlando Drum Camp) and is currently very active in the music industry. Currently, he serves as Regional Director for the Avalon and East Orlando Schools of Music, which teach over 600 students every week and are the largest music schools for private lessons in all of Central Florida. He taught and composed for the Colonial High School marching band for 6 years, during which the band received the highest rating of Superior every year. After graduating UCF in 2015 (magna cum laude),Paolo continues to perform at least 2-3 times every week in addition to teaching, directing, and composing. He describes his reason for creating Orlando Music Camp by saying, "I want kids to have the opportunity to do something over the summer that is productive and helps them grow, while at the same time is a lot of fun!" Besides his passion for music, Paolo likes to entertain children by juggling and doing magic tricks.
Some of Paolo's performance and teaching highlights include playing for the Flying Horse Big Band, Space Coast Jazz Orchestra, Brown Bag Brass Band, playing for a special holiday performance at Disney's Epcot from international pop star Becky G, directing and composing the piece "Party Stools" (an Orlando Drum Camp original) for a group of students who won in a talent show, helping several students successfully audition for all county bands at the middle school and high school level here in Florida, and teaching music at Loving Earth daycare.