Description
WHEN YOUR PATIENTS ASK IF MEDICAL MARIJUANA CAN HELP THEM, WILL YOU HAVE AN ANSWER?
Please join us for an engaging day of education and discussion to learn how medical marijuana may impact your medical practice in the future. We'll explore the physiology of the endocannabinoid system, learn how to make dosage and delivery system choices, listen to top researchers and physicians on the use of cannabis for military-related PTSD treatment, pain relief, neurodegenerative diseases and much more.
 Scroll down for the full agenda and speaker list.

Who Should Attend?
Physicians, Nurse Practitioners, Nurses, Physician Assistants and Pharmacists should all attend and earn up to 6 CME, ANCC or ACPE credits when you purchase the Platinum CME Ticket. All continuing education credits are earned online at TheAnswerPage.com.
Watch a short 2 minute recap video of our last symposium held in Fort Lauderdale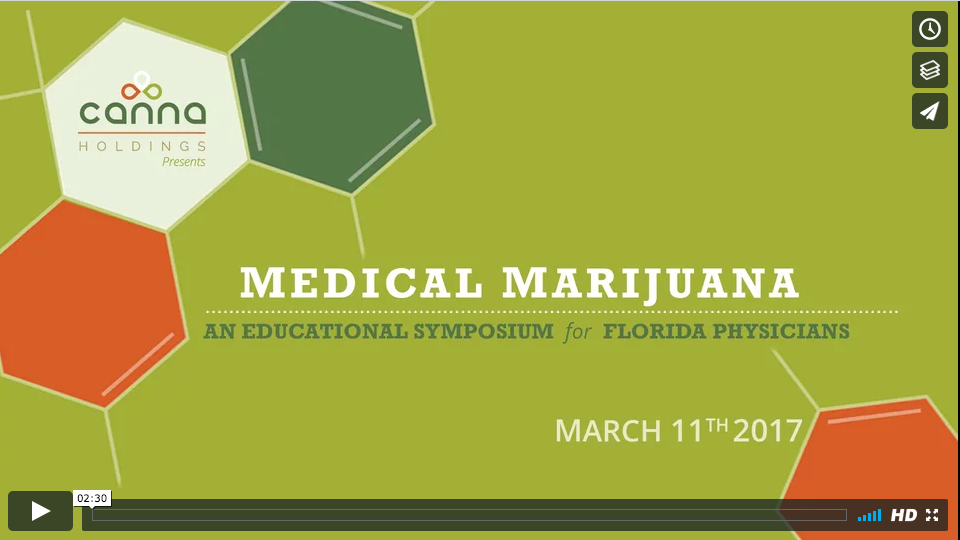 Bring Your Family to Orlando!
Canna Holdings has arranged an exclusive discounted rate of $174 per night** at The Wyndham Grand Orlando Resort at Bonnet Creek. Click here to book your discounted group rate at the Wyndham.

** Discounted rate includes waived resort fee ($20 per day savings), half price daily parking ($10 per day savings), access to all amenities including a lazy river, heated lagoon pool, fitness center, shuttle bus to Disney attractions, spa services and more.
---
MEET OUR EXPERT SPEAKERS AND PRESENTERS

The Endocannabinoid System: Master of Homeostasis, Pain Control, And So Much More
Presented by Jordan Tishler, MD
Dr. Tishler will review the Endocannabinoid system, the basis for why cannabis works as medicine, with special emphasis on practical aspects of treatment of patients with chronic pain. He will touch on key topics of dosing, administration, preparations, and bioavailability. He will also review other illnesses amenable to cannabis therapy.

Dr. Tishler is a leading expert in the field of Medical Cannabis therapeutics. As an Emergency Physician, he has treated countless alcoholics and drug users. Dr. Tishler graduated from both Harvard College and Harvard Medical School and trained in Internal Medicine at Brigham and Women's Hospital. He has spent many years working with the underserved, particularly our Veterans. He sits on the advisory board of CannaKorp, makers of a medical Cannabis inhaler, and the Massachusetts Patient Advocacy Alliance.


---

Cannabinoids For The Treatment Of Movement Disorders
Presented by Juan Sanchez-Ramos, MD, Ph.D
Changes in the brain's endocannabinoid system occur naturally with aging. Dr. Sanchez-Ramos will discuss age-dependent changes that will be contrasted with more severe alterations in the endocannabinoid system that underly neurodegenerative diseases exemplified by Parkinson's Disease and Huntington's Disease. Use of phytocannabinoid preparations is reasonable based on the known neuropathology and experimental evidence demonstrating benefits of medical cannabis.

Dr. Sanchez-Ramos received a Ph.D. in Pharmacology and Physiology from the University of Chicago and a medical degree from the University of Illinois. His Ph.D thesis work focused on the mechanisms of opiate dependence in monkey models. He trained in Neurology at the University of Chicago and as a Fellow in Movement Disorders at the University of Miami.
Currently, he is a Professor of Neurology at the University of South Florida in Tampa where he holds the Helen Ellis Endowed Chair for Parkinson's Disease Research and is Director of the HDSA Center of Excellence for Huntington's Disease. In addition to teaching and attending to patients with Movement Disorders, he directs a basic research laboratory with active projects in neurodegeneration, neurotoxicology and adult stem cell biology. He is also Medical Director of the Parkinson Research Foundation based in Sarasota FL.


---

Delivery and Dosage of Cannabis Medicine
Presented by Deborah Malka MD, PhD
Dosing for a "naive" patient is different from one who has developed tolerance. Cannabis efficacy, tolerance and withdrawal require a different delivery and dosage approach than pharmaceuticals. Dr. Malka will discuss how to make choices between 6 different delivery systems for cannabis, and the benefits/risks of each. Dr. Malka will also review which delivery systems do not involve psychoactivity and common dosage regimens
Dr. Malka has been an advocate of research, alternative medicine and patient empowerment throughout her career. Prior to clinical practice, Dr. Malka completed her PhD in Human Genetics, and studied both natural and traditional medicine. She then practiced as a primary care physician, directing a holistic medical clinic in California for 15 years. For the past 12 years she has specialized in cannabis medical consulting serving over 25,000 patients to date. Her private practice, CANNABIS PLUS, provides medical marijuana evaluations and natural health consulting with offices in Monterey and Santa Cruz, California.


---

Researching Medical Cannabis Navigating Barriers To Efficacy Research
Presented by Sue Sisley, MD
Learn about the design of the first ever triple blind randomized controlled trial evaluating use of Marijuana for military-related PTSD and the regulatory obstacles to conducting this scientific study for developing medical marijuana into FDA approved medicine. Dr. Sisley will discuss hypothesized mechanisms of action for use of medical cannabis in treatment of military-related PTSD and review the current anecdotal & observational data.

Dr. Sisley is an Arizona-based physician practicing Internal Medicine and Psychiatry. She serves as Site Principal Investigator for the only FDA-approved randomized controlled trial in the world examining safety/efficacy of whole plant marijuana in combat veterans with treatment-resistant post traumatic stress disorder PTSD. Dr. Sisley is on faculty at Colorado State University, recruited for core planning team to organize the CSU "Cannabis Center of Excellence" in Pueblo, Colorado. She works as a independent medical consultant/medical director for medical cannabis license holders in 11 different states from Hawaii to New York.


---

Cannabis as Medicine: Redefining the Paradigm of the Doctor-Patient Relationship
Presented by Jack D'Angelo, MD
Dr. D'Angelo will cover the need and best practices for maintaining a standard of care in a changing medical environment, and establish the responsibilities of the patient and provider during cannabis therapy treatments.


Dr. D'Angelo is the Chief Medical Officer and Director of Physician Education at CITIVA, a medical cannabis company based in NY and Jamaica. Dr. D'Angelo completed a pediatric residency at Georgetown University, a fellowship in pediatric physical medicine at the National Children's Medical center and a residency in Physical Medicine and Rehabilitation at the George Washington University Hospital and the National Rehabilitation hospital. He received his undergraduate degrees in Theology and Biology at Lafayette College in Easton, PA. and his M.B.A. from the George Washington School of Business in Washington D.C. Dr. D'Angelo also serves as the Medical Director of the Physical Medicine and Rehabilitation Associates of Staten Island and has worked for years to alleviate pain and debilitating symptoms with noninvasive, nontoxic methods. He bridges the gap between the medical cannabis community and the traditional medical community who are curious of the benefits cannabis-based medicines can offer their patients.


---

Roundtable Discussion: Practicing Cannabis as Medicine in Florida
Understandably, healthcare providers may be hesitant to recommend medical cannabis to their patients because they do not fully understand the legal risks. Vijay Choksi, Esq. from Kelley Kronenberg will review how healthcare professionals can protect themselves and their patients under state and federal law. Moderated by Genester Wilson-King, MD, an Orlando based physician and joined by physicians Joseph Rosado MD from Orange City, FL and David Berger MD from Tampa, FL, they will both share how adding medical cannabis has changed their practice from the business perspective and from the patient-physician relationship perspective. This session is intended to be interactive, and attendees are invited to ask questions of our panel.


---

Roundtable Discussion: One-on-One With Medical Cannabis Patients and Parents
Parents of children who have benefited from medical marijuana will speak about their experiences. Seth Hyman, patient advocate and Moriah Barnhart, CEO of CannaMoms will discuss how medical marijuana has helped their children. Amanda Gammisch, a 37 year old patient fighting grade 3 astrocytoma brain cancer will also share her experiences. This session is intended to be interactive, and attendees are invited to ask questions of our panel.


---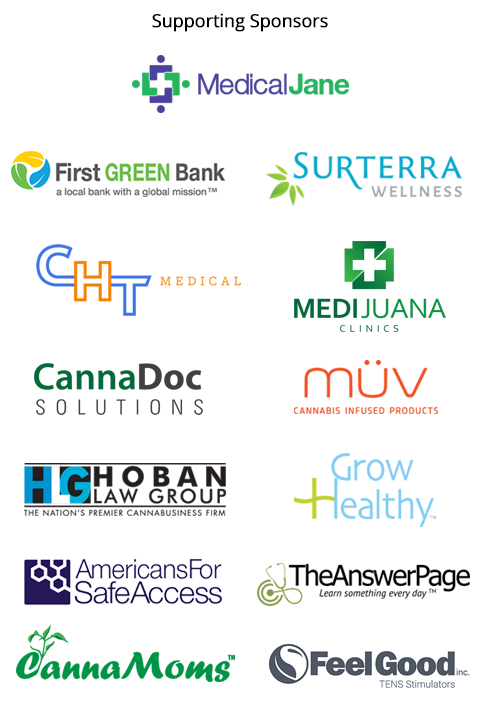 ---
Platinum CME Ticket Details
Attendees who purchase the Platinum CME Ticket will have access to TheAnswerPage.com Comprehensive On-line Endocannabinoid and Medical Cannabis Curriculum for 12 months and the ability to earn up to 6 CME, ANCC or ACPE credits. This brand-new comprehensive curriculum integrates the latest findings of the National Academy of Sciences' 2017 report and also includes disease specific sections on the therapeutic use of medical cannabis. In addition, you will receive content updates and new material during the 12-month period. Following your purchase of a Platinum CME Ticket, you will be provided with a promo code to TheAnswerPage.com medical cannabis CME on-line library. You can earn 6 CME credits by studying just 4 of the many medical cannabis syllabus topics from TheAnswerPage's extensive library.

About TheAnswerPage.com
TheAnswerPage.com is a continuing medical education (CME) website that has been providing CME certified content worldwide since 1998 and has become a recognized leader in providing unbiased peer-reviewed medical content focused on the endocannabinoid system, the therapeutic use of medical cannabis, pain and the opioid epidemic. TheAnswerPage editorial team is the recipient of multiple awards for their work in the advancement of medical cannabis education.

Please Note: Canna Holdings, the organizer of this symposium, is not affiliated with any of the 7 Florida dispensing organizations. Attending this symposium does not authorize physicians to become recommending physicians for paitents. Only the Florida Dept of Health's Office of Compassionate Use can certifiy physicians by completing the 8 hour course found here. However, attending this sympoisum will give you a great deal of insight into cannabis as medicine and is a good first step to determine if taking the course is right for you.