Orlando, FL – Medicine Cabinet Makeover & Healing with Green Smoothies

Monday, November 4, 2013 from 7:00 PM to 8:00 PM
Event Details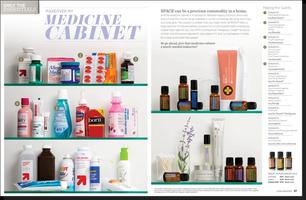 What do green smoothies and your medicine cabinet have in common? 
Now that you have revolutionized your diet and "made-over" your pantry by stocking it with plant-based, whole foods, we want to teach you how to "make-over" your medicine cabinet by replacing the over-the-counter medicines and other drugs in your home with pure, plant-based medicine-- also known as essential oils.  
Just as you have been taught and have enjoyed the simple, nutritious, and delicious green smoothie drink and introduction into the whole-foods lifestyle by Robyn Openshaw, we invite you to join with our Green Smoothie Girl health coaches to learn how you can take charge of your healthcare with these self-directed, medicinal oils that you can utilize everyday to improve your body's chemistry and natural defenses.  
Get some great recipes for integrating oils into your healing Green Smoothies and learn all the benefits of the daily Green Smoothie!

"Make Over Your Medicine Cabinet & Healing with Green Smoothies" --taught by Green Smoothie Girl  Health Coach 
Jeanette Fransen.
***Please note directions!!!!***
The class will be at the CLUBHOUSE at Plantation Gardens across the street from Lake Underhill. There is not an address that takes you directly there using an iPhone or google maps. The best address to use is:
4279 Lake Underhill Rd. Orlando, FL 32803
This will get you to the condos. The clubhouse is at the back left of all the parking. There will be a BALLOON on the stop sign of the street you should turn down. (There is no street sign or name) The street is right between the entrance to the main office of the Plantation Gardens and the Woodlake Villas Apartments. Follow that road ALL THE WAY down and around and you will end up at the clubhouse. (There will be another balloon guiding you along)
You can park and enter through the pool gate and go to the bottom of the clubhouse. That is where the class will be held.
Please call me if you have any questions or can't find us!
434.996.3186
Join us for this free, how-to class and learn to be a healer in your own home because there is nothing better than medicine that is safe, natural, and effective-- (except maybe a green smoothie).  :wink:    
Get a ticket for you and a friend.  We hope to see you there!
** Free Zyto scans will be offered 30 minutes before class.
**doTERRA IPC's: Our Medicine Cabinet Makeover classes are for those not yet introduced to the healing power of essential oils. Our classes are private events, despite ticketing on Eventbrite. They are hosted by a GSG coach who has expended significant time and expense. This coach is well trained and will teach her audience how to take their healthcare into their own hands. Additionally, she will show the audience many perks exclusively available to the GreenSmoothieGirl team – which include ticketing classes on the high-traffic GSG site, nationally advertised classes, and more. The Green Smoothie class taught by Robyn is free and everyone is invited, but please respect the coach's investment who is planning this class.
When & Where

Plantations Gardens Clubhouse
4279 Lake Underhill Rd
Orlando, FL 32803


Monday, November 4, 2013 from 7:00 PM to 8:00 PM
Add to my calendar
Orlando, FL – Medicine Cabinet Makeover & Healing with Green Smoothies