Event Information
Refund policy
Contact the organizer to request a refund.
Eventbrite's fee is nonrefundable.
One Weekend - 4 Events - One Field to create a Caribbean Village. Orlando Carnival will be held over multiple days at Festival Park!
About this event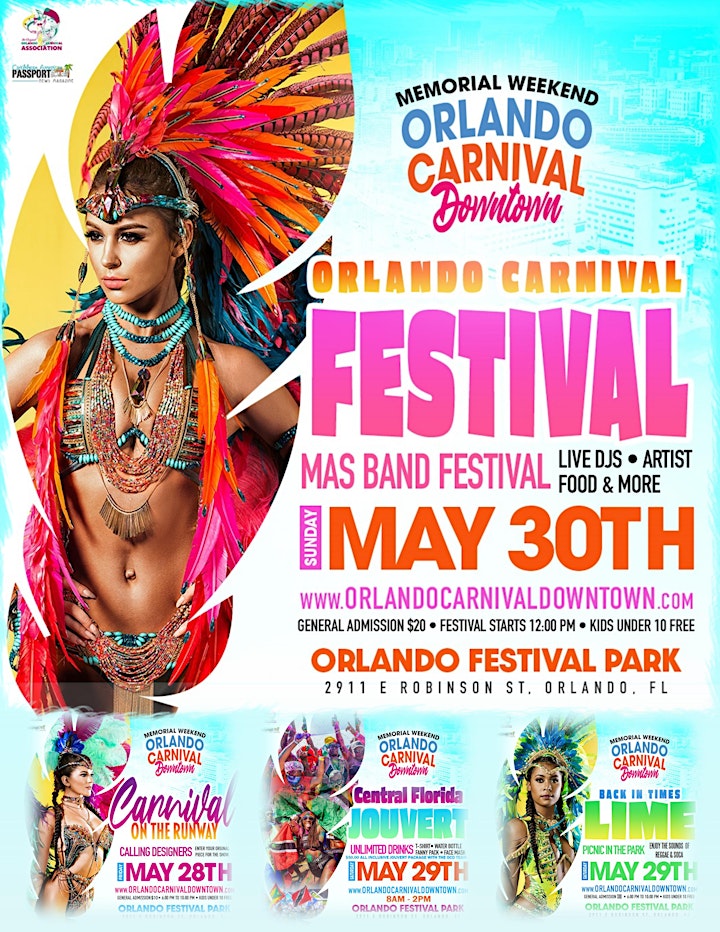 Orlando Carnival will be held on Sunday May 30th with a Festival in the Park. 2021 will be held at a different park - Festival Park at 2911 E Robinson St, Orlando, FL 32803.
This Mardi Gras Style Caribbean Festival is popular in the Caribbean and Latin America. In Orlando it brings cultures together to celebrate the food, music and culture of Carnival in one big festival.
This year we offer 4 significantly different events sure to please different age groups and all Carnival goers. All held in one field throughout the weekend!
May 28th is Carnival on De Runway - Designers are invited to submit an original design.
May 29th is Jouvert!!!! Same park, different vibe!
May 29th is Back in Time Lime a cultural vibe showcasing the Caribbean Culture across the Caribbean. Steel Band, Riddim Section, Drumming and much more!!!
May 30th is the Carnival Parade of the bands and our Festival in the Park afterwards. Tickets are on sale for this event and we will be launching tickets for the other events soon as well as a festival pass for all of the events.
Mas Band Registration is limited this year due to limited band participation because of Covid 19. However you can register while spaces and costumes last at www.islandfevermas.com as costumes are sold out at www.fetemassterzcarnivaltroupe.com/
For Vendor or Sponsor Information go to the website at www.orlandocarnivaldowntown.com
Tel 407-427-1800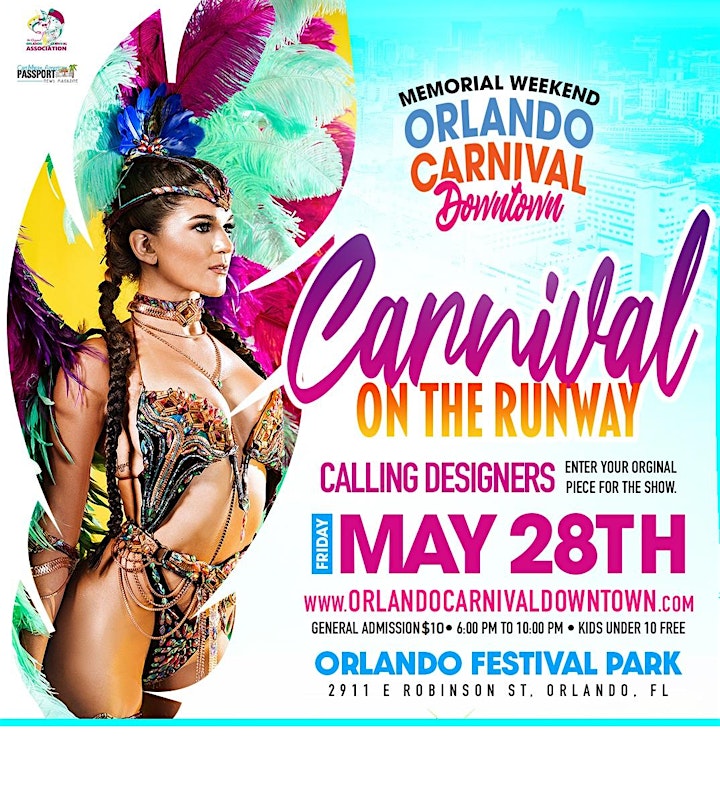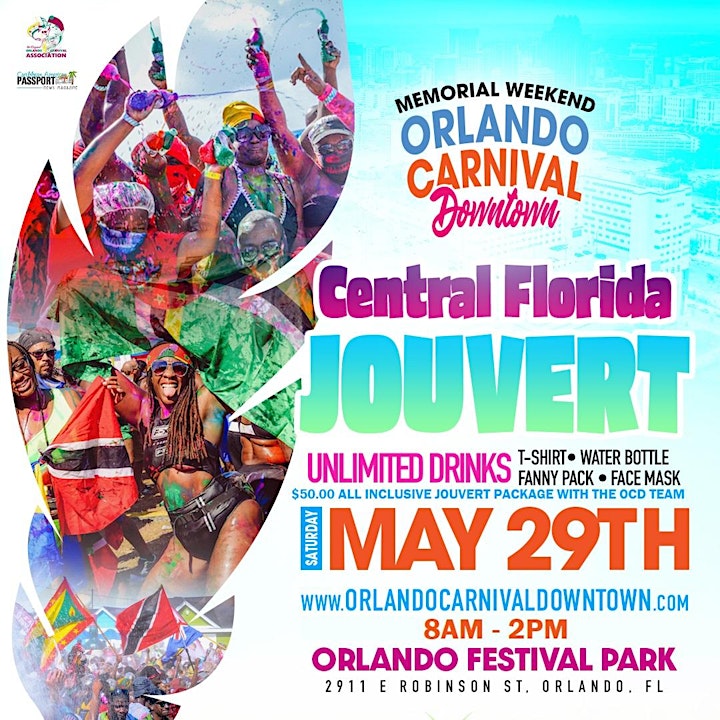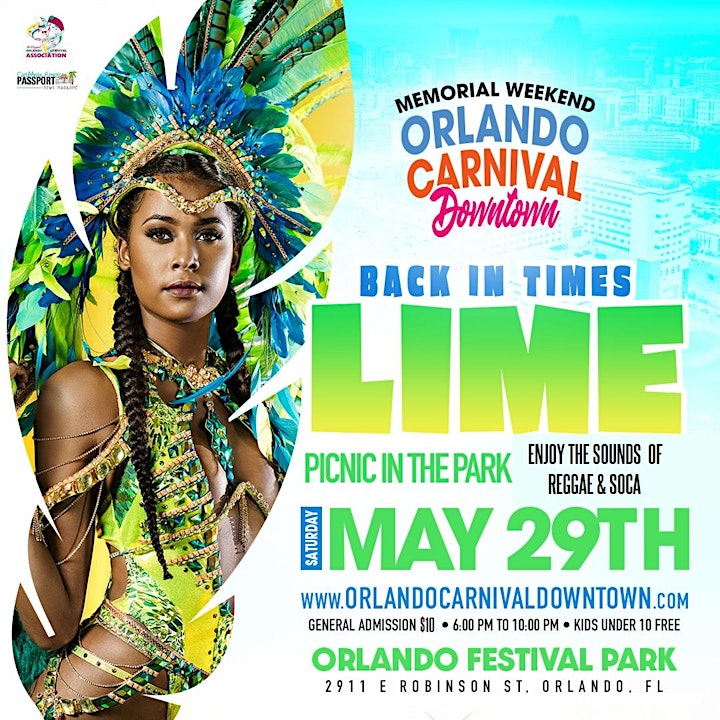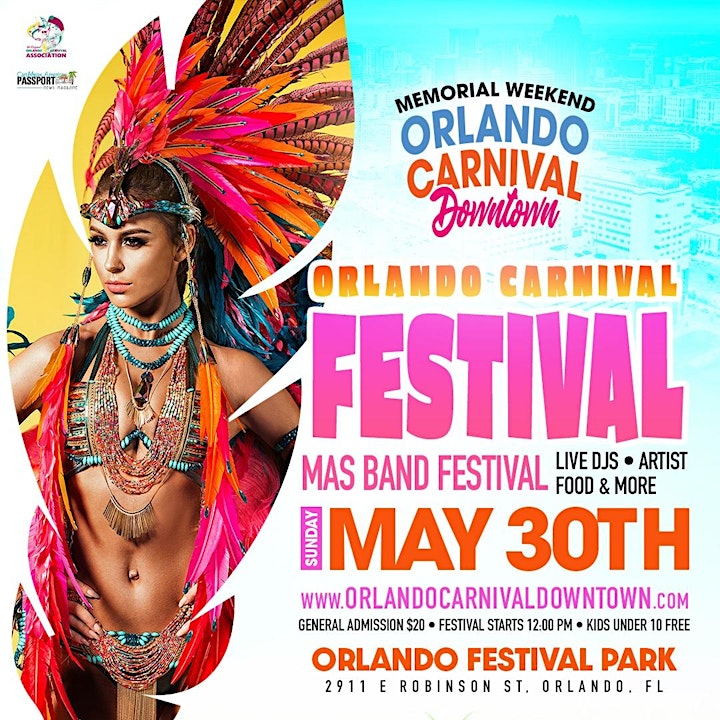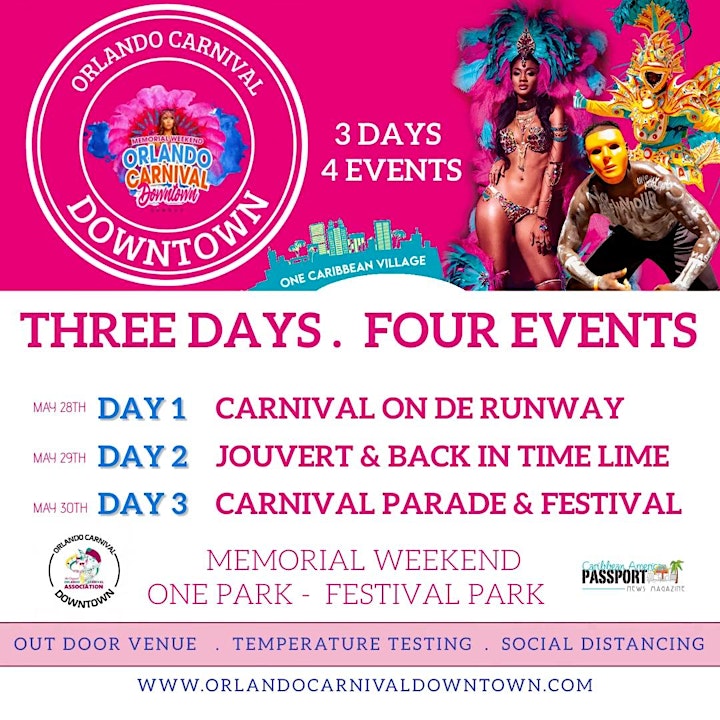 Press Release:
Orlando Carnival has launched it's 2021 slate of events. After much deliberation with the committee members and bandleaders, the Orlando Carnival planning committee has determined that they will proceed with Carnival 2021, but include a group of events leading up to Carnival to provide an alternative to Carnival Day.
In a recent statement, Orlando Carnival Downtown, Event Coordinator Guenet Gittens-Roberts said "we have to plan to create a festival that has a covid plan in place, which means reducing the amount of attendees, creating areas for groups to stay within their own table or area. We also have to reduce attendance in the park by half of the amount of people that the space is designed to hold. We are taking those things into consideration. We are also having three separate events at the same park, with folks being able to attend the part of the event they like to reduce attendance on any one day.
We anticipate the Friday to be an event that attracts the art lovers, the creative part of the Carnival community. It will be about fashion, about vision, it will give up and coming designers a platform to show that they can design costumes locally. It will also tap into that creative Carnival lover, who will rework their costume and walk the aisle.
REGISTER YOUR COSTUME TO WALK THE RUNWAY:
REGISTER FOR THE COMPETITION OR REGISTER FOR THE SHOWCASE PREENTATION. FIRST PRIZE IS $1000.00.
On Saturday morning, the park will be stage for Orlando Carnival's Official J'ouvert Celebrations. For those not familiar with this, it is pronounced Jou-vay. and is derived from French patois and means "daybreak." J'ouvert usually marks the official start of the two day Carnival celebrations in many Caribbean countries. People usually said J'ouvert is paint, powder and freedom.
On Saturday evening, we want to have the cultural part of Carnival in full effect, we would like to create an outdoor dinner theater type atmosphere for that event. Ideally our older Carnival lovers can feel comfortable with this setting as it's not a party but a show that they can sit, eat, drink and enjoy. They will enjoy the sounds of steel pan, the riddim section, drums, a bit of Carnival folklore and hopefully stick fighting while they explore Carnival across the Caribbean cultures, how it is different, how it is similar.
Sunday Afternoon is Carnival day and while all of the mas bands are not participating in the parade on the road, they will be in the park hosting their usual revelers at their area. Our Carnival theme this year is "Remember De Lime" and that's what we intend to do. We will have Mas Bands on the road, notably Fete Massterz Carnival Troupe has opened registration online at https://www.fetemassterzcarnivaltroupe.com/ and are sold out of costumes for Carnival 2021, however we have a new band www.islandfevermas.com which recently launched and are selling costumes. "
Throughout the weekend, the activities will be live on zoom for the folks who want to party with us from home. The zoom attendees will be featured on screens throughout the park.
All of the Orlando Carnival Downtown events end at 10pm this year. Thousands are expected to fly into Orlando for the Carnival weekend and the Carnival team wants to ensure they experience the flavor of an Orlando Carnival weekend by enjoying the fetes throughout the city. Carnival weekend is a special time and Orlando is a special city. We want to share what the city offers with the guests that will be in Orlando for the weekend, which is why we are carefully crafting out events that are set for early evening or late afternoon. You can enjoy the city and the Carnival with your family and friends.
To stay updated on Orlando Carnival events and partner events throughout the city go to www.orlandocarnivaldowntown.com
Location
Refund policy
Contact the organizer to request a refund.
Eventbrite's fee is nonrefundable.