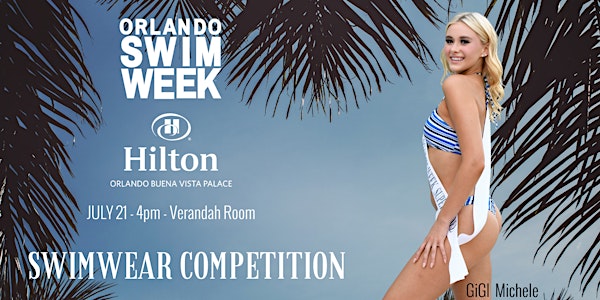 Orlando Bikini and Swimwear Competition
Orlando Bikini and Swimwear Competition 3rd Annual
Location
Hilton Orlando Buena Vista Palace Disney Springs Area 1900 East Buena Vista Drive Lake Buena Vista, FL 32830
About this event
1 hour 30 minutes

Mobile eTicket
Bring it on Competitors
2022 OVERALL WINNER GIGI MICHELE @gigimichelemodel
Third Annual Competition !!
Event begins at 4:00 pm
REGISTRATION LINK
https://www.hitechmoda.com/osw-swimwear-competition-registration
Competitors: Please read the rules for the competition that are found in the registration link!
Female Competition
Age group
15 -17 *must have 4 competitors
18 – and up *must have 4 competitors
There is only one overall winner from each qualifying division.
Judging criteria
● Photogenic
● Stage Presence
● Video/Screen Presence
● Overall Fitness
● Modeling
Optional "Best" Category Award Medals for:
● Best beach hair
● Best Legs
● Arms/shoulders
● Best six-pack
● Model Walk
● GQ Look
Optional winners will receive trophies
For the final stage, the judges will select from the top 3, and select one of the candidates has the "IT" factor - with the overall ability to carry a brand.
Each division winner will receive a sash
Grand Prize for the winner (overall winner) (Sash)
● Photoshoot cover model, Moda Model Magazine
● Prize Package
● VIP for Friday night themed party
● Opportunity to go to NYFW in September 2023 as a VIP Model
Location:
Verandah Room
Hilton Orlando Buena Vista Palace
1900 Buena Vista Drive
Orlando, FL 32830-2206
About the organizer
When two powerhouse personas come together to form a new event, you can best bet it's not going to be same old/same old.  hiTechMODA: Fashion Forward Innovation is a blend separate women's visions which seek to change the catwalks of NYFW to become more diverse, inclusive, tech and sustainable.  The shows need to be more relevant and viable. These women, bring two diverse but related backgrounds to this event.  Producer, PS Privette brings her years of fashion, technology and competition experience. Brenda Jameson with a wide range of experience in numerous fields, Brenda brings an arsenal of business and organizational skills, her creative mind, and her love of technology to the world of fashion. This new endeavor will bring some of the latest innovations to the catwalk; with a look at the shifts and disruptions in every aspect of the fashion industry going on at the moment, hiTechMODA will bring those new technologies and concepts and show how they are changing the face of fashion and making it anything but "business as usual."