Sales Have Ended
Ticket sales have ended
Thanks for supporting an Africans In Orlando event.
Sales Have Ended
Ticket sales have ended
Thanks for supporting an Africans In Orlando event.
Description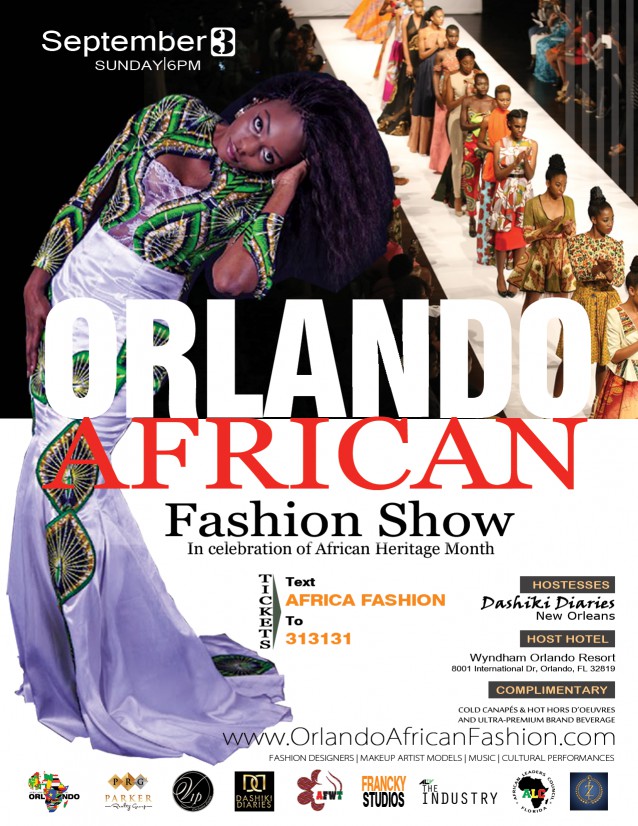 September in Orange County and Orlando has been proclaimed African Heritage Month.
This is Orlando's premier and annual African fashion and models' event offering a platform for African style designers, make-up artists and models from the region to seamlessly connect with the Orlando community, media and buyers. The event will increase the domestic awareness of home grown African fashion and increase the local presence of African design, while highlighting the culture and sophisticated glamour that solidify Orlando as a style capital where diversity is recognized and appreciated.
As Africans In Orlando LLC's newest addition to its portfolio of socio-cultural events and initiatives, significant resources are being invested into the future of African fashion in Orlando, via use of amazing venues, digital and social campaigns and a team comprised of the industry's elite professionals.
Orlando African Fashion Show. is an interactive up-and-coming heritage fashion show in the Greater Orlando Region and an emerging cutural contribution to residents and visitors to Orlando. This upscale showcase is one you won't want to miss! Join us in the celebration and be part of this cultural and glamour experience.
Your hostesses will be Dashiki Diaries from New Orleans! www.dashikidiaries.com
WHAT TO EXPECT
V.I.P. ticket-holders may begin arriving at 6pm to enjoy a private V.I.P. mixer, red carpet photo shoot, meet and greet with Fashion Designers and Models. V.I.P. includes up close seating in the first few rows. Some premium standing. Includes a complimentary Cold CANAPÉS & Hot HORS D'OEUVRES and Ultra-Premium Brand beverage.
PREMIUM includes seating in the middle to second last rows. Some standing. Includes a complimentary Call Brand Beverage. Doors open at 7pm.
General Admission includes seating in the last few rows and some standing. Doors open at 7pm.

Free Parking lot available.
Location:
The luxurious Wyndham Orlando Resort International Drive.
8001 International Dr, Orlando, FL 32819
******** TO PARTICIPATE ********
FASHION DESIGNERS: Showcase your African fabric and design
MODELS: 18yrs+ | Modelling amazing African outfits from amazing designers
MAKE-UP ARTISTS: Making these models look amazing!
VOLUNTEERS: Photo, Video, Decor, Helpers and others. Be a part of this Epic event!

YOU MUST ALL RVSP HERE: www.orlandoafricanfashion.com/signup

**************************************


******** VENDORS ********
Limited Space. Act Now!
We have a "ONE VENDOR PER PRODUCT POLICY"
We make it easy for you to maximize your Networking, Lead Generation and Business Sales.

YOU MUST APPLY HERE: www.orlandoafricanfashion.com/vendors

*************************************


INFORMATION:
THE OCCASION
The City of Orlando and Orange County have both proclaimed September as African Immigrant Heritage Month. Every year the African community celebrates it with various events and activities throughout the month.
African Leaders Council Inc.(ALC), a civic 501c3 non-profit, is proud to be the coordinator of all the events pit together by different parties in the African community. ALC is also the producer of African Heritage Gala on September 1, one of Orlando's most exciting emerging heritage events to celebrate the African Heritage Month. It is the kick-off event for the month of September and it is an opportunity bring together community leaders, entrepreneurs, government officials and the African community to share our culture, foster collaboration and create shining path for Orlando, Orange County and Florida community.
Come celebrate with us!
TAGS
#Fashion #FashionShowcase #Art #Entertainment #Business #Networking #LiveMusic #OrlandoArt #OrlandoFashion #FashionWeek #OrlandoFashionWeek #OrlandoInternationalFashionWeek #Runway #GreenWithEnvy #September3 #September3 #SexySummer #CamoDanceParty #MissRiddimsBdayPartyEvent #GreenWithEnvy #GWE #10Entry #CaymanCove #TampaFl #UnderTheTiki #August19 #MatureCrowd #21andUpToParty #9pm3am #TampaFl #GotCamo? #GetCamo #CamouflageParty #SexyGreenCamoParty #SexySummerParty #GoGreen #GreenCamoRequired #MissRiddimsBdayBash #BdayGirl #BirthdayWeekend #BirthdayCelebration #LeosFreeEntryID #CelebratingLife #RoundUpYourCrew #BestOfTheBestTampaDJs #MusicInAbundance #DanceMusic #GuestInternationalDJTony Tempo #ATL_NY_DJ #GetYourGreenCamoAttire #Dance #Music #Party
#fashion #instafashion #fashionista #fashionblogger #mensfashion #fashionable #fashionblog #fashionstyle #fashiondiaries #fashiongram #hijabfashion #streetfashion #kidsfashion #fashionaddict #fashionweek #fashionpost #fashionkids #fashionphotography #womensfashion #fashionshow #fashionlover #fashiondesigner #babyfashion #highfashion #tasfashion #fashiondesign #fashiondaily #menfashion #hairfashion #igfashion #fashionhijab #fallfashion #fashionillustration #fashiongirl #fashionstylist #fashionmodel #fashionjewelry #vintagefashion #plussizefashion #fashionbloggers #kidzfashion #fashionlovers #fashioninspo #fashionistas #fashioninsta #fashionwanita #koreanfashion #fashionbag #muslimahfashion #fashioninspiration #toddlerfashion #fashionphotographer
#womenfashion #fashionmurah #fashionph #fashiontrends #summerfashion #springfashion #fashionkilla #mensfashionpost #bajufashion #winterfashion #dubaifashion #fashions #fashionmen #fashionlove #postmyfashionkid #cutekidsfashion #fashionlook #lovefashion #fashionmagazine #luxuryfashion #fashionforward #koreafashion #fashionicon #parisfashionweek #fashionpria #fashionoftheday #fashionshoot #fashioneditorial #fashionformen #indianfashion #mensfashionreview #nailfashion #sustainablefashion #slowfashion #fashionart #ethicalfashion #urbanfashion #african #africanparty #afroparty #afro #beat #afrobeat #dance #music #afrobeatdance #orlando #orlandostrong #orlandounited #citybeautiful
#ContentCreator #CreativeDirector #Production #Media #Africa #Nigeria #Nigerian #Naija #Afrobeats #Afrobeat #BlackGirlMagic #Buzz #NewOrleans #Content #Radio #Radiohost #LosAngeles #Atlanta #Houston #Dallas #Fashionshows #Model #RunwayModels #Photographer #Photoshoots