Orisha & The Creation of Civilization | 4-Part Series W/ Baba John Mason
Description
Orisha & The Creation of Civilization | 4-Part Series W/ Baba John Mason
Tuesdays, November 7th, November 14th, November 21st, and November 28th.
Internationally renowned Lucumi tradition scholar, practitioner, and institution builder, Baba John Mason will in a four-part series address the historical theological framework of Yoruba culture, sacred and practical aspects of the Orisha's, and how it informs our lives and today's current issues.

How we understand our destiny, the process of maturing from a familial and economic world reality is framed in the series. The sessions bridge the sacred, the importance of investigating, and thriving within a world economic conceptualization informed by the Orishas. Each class is categorized by a specific Orisha, based on their pantheon location, as well as their assigned universal force.

This series is designed to highlight the practicality in sacred knowledge to actualize in daily living. Sessions will be as follows:

November 7th - Session 1: Overview - The Creation of Civilization

This section discusses the ideal of morality focusing on the Orisha's Olodumare, Oduduwa and Obatala.

November 14th - Session 2: Investigators and Strivers

This section discusses how one strives to achieve their destiny focusing on Ifa, Orunmila, and Odu.

November 21st - Session 3: Mothers and Ancestors how they inform our existence.

This session focuses on Oya and Egun.

November 28th - Session 4: What Informs Global Economics

This session focuses on the investigation and understanding of economic growth from Oshun and Iwadi perspective.


---

WHEN: Tuesdays, November 7th, November 14th, November 21st and November 28th.
TIME: 6:30- 8:30pm
WHERE: Caribbean Cultural Center African Diaspora Institute
ADMISSION: $75.00 for 4-Part Series Package | $80.00 At the door if there is seating
*Mandatory reading will be available for purchase at the event.
Limited Seating | 50 Seats | No Single Session Offered
*Program Subject to Change
---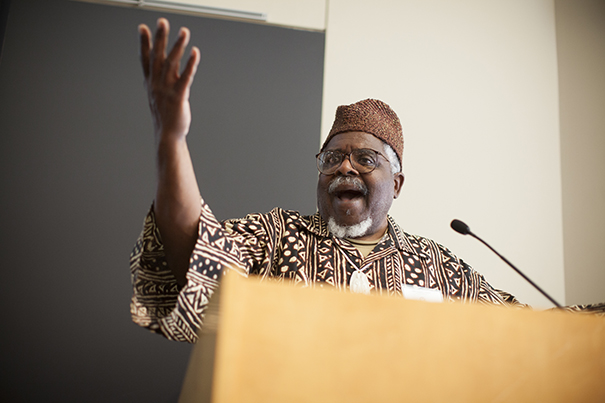 John Mason is a leading, internationally noted scholar, educator, writer, poet, playwright, musician,
composer, photographer, Yoruba religious art sculptor and installation artist, diviner and priest of Obatala
nitiated in 1970. He is a graduate of City College of New York. Mason received a 1999 Guggenheim
Fellowship in Folklore and a BAC-2001 NYCDCA award.

From 1969-75 he worked as a Basic Education Instructor with the NYC Manpower Program under
CUNY and developed curriculum for the five areas of education needed to prepare students to pass the
General High School Equivalency Examination, and to work successfully with reading and writing
assignments that would be encountered at the college freshman level. From 1973-78 he was a Music & Culture Instructor for: Center of Puerto Rican Studies, CUNY; Muse-Jazz School, Brooklyn; District #4, Bd. of Ed., NYC; ASPIRA, NYC.

In 1997, Mason was invited to bring Omo 'Nago a percussion and choral group of master musicians, to perform Sacred Yoruba Orisa Music at the Smithsonian Institution 1997 Festival of American Folklife held on the National Mall in Washington D.C. He has organized many community-based out-reach and educational activities, for the elderly and youth, respectively, in East Harlem and Bedford-Stuyvesant. Mason created the program, "Literacy Built Through Creative Actions," which has been implemented at: The Brooklyn Children's Center; Clara
Cardwell PS/IS 308; and Mary McLeod Bethune M.S.394.

In 1973 he co-founded and is currently director of the Yoruba Theological Archministry, a non-
profit research center located in Brooklyn, NY. For more than fifty years he has been involved in the intensive and extensive study of all aspects of Yoruba culture in the Americas and West Africa. His thorough documentation of this cultural movement throughout the Americas and West African diaspora has led to him being considered one of the leading authorities in the field, and his work has led to the publication of eleven major books in the field of African studies in the Americas.

His most noted published works include: Baba's Esu-Elegba Tales (2015), Araaraara: Wondrous Inhabitor of Thunder (2012), IRONTI APONNI MEJI: Remembrance of Two Flatterers (2006), IYIN PIPE: Praise of Completeness-Yoruba Art from the Danny Simmons' Collection (2004), Who's Knocking On My Floor?: Esu Arts in the Americas (2003), Adura Fun Orisa: Prayers for Selected Heads (2002), Idana Fun Orisa: Cooking for Selected Heads (1999), Beads, Body and Soul: Art and Light in the Yoruba Universe (1998, with Henry John Drewal; Finalist, Herskovits Award of ASA, 1999 and ACASA Arnold Rubin Award 2001), Olookun: Owner of Rivers and Seas (1996), the groundbreaking study, Orin Orisa: Songs for Selected Heads (1992), Four New World Yoruba Rituals (1985), and Black Gods: Orisa Studies in the New World (1985, with Gary Edwards).

In 1998, John Mason, a traditional and jazz percussionist, formed MASON-JAM-JA BAND. With fifty years experience as a percussionist and poet, Mason turns his attention to composing and performing music that draws on classic, traditional West African religious and secular rhythms, song melodies and text to
extend the improvisational vocabulary of spirituals, blues, bebop, hard bop, Afro-Latin, and Rap music.
Mason's original compositions are performed in Blues for Diana, a two act, blues, dance drama written by
John Mason. He has also created: The African Suite in Six Movements, The Cuban Suite, The Sacred
Suite, In Praise of Our Mothers, Four Women Dance, Tails of Shorty Long, Aiku/Anti-Death Tonics,
and Anti-Depression Tonics. He has also created and performed a one man review entitled Johnson
Memories, and written the books and music for the plays University of the Playground and Memoirs of the
Mothers of the Children of Fishes. The band/orchestra/chamber ensemble has performed as the house band at McDonalds Cafe (oldest Black-owned restaurant in Brooklyn) , and presented Mason's original compositions at: The American Museum ofNatural History, the Miami Art Museum, The Museum for African Arts, The Studio Museum in Harlem, The Julia Burgos Cultural Center in East Harlem, Jazz 966, Riverbank State Park, East Stroudsburg University, Ramapo College, Simmons' Corridor Gallery, Medgar Evers' Jazzy Jazz, Caribbean Cultural Center, Yale University, BAM Cafe, The Open Center, Black River Dance Studio, Goucher College, etc..
Programs subject to change*
Photo Credit: http://laveaux38.deviantart.com/