Description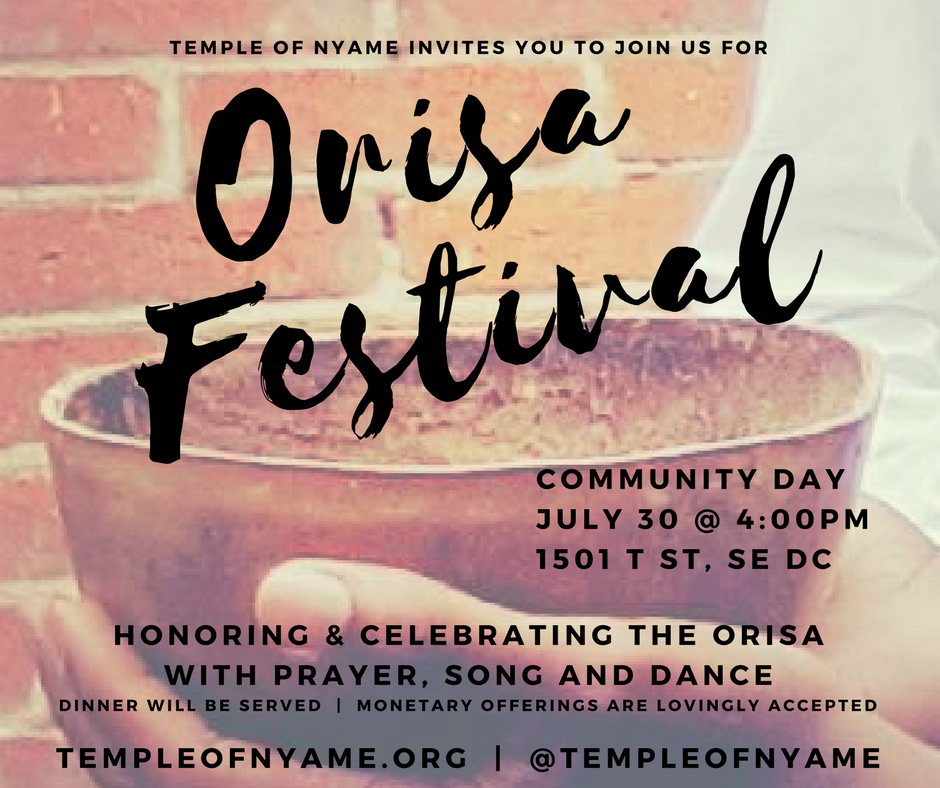 The Temple of Nyame invites you to its annual Orisa Festival's Community Day, on Sunday, July 30th at 4:00 P.M. at 1501 T Street, S.E.
This year's festival is in honor of Sango. We will be honoring and celebrating the Orisa: Essence of Nature in Prayer, Song and Dance.
This is a time of yearly renewal, sharing and offering to Olodumare, the Ancestors, the Orisa, the Abosom and the community. This ties us to the cycle of the seasons and aligns us with the essence of nature.

Join us for song, dance and special prayers.
Gifts and offerings to the shrines are accepted and may include: Kola nuts, water, rum, gin, wine, Florida water, red palm oil, olive oil, and candles, etc. Monetary offerings are lovingly accepted online in advance and in person.
Prayer Sash for Sango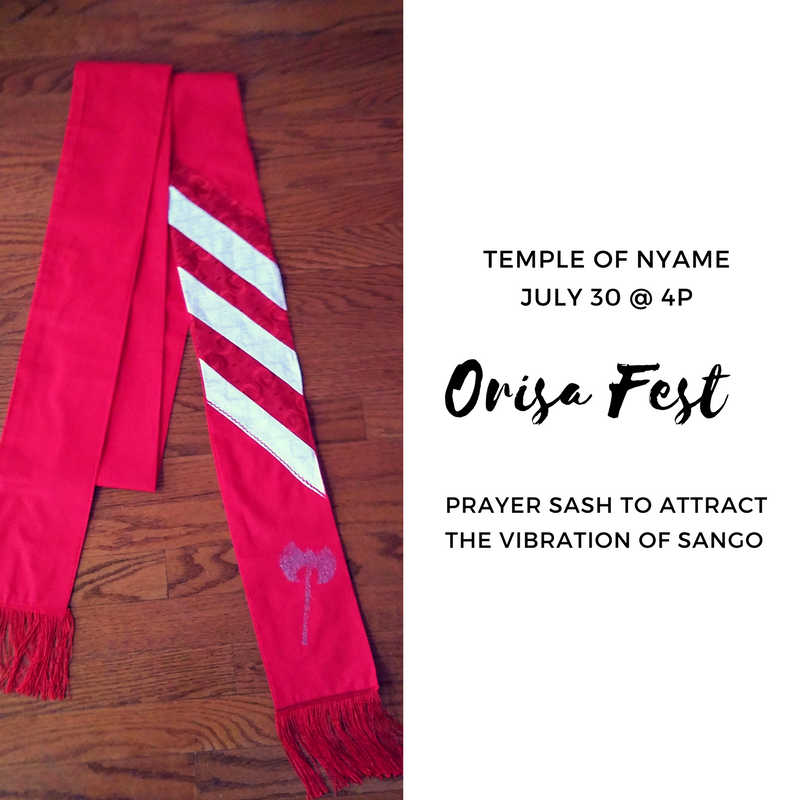 Sashes are being made to attract the vibration of Sango's protection. The sashes call in the balancing energy of Sango: white for peace, tranquility and calmness/red for fire, energy and spirit. The sashes can be placed on a table where his implements are or they can be worn as a band of protection on the body (shoulders, on one shoulder, on the head, or around the waist.) The sashes are 6" wide and 102" long with fringe.
You are invited to order a sash and pick it up when you arrive at the Orisa Festival. In the event that you are unable to attend, you may pick up your sash at the Temple of Nyame's Sunday Service at 15 T Street NW DC.
Festival to the gods of Africa
Festivals to the gods of Africa are observed throughout Africa and the Diaspora. This is the time when the gods are approached or brought out, consulted, beseeched and given offerings. It is also a time of recommitment and renewal for individuals, families, and community. Issues are resolved, blessings are shared and petitions for the next year are made. The community comes together in honor and celebration of God, the ancestors and the deities. These festivals may last one day up to several weeks.
The Yoruba people of Southwestern Nigeria, Benin, Togo, and Ghana, West Africa celebrate various festivals to the Orisa including: Osun in Oshogbo; Egungun in Abeokuta; Sango in Oyo; and Ifa in Ile Ife. The Temple of Nyame is made up of Akan, Afa and Orisha shrines including: Tegare, Nana Asuo Gyebi, Esi Ketiwa, Orisanla, Orisa Yemoja, Sango and Afa, also known as Ifa. The temple celebrates many festivals throughout the year and the one that recognizes the gods in the Yoruba traditions is the Orisa festival. There is drumming, singing, and dancing to the Orisa each night. There are also ritual offerings and prayer flag planting in honor of the Ancestors, Orisa and Abosom.
Join us in Unity and Love!
To learn more about the Temple of Nyame, visit TempleOfNyame.org