ORIGINAL SIN HARD CIDER & CABOT CHEESE: Virtual Tasting Special Event
Join us for a virtual tasting special event--Original Sin Hard Cider & Cabot Cheese—all shipped to your home! Serves 4+. Must be 21+.
About this Event
Have you sinned today? Original Sin Hard Cider is an independent, unique, award-winning New York State cider producer. Established in 1996, Original Sin is one of the original modern-day U.S. cider companies.
This is an educational and entertaining night designed specifically for cider lovers—learn about how the cider is made, the inspiration behind the ciders, how to pair cider with cheese and other foods, the memorable art used to build the brand, and what's coming next from Original Sin.
In this virtual tasting, participants will meet Gidon Coll, the owner, founder, and cider maker extraordinaire at Original Sin Hard Cider. Gidon will guide participants on a tutored-tasting of six ciders from the Original Sin Hard Cider portfolio, discussing the production, style, qualities, and tasting notes of each cider then, after discussing each cider, he will guide participants through pairings with some of the award-winning cheeses from Cabot Creamery. Serves 4+ people from a single location/log-in. Shipping of the cider and cheese to your home is included. Registrants must be 21+.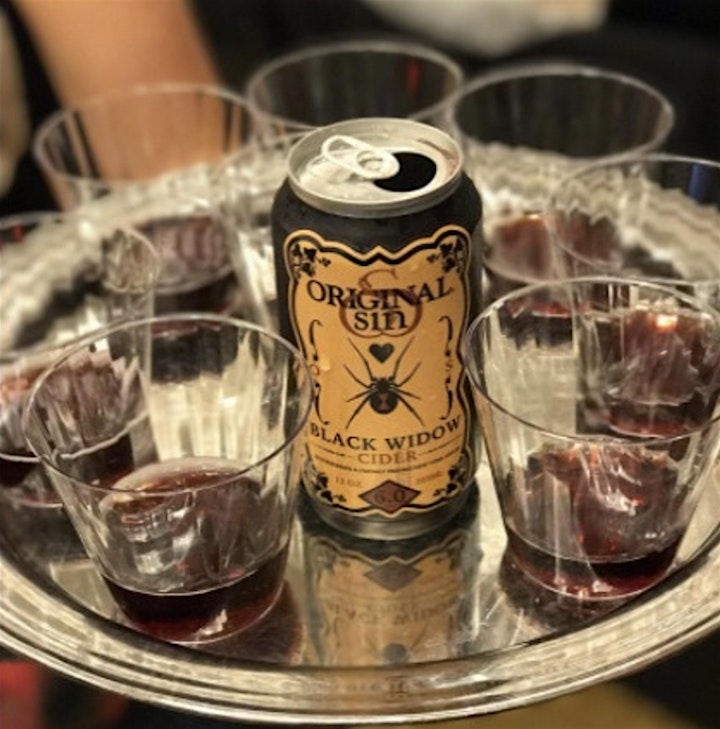 The Original Sin hard ciders included as part of this special event include:
• Northern Spy Unfiltered Single Varietal: freshly pressed hard cider made from iconic heirloom Northern Spy apples grown in New York State. This dry cider made with champagne yeast allows the natural flavor of this historic apple to speak for itself.
• Newton Pippin (Heirloom Series): Made from fresh pressed Newtown Pippin Single Heirloom Varietal, first harvested in Queens, NY, in 1740.
• Macintosh (Single Varietal): An unfiltered cider made with freshly pressed New York McIntosh apples. This cider is rich and complex, reflecting the balanced sweetness and acidity of this historic apple.
• Pineapple Haze: freshly pressed New York apples, champagne yeast and a proprietary blend of tart pineapple juice.
• Black Widow: fruit-forward, yet tart, with a tantalizing complexity, made with blackberries and freshly pressed New York apples. 2018 and 2019 Silver Medal Winner at Great Lakes Cider Competition.
• PLUS a secret new-release, seasonal cider (SHHH….TBD)
In addition to the special 6-can cider variety pack you'll also be enjoying award-winning cheese from Cabot Creamery. You'll receive (4) 8oz. bars of Cabot cheese, specially-selected, for this tasting and pairing event—all shipped directly to your home. Serves 4 (or more) at a single location/log-in.
Each ticket ($49 is until 2/28; $59 thereafter) is designed to be enjoyed by four (or more) participants, and includes the following:
• Special 6-can cider variety pack of Original Sin Hard Cider:
o (1) 12 oz. can Northern Spy Unfiltered Single Varietal
o (1) 12 oz. can Newton Pippin (Heirloom Series)
o (1) 12 oz. can Macintosh (Single Varietal)
o (1) 12 oz. can Pineapple Haze
o (1) 12 oz. can Black Widow
o (1) 12 oz. can: New-Release Seasonal (TBD)
• (4) 8oz. bars of Cabot cheese
• Access to the 1-hour virtual tutored-tasting conducted via video conference
• Direct shipping to the purchaser's home
Tickets for this virtual experience are limited. If maximum capacity is reached prior to cut-off date (4/26/21), no additional reservations will be available. A sell-out is expected. Buy now to guarantee participation and delivery. Ticket purchaser must be 21+ to show ID and sign for the delivery of cider. Please refer to the FAQs for additional information.
Please note that this class will be taking place at 7:00PM EST and will be conducted in English. International shipping is not available for this event.
This tasting event is presented by Starfish Junction and sponsored by Original Sin Hard Cider and Cabot Creamery. Participants must be 21+.
About the Presenter:
Gidon Coll & Original Sin Hard Cider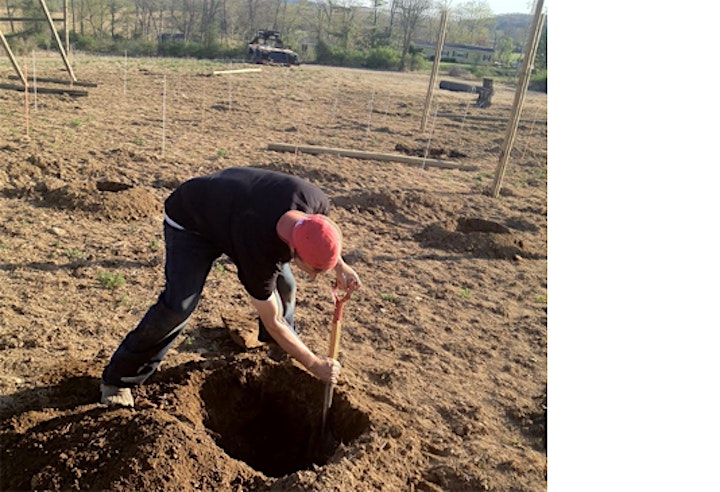 Gidon Coll is the Founder/President of Original Sin Cider. Established in 1996, Original Sin is one of the pioneers of the modern-day cider revival. Today Original Sin is distributed in 30 States and Japan. Original Sin has been making single varietal ciders, since 2010. The Single Varietal Cider series has won a number of accolades, including a Gold Medal for Original Sin Single Varietal McIntosh Cider. Mr. Coll also runs the Hudson Valley Apple Project, a small orchard set-up on this family's old dairy farm which features over 150 varieties of cider, heirloom and endangered apples.
FAQ:
What is included in the ticket price? Each ticket is designed to be enjoyed by four (or more) people and includes the cider, the cheese, access to the online event via video conference, and direct shipping to a single address.
Who can participate in this special event? All purchasers must be 21+ and show valid photo ID to accept delivery of the cider.
How will the cider and cheese get to me? The cider will be shipped to the mailing address provided at the time of purchase. Cider delivery must be signed for by someone 21+ with valid photo ID. The cheese will be shipped separately, directly from Cabot Creamery, via FedEx to the mailing address provided.
Do I need to be home to receive the cider? Yes! Since the cider contains alcohol, the package must be received by someone who can show their ID and sign that they are 21+. Packages will not be left at your door. Please make sure to provide a mailing address where someone over 21 will be home to receive the package or your package may be delayed or you may incur re-delivery fees. Neither Starfish Junction nor its sponsors/partners are responsible for delayed delivery.
When will I receive my cider and cheese? We will close ticket sales on April 26, 2021 at 5:00pm EST (or earlier if sell-out numbers are reached) to ensure delivery to you on time. Your shipment of cider and cheese will arrive separately. Please refrigerate the cheese upon delivery.
How will you ensure the cider and cheese get to me in time? Shipping times vary. We are cutting off ticket sales with ample time to ensure each ticket purchaser receives their cider and cheese shipments before the online event.
What if I get the cider/cheese early? Please be sure to refrigerate the cheese upon receipt and chill the cider in advance of the event.
I can't make the online event. Can I still purchase a ticket and get the cider and cheese? Yes. If you can no longer attend the online event or simply are not interested in doing so, you can still purchase a ticket to receive the cider and cheese shipped directly to the mailing address provided. Please note that all sales are final and there are no discounts, refunds or exchanges should you not join the online event portion.
How many people can participate with a single ticket purchase? While this seminar's cider and cheese package serves four (or more) people, each ticket provides log-in access to one individual buyer and shipping to one physical address. All participants must be together to participate in the seminar and enjoy the cider and cheese.
How do I join the online event? Prior to the online event taking place, you will receive a number of emails reminding you of the date and time. Within these emails will also be a link to the Online Event Page which has the video conferencing link to join.
Can I ask questions during the online event? Yes! We encourage you to ask questions but please do so using the chat feature. This will ensure we avoid people talking over each other and all questions can be answered. The chat feature is typically located in the upper righthand corner of Google Meet.
How will you ensure the online event is a safe environment? The video conference should be attended by those who are 21+ only. We ask that all participants be polite and courteous. Starfish Junction and its sponsors/partners reserve the right to remove any participant from the video conference who is disruptive or behaving inappropriately with no opportunity for refund.
Do I need to download special software or an app to participate in the video conference? The online portion of the tasting will be conducted via the video conferencing platform, Google Meet. You should be able to click the link provided and access the video conference in any web browser from a desktop computer or laptop. However, you will need to give permission to the browser to use your camera and microphone. If you would like to access the video conference on a smart device (smartphone, tablet, etc.) you will need to download the Google Meet app to the device that you are using to access it. Note, in rare cases you may need to update your browser or computer. Be sure to test your accessibility a day or two before the online event.
Can I take part in the online event by phone only? Yes, a call-in phone number will be provided so you can attend via phone and participate with audio only.
What happens if I lose internet connection during the online event? If you lose internet connection and leave the video conference, simply click the link again to re-join. If the host loses internet connection, they will exit and rejoin. Please be patient.
Can you help me with my technical difficulties accessing the video conference? Yes, please email help@starfishjunction.com. It is important for you to try accessing the video conference before the day of the online event so we can fully assist you.
Do I need anything besides the cider, cheese and a computer to participate? The cider will be shipped in cans for easy consumption. You may also wish to have on hand:
o small glasses for cider tasting, six per participant
o plates and napkins
o knife and cutting board
o water for palate cleansing between tastings
o fruit/crackers (optional)