ORIGINAL: Profit Launch 2018- BDR's Business Planning Workshop

Wednesday, September 13, 2017 at 7:00 AM
Event Details
 General Session Dates Available:

 

January 24-26, 2018

February 7-9, 2018

 

 

w The Industry leading Business Planning Workshop

is right around the corner and we are excited

beyond measure to have you there w
---
Get fired up about your business and build a business plan that will set you on the path to achieving your personal and business dreams!
DREAM BIG!
Together with our Profit Coach Team, you will establish all the elements of a complete, professional business plan.  Every year we spend 3 intense days of hands-on-training, instruction and application, allowing you to walk away with a complete business plan that will be the roadmap to achieve your personal and business dreams.
Here are some of those continued benefits of attending year after year:

Build a company that can reach your profit goals

Set goals and the steps to achieve them while testing the validity of those goals against profit expectations using proven accounting and mathematic measurement tools

Use a secure line of credit or keep the one you currently have - your banker will tell you, a Profit Launch business plan is the most comprehensive, detailed plan they have ever seen, opening the door for easier credit access

Have a vision for where you and your company are going and strategize with other successful dealers

Leave with a comprehensive, detailed and implementable business plan
---
---


---
---
Recharge... Re-energize...
Re-define your personal and professional goals!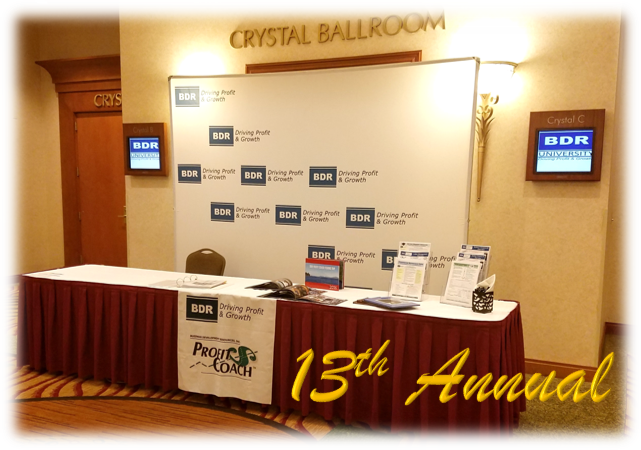 Set in motion a series of events that will be life changing.

---
GENERAL SESSION DETAILS
 Who Should Attend:
Dealers focused on building a 5 year strategic business plan, including Owners & Senior Management
Registration Includes:
Continental Breakfast

Buffet Lunch

Break Snacks
Location: Hilton Seattle Airport Conference Center - Summit Ballrooms
Located directly across the street from the airport, this hotel is easily accessible by foot

Restaurants can be located within the hotel and just South a few blocks

Ballroom doors will open at 6:45am

Registration begins at 7:00am

Breakfast is served at 7:00am

Session begins promptly at 7:30am
Travel Information:
You will fly into Seattle-Tacoma International Airport (SEA), arriving no later than the evening before class begins.  You should plan on leaving no earlier than 6:30pm on day 3.  This will allow 2 hours from the end time to get to the airport. 




Once regsitered you will receive a Welcome Packet that will have detailed informaiton to plan your trip!

If you are driving to this workshop, you will have the option of parking at the hotel and paying the daily rate.  BDR will offer a 10% discount on all parking during workshop days.  
Confirmation of Receipt:
Once tickets are ordered, you will receive an email confirmation from Eventbrite.  

You will also receive an email confirmation from BDR verifying your registration.

All registered attendees will receive emails associated with class documents, welcome packets and any other travel information prior to your session beginning.

 
---
FREQUENTLY ASKED QUESTIONS
Can I update information on a registered attendee if we have a last minute change?
Please notify the Event Coordinator, Sarah Medina, with any information that is different from what you entered upon registration.  Many class documents are printed with names of attendees.
Who can I notify of a special need or allergy?
We do our best to ensure your time with us is everything you'd hoped for.  Please don't hesitate to notify us on special needs you may have. 

You will recieve a Client Info Request Sheet prior to your arrival, where you can list any food allergies/preferences.  The kitchen will be notified ahead of time.  
What do I bring?
You will be notified via your Sharefile account what forms, spreadsheets and documents you need prior to class.

Some attendees bring their laptops, this option is okay but there is limited space on the tables.

 
What is the refund policy?
For cancellations with more than 30 days notice, there is a $200 per person cancellation fee and/or transfer fee.

All cancellations made within 30 days of session date are non-refundable.
How do I get immediate assistance?
Please contact the Event Manager, Angie Swartz, by calling our office at 206-870-1880 ext. 1120 or via email at angieswartz@bdrco.com

Contact your Coach directly
---
---
Come learn specific financial and business management expertise -

"You don't have to teach us your business in order for us to help you."
---
---
TESTIMONIALS
 "I took over a family owned business 12-years ago doing Plumbing, Heating and Cooling. Last year we wrote our first business plan at Profit Launch in Year 2013. My coach Gary helped us set some goals that I thought were unachievable, but we are on target so far. Another Wahoo is our financials were a mess and my financial coach helped us organize them and I can see where our money is going now and I know where to work on our business now"   -Charles Grimes from Charcool Heating & Cooling
"Been to 10 Profit Launches. I bought the business 7 years ago and have been increasing in revenue about 10% each year. Big WAHOO is the business has processes & procedures and when I leave for 2 weeks, I get a small number of emails and the company runs smoothly without me being there."   -Kevin Kuntz from Hybrid Heating & Air Conditioning
"7th-year with Profit Coach & Profit Launch. We had another record year and every year has been better than the last."   -Bob Weisser from Poudre Valley Air

 

"The family has owned the business for 75 years; BDR has been a great help in transitioning from a family run business to integrating non-family employees. Our biggest Wahoo is leveraging our Profit Launch Business Plan which really helped us to recover from a difficult first-half 2014. I don't think we would be where we are if it wasn't for BDR Profit Coach and Profit Launch."                       - Cathy Smithmyer from Smithmyer Plumbing & Heating LLC

 

 

---




 

Visit our website to see all of the training BDR University offers!

www.bdrco.com
When & Where

Hilton Seattle Airport Conference Center, Summit Ballrooms
17620 International Blvd.
Seattle, WA 98188


Wednesday, September 13, 2017 at 7:00 AM
Add to my calendar
Organizer
The premier provider of business training and coaching services to contractors. We offer business training classes across the United States and Canada and ongoing monthly business coaching through our Profit Coach program. We can help you drive profit and growth in your business.  Ask us how!
Phone: 206-870-1880
Email: info@bdrco.com
Website: www.bdrco.com