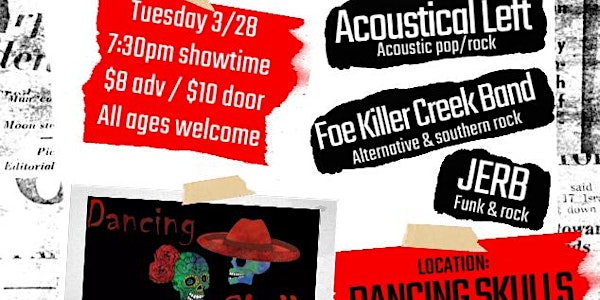 Original Music Showcase at Dancing Skulls
Don't miss this incredible line-up of local, original rock bands at Dancing Skulls!
Date and time
Starts on Tuesday, March 28 · 7:30pm EDT
Location
Dancing Skulls JC 9945 Jones Bridge Road Suite 301 Alpharetta, GA 30022
About this event
Don't miss this incredible line-up of local, original rock bands at Dancing Skulls! This show features three bands, each with a different style within the broader rock genre. There will be something for everyone here! Acoustical Left plays acoustic pop/rock; Foe Killer Creek Band plays alternative and southern rock; and JERB plays funk and rock.
BAND BIOS:
Acoustical Left performs in multiple venues across North Georgia and brings a unique and pleasant sound to many rock and pop covers from the 70's to today. The Left can be found playing at pubs, restaurants, breweries, festivals, corporate events, private parties and coffee houses around North Georgia. The band's dynamic offerings include acoustic duos and trios along with 4 and 5-piece full band support for your needs, covering a wide genre of music from the 1970's through today. The band started over 10 years ago, when Mike Estabrook was performing solo and occasional duo gigs. In 2016, Mike teamed-up with Mike Auger (percussion and vocals) in an acoustic duo project to add smooth rhythmic percussion styles and pleasing harmonies. The band grew to include Al "Big Al" Robinson (harmonica) and Aaron Clark (bass/guitar/vocals) during 2017 into 2018. The addition of Big Al and Aaron Clark enabled the band to expand to 3-part harmonies, unique instrumental stylings and broader genres. A reliable, high quality group with strong vocals, high-end instrumental performance, excellent mixes for your venue and fun crowd engagement, Acoustical Left is committed to providing you a great experience!
The Foe Killer Creek Band proves that rock is not dead. The Foe Killers combine alternative, grunge, southern rock and jam band influences to create a signature guitar-driven sound that anchors their catalog of original rock music. Guitarist/singer Jim Taylor formed the Foe Killer Creek Band in his basement studio on the banks of the Foe Killer Creek in Alpharetta, Georgia. What started as an impromptu jam after a poker game ended with the resurrection of a set of original songs that Jim had written in college. Guitarist Dave Matela instantly recognized the song quality and insightful lyricism and was drawn to the opportunity to layer in additional guitars to help create the Foe Killer Creek Band sound. Jeff Huepper's dynamic drumming and Robb Phillips' synchronistic bass provide a driving rhythm section that gives each song a timeless relevance. The Foe Killer Creek Band has performed at various venues in Alpharetta and continues to write new original songs to add to its nearly 50 song catalog.
Jerb (formerly Jacks River Band) is a high energy, funkcentric, blues-inspired, good time party rock band. Formed 6 years ago in Atlanta, James DeVeau's soulful singing and keyboards and Bryan Haines' blistering guitar work matched perfectly with the powerhouse rhythm section of Brian Weinberg's complex drumming and Clark Lee's driving bass lines. Jerb's exceptional song writing, deep catalog of covers, and instinct for improvisation ensures a lively crowd experience that never fails to inspire a good time. With a second, funk-inspired album coming soon and an original rock-opera close on its heels, Jerb is an Atlanta staple not to be missed!
About the organizer
Atlanta-based music booking and promotions company