About this Event
Travel to Sri Lanka from the comfort of home while you enjoy a tea tasting of several uniquely different Ceylon teas. This tasting session led by Gail Gastelu of The Tea House Times, will transport your taste buds and imagination to the terroir that defines the flavors of the region, and even the place between the rain forest and the ocean. Special thanks to the Sri Lanka Tea Board for providing teas and educational materials in support of this session.
Your ticket ($30 per person) to this virtual tea tasting includes the following:
7-pack of Ceylon Tea boxes each focused on one of the seven tea regions of Sri Lanka (seven boxes total; each box containing five tea bags)
Direct shipping to your home
Access to the 1hr virtual, interactive, educational tasting with Gail Gastelu for one participant to be conducted via video conference
Tickets are limited. Deadline to purchase is 8/9. Buy now to guarantee delivery and participation.
Although this virtual class is open to all tea enthusiasts nationwide, remember the class will be taking place EST at 10am and be conducted in English. International shipping is not available for this event. Please refer to the FAQs below for additional information.
This virtual class is presented by the Coffee & Tea Festival, and sponsored by the Sri Lanka Tea Board and the Coffee & Tea Newsletter.

About the Presenter: Gail Gastelu
Gail Gastelu is owner/publisher of The Tea House Times, producer of Tea Course and Tea Course Fast Track, co-owner of Tea Etiquette Certified and frequent presenter at tea and/or coffee shows nationwide. Connecting businesses and consumers since 2003, her passion and drive is to help tea businesses grow by providing many services beneficial to the tea industry. The publication, news, education, hosted blogs, special features, and resources may be found by visiting The Tea House Times website. Gail created the nationwide #DrinkTea Campaign with the Tea Council of the USA. Gail currently serves on the Tea Association of the USA's Specialty Tea Institute Advisory Board and over the years has been an officer or advisory board member to several associations, trade shows, and organizations. Gail has traveled to Sri Lanka twice and represents and promotes Ceylon tea on behalf of the Sri Lanka Tea Board when possible.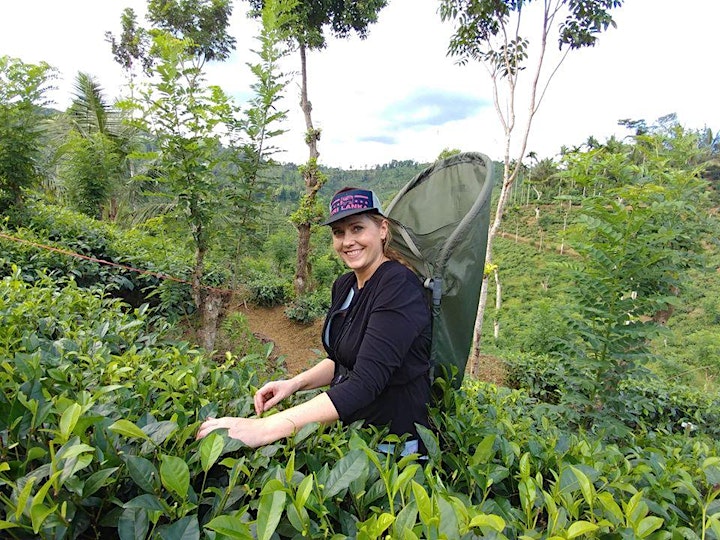 FAQs:
What is included in the ticket price? All tickets include access to the online event, the tea which you will be tasting and direct shipping.
How will the tea be shipped to me? The tea will be shipped to the mailing address provided by The Tea House Times.
Where do you ship to? We can ship nationwide. No international shipping at this time.
Can you ship to a PO Box? Yes. Although it is recommended that you provide your home address as your shipping address so you don't have to leave your house due to current stay-at-home restrictions in select locations.
When will I receive the tea that is included with my ticket? We will close ticket sales on August 9, 2020 to ensure delivery to you on time. Your tea will be delivered between August 10-14 depending on your location.
I missed the cut-off date. Can I still get a ticket for the virtual class? Please contact us using the contact link at the bottom of this page. Depending on your mailing address, we may be able to accomodate you if there is still time. If not, we can discuss the possibility of joining us for the online event only.
How will you ensure the tea gets to me in time? Average shipping times are approximately 2-3 days. We are cutting off ticket sales early due to ensure the ticket holder receives their tea before the online event. If we have delivery issues, we will contact you by the phone number provided.
How are damaged packages handled? Starfish Junction nor its sponsors and partners are responsible for damaged packages. The Tea House Times and Sri Lankan Tea Board take pride in their packaging and ensuring customers receive the highest quality of products.
I can't make the online event. Can I still purchase a ticket for the tea? Yes. If you can no longer attend the online event or simply are not interested in doing so, you can still purchase a ticket to receive the tea shipped directly to the mailing address provided. Please note that all sales are final and there are no discounts, refunds or exchanges should you not join the online event portion. Note, the video conference will be recorded and a link will be sent to ticket purchasers for later viewing but it will not be available to the public.
Will the online event be recorded? Yes, we will be recording the video conference. After review of the recording, we will send a link out to all ticket purchasers so they can access it and view it at a later date should they be interested in doing so. However, the recording will not be made public.
Can I buy more than one ticket? Yes, each ticket provides access to one individual. If you would like to participate with a friend, multiple tickets must be purchased. Please note, if you purchase multiple tickets all of the tea will be sent to the same shipping address provided unless you make a different order for each ticket purchase.
How do I join the online event? Prior to the online event taking place, you will receive a number of emails reminding you of the date and time. Within these emails will also be a link to the Online Event Page which has the video conferencing link to join.
Can I ask questions during the online event? Yes! We encourage you to ask questions but please do so using the chat feature. This will ensure we avoid people talking over each other and all questions can be answered. The chat feature is typically located in the upper right hand corner of Google Meet.
How will you ensure the online event is a safe environment? We ask that all participants be polite and courteous. Starfish Junction and its sponsors/partners reserve the right to remove any participant from the video conference that is disruptive or behaving inappropriately with no refund.
Do I need to download special software or an app to participate in the video conference? The online event will be conducted via the video conferencing platform, Google Meet. You should be able to click the link provided and access the video conference in any web browser from a desktop computer or laptop. However, you will need to give permission to the browser to use your camera and microphone. If you would like to access the video conference on a smart device (smartphone, tablet, etc.) you will need to download the Google Meet app to the device that you are using to access it. Note, in rare cases you may need to update your browser or computer. Be sure to test your accessibility a day or two before the online event.
Can I take part in the online event by phone only? Yes, a call-in phone number can be provided so you can attend via phone and participate with audio only. Please reach out to help@starfishjunction.com for dial-in details.
What happens if I lose internet connection during the online event? If you lose internet connection and leave the video conference, simply click the link again to re-join.
Can you help me with my technical difficulties accessing the video conference? Yes, please email help@starfishjunction.com. It is important for you to try accessing the video conference before the day of the online event so we can fully assist you as we have some limitations.
Do I need anything besides tea to participate? In addition to the tea you will be shipped for the tasting, you will need a kettle filled with room temperature water, which will be boiled as needed during the tasting. You will also need a tea brewer and tea cup. Alternatively, a cupping set would work. You may want to have a tea towel or any towel on hand for drying too. We also recommend having a power source connected to your computer (or device) that you will be participating in the video conference with.
Date and Time
Location
Refund Policy