Origin Alignment 3-Day Retreat
About this event
How can you as an entrepreneur create from your deeper origin? How do you accelerate your impact from the inside-out by trusting your intuition? How can you live in an ongoing state of conscious presence and joy when you don't live on a mountaintop but work in the trenches of entrepreneurial life?
In this profound 3- day retreat, set against the stunning natural backdrop of Italy's Lago d'Orta, you will deepen your perspective on different dimensions of your being and learn how to integrate these into your life as an entrepreneur.
This program, held at the Mandali Retreat Center outside of Milan, also includes 36 hours of social silence and offers opportunities to relax, enjoy the sauna and jacuzzi, and go for walks in the surrounding countryside.
AT THE RETREAT, YOU WILL:
Sink into a state of profound clarity
Connect with yourself on a deeper level
Understand how to grow your manifestation power
Start surfing your undercurrent of purpose
I
Who are you on the level of your personality? How do you use your personality as a vehicle to accelerate your impact?
WE
Who are you as a part of humanity? The world around you is the result of a joint effort. Everyone is part of something which has the potential to be a fantastic collective. It is your great achievement to hold on to this highest vision in a positive way and act upon it. How do you, as an entrepreneur, live and create from your unique Purpose?
IT
Who are you on the deepest level of yourself? When you delve deeper into yourself, you will discover that there's only one consciousness. Everything that exists takes place within that one universal consciousness. In this retreat, you'll learn how to make contact with this deeper level of yourself and to make IT the starting point of all your entrepreneurial endeavors.
EXERCISES AND RELAXATION
During the 3-day program, we will use different exercises that you can integrate into your daily life as a busy entrepreneur. The program also offers opportunities to relax, enjoy the sauna and jacuzzi, and go for walks in the surrounding countryside.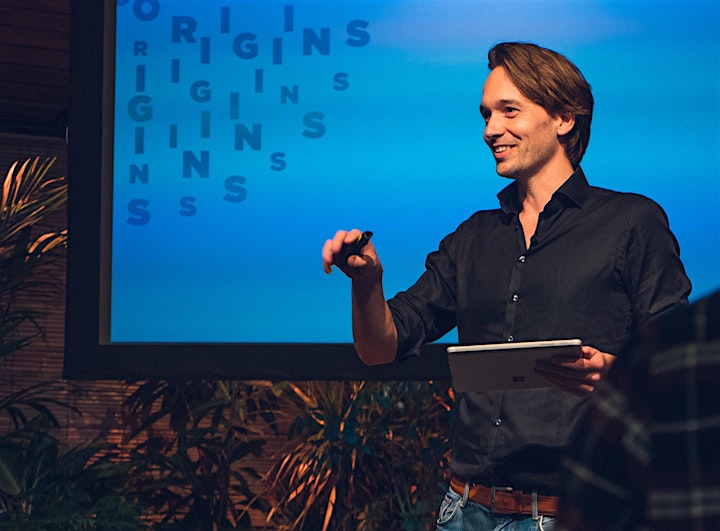 ABOUT YOUR FACILITATOR
Joel aan 't Goor will lead this retreat. Joel is a psychologist, entrepreneur and author.
Joel founded Origins, the international movement for purpose-driven and awake creators, entrepreneurs, and influencers. Origins accelerates the awakening of humanity and co-creates a brighter future. A future in which living your Purpose is a birthright, and love and connectedness lie at the foundation of our society.
Joel says, "A shared joyful reality for life on earth will only arise with a revolution on the inside: wake up, take true responsibility for ourselves, and become inside-out creators. As conscious entrepreneurs and leaders, we will act as a catalyst to manifest the desired transformation on earth."
Joel's strength lies in a deep understanding of both people and entrepreneurship. According to Joel, next-level leadership is about Purpose AND Profit. Joel is also founder of the World Consciousness Forum and of OPEN Business Leaders. He is an ambient techno DJ, a keynote speaker and is the creator of 'The Roast of Your Leadership'. His purpose: establish the tipping point for transformation on earth by waking up 10% of all influential entrepreneurs and leaders in the world and helping them to become an inside-out manifestation powerhouse.
DATES: Oct 9-11, 2020
LOCATION:
Mandali Retreat Center, set against the stunning natural backdrop of Italy's Lago d'Orta (75-minute drive from Milan).
PROGRAM:
Oct 9, 2020 – Arrival Day
14:00 - 16:00 Arrival and check-in
16:00 - 18:30 Welcome + Session
18:30 - 20:00 Personal time + Dinner
20:00 - 22:00 Session
Oct 10, 2020 – Day 2
07:30 - 08:30 Morning exercises and meditation
08:30 - 09:30 Breakfast
09:30 - 13:00 Session (including tea break)
13:00 - 14:00 Lunch
14:00 - 17:00 Session (including tea break)
17:00 - 19:00 Personal time
19:00 - 20:00 Dinner
20:00 - 21:30 Session
Oct 11, 2020 – Departure Day
07:30 - 08:30 Morning exercises and meditation
08:30 - 09:30 Breakfast
09:30 - 13:00 Session (including tea break)
13:00 - 14:00 Lunch
14:00 – Departure
INCLUDED IN THIS RETREAT:
✔ 2-NIGHTS ACCOMODATION IN SINGLE ROOMS
✔ FULL-BOARD VEGETARIAN MEALS
✔ FRUITS, TEAS, AND FILTERED WATER
✔ FREE USE OF BODY CARE CENTER FACILITIES: SAUNA, JACUZZI, INDOOR HEATED SWIMMING POOL
✔ ALL WORKSHOPS AND SESSIONS AS WRITTEN IN THE PROGRAM
Total price = €1690 excl VAT Standard Room
Total price = €1790 excl VAT Premium Room
Organizer of Origin Alignment 3-Day Retreat