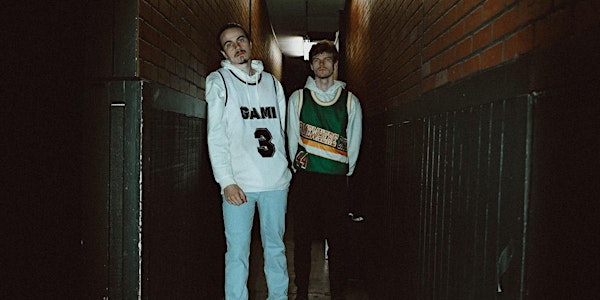 Date and time
Friday, July 14 · 7:30 - 10pm EDT.
Location
DC9 Nightclub 1940 9th St NW Washington, DC 20001
About this event
Origami Angel
WEBSITE | FACEBOOK | INSTAGRAM | TWITTER | SPOTIFY
If there's one word that defines Origami Angel, a spritely Washington, D.C.-bred act that excels in exploratory fusions of pop-punk and fifth-wave emo-- not to mention the seemingly dozens of other genres they keep in their back pocket-- it would be friendship. The duo, consisting of vocalist/guitarist Ryland Heagy and drummer Pat Doherty, makes its bones by fostering an almost-ethereally intimate relationship with its community of fans and listeners, bolstered not just by Heagy's highly idiosyncratic style of lyricism but also by their bottomless well of addictively unorthodox hooks.
Gami's latest record, the mammoth double-album Gami Gang, sees Heagy and Doherty reaching their respective peaks as musicians, stacking each of the album's songs with fizzy, frenetic interplay and choices as bold as they are exciting.
Heagy and Doherty are songwriters of sheer heft and momentum, their intimidatingly high-quality musicianship only trumped by their melodic know-how and knack for brilliantly relatable, self-deprecating lyricism. Origami Angel want to be the best like no one ever was, and so far it seems like very little is going to be able to stand in their way.