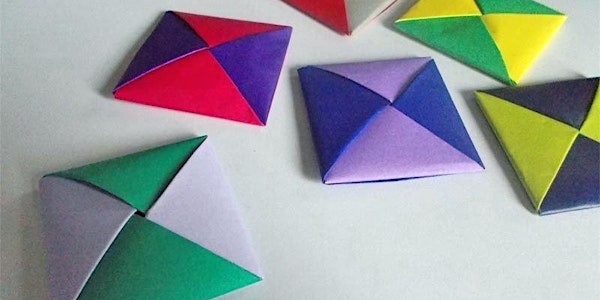 Origami and Non-Traditional Books taught by Cassie Jones
When and where
Location
Parkway Central Library 1901 Vine Street Room 405 Philadelphia, PA 19103
Description
Books can be a lot of things: a sheet of folded paper, a book of matches, a collection of bound photographs, the list can go on. This workshop is going to expand the idea of what a book is or can be, by the use of origami as book and/or page. No experience necessary, and open for all ages, this workshop is meant to get the creativity going and have something fun to take home with you!

Your instructor Cassie Jones has been exploring the idea of book since an early age. Making books from leaves bound with stems, and decorating them with daisy chains, she found a love for the compact nature of books. Since childhood she has continued that interest at the Savannah College of Art and Design in Savannah Georgia, and traveled abroad to Braunschweig University for a summer in Germany to see and learn about the original Gutenberg Press. Come out to class and bring along any questions about paper making, book binding, leather bound books and more, she'll be happy to share her knowledge.
This free workshop will take place 10 AM - 1 PM in Room 132, 1st floor of the Parkway Central Library. Materials will be provided, but participants may bring their own tools.
The Art Department partners with the Philadelphia Center for the Book to bring free book arts workshops to Parkway Central from September to May. Space in these very popular classes is limited; please let us know in advance if you will not be able to attend after you have registered so that we can release tickets to those on the waiting list
Registration is required and will open Tuesday, November 11 at 12:00pm