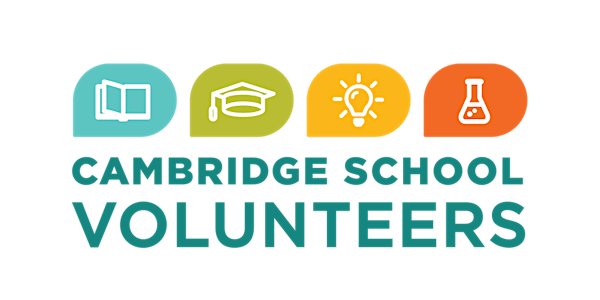 Orientation for New Elementary Literacy Volunteers, 2022-2023
Required orientation for new volunteers who have applied to work with elementary students in the 2022-2023 school year
About this event
This orientation is required for all who are interested in volunteering with elementary students in Cambridge Public Schools.
In addition to this session, prospective volunteers will also need to attend our equity, inclusion, and belonging workshop (if they did not already in the last two school years).
This orientation begins with an information session about the services provided by Cambridge School Volunteers (a partner of the public school district) at the elementary level, about the CPS student and teacher community, and our expectations of volunteers. We'll also explain how CSV supports you, the volunteer.
We will follow up with the next steps and potential start dates based on your schedule and program needs.
To sign up for other meetings follow the link below. If there are no more available spots in the sessions needed to complete your process, or no dates available, contact us through email at petersons@cpsd.us.
CSV Eventbrite Page: All Listings
What is the time commitment? Volunteers give one hour per week, for at least one semester; preferably for the school year. Many volunteers choose to work more hours.
When are volunteers needed? During the school day.
Who are the students? Cambridge Public School students have a wide range of socioeconomic backgrounds, English language learning status, and other circumstances that impact their educational success. Forty-five percent of the student body is considered "high needs" as defined by the Massachusetts Dept. of Elementary and Secondary Education (DESE). Approximately 44% qualify for free or reduced-price lunch.
Can I help if I've never worked in a school? Yes! You do not have to have prior experience as a tutor or teacher. We will work to match your talents with a need in the schools.
Do I need to provide references or have a CORI check? Yes. We will also need an image of a government-issued photo ID (driver's license or passport) for a CORI (criminal record) check, documentation of COVID-19 vaccination, your immunization record, and a Receipt of Ethics/Conflict of Interest Summary Form. New volunteers must also provide two completed reference forms (your two references should be individuals who have known you for at least 6 months.)
To fill out an application and submit paperwork, head to https://www.csvinc.org/how-to-get-started.