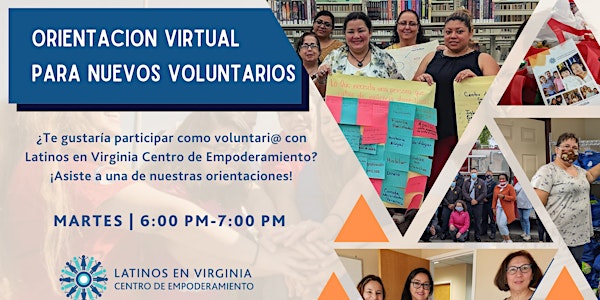 Varias fechas
Orientación de Voluntarios | Volunteer Orientation
Aprende más sobre nuestra organización y nuestro programa de voluntarios!
Por Latinos In Virginia Empowerment Center
Fecha y hora
lun., 10 de ago. de 2020 15:00 - mar., 19 de sep. de 2023 16:00 PDT
Acerca de este evento
Para ser voluntario en Latinos en Virginia Centro de Empoderamiento es necesario que asista a una Orientación Virtual para Nuevos Voluntarios. Aquí, aprenderá más sobre nuestra agencia, y cómo puede utilizar sus experiencias y habilidades para apoyar nuestra misión como voluntario. Por favor, regístrese en la fecha más conveniente para usted.
----------
To volunteer at Latinos in Virginia Empowerment Center, you must attend a Virtual Orientation for New Volunteers. Here, you'll learn more about our agency, and how you can use your experiences and skills to support our mission as a volunteer. Please register on the most convenient date for you.
Acerca del organizador
Latinos in Virginia Empowerment Center (LIVE Center) started as a grassroots initiative in 2008 with the purpose of providing information to Spanish-speaking individuals so they can better adapt to their new community and lives in Virginia and learn about the services available to them.
Over the years, this has been made possible due to the support of bilingual and bicultural volunteers who donate their time and resources to provide in-person and phone interpretations, translations and assistance with completing applications for various service agencies that do not provide access to interpreters or require clients to bring their own interpreter in order to access their available services.
After several years of grassroots work and having served approximately 20 families per year with only the assistance of volunteers, we hired a consultant to help us build the agency's capacity in order to better serve our community. The first step was to identify whom we were serving because until then we were receiving requests and responding according to the availability of our volunteers. The only criteria was that the person receiving the help was a Spanish-speaking individual in need.
During this process, we learned that even though our services were not advertised for victims of crimes, 94% of the requests for services came from Spanish-speaking individuals in distress because of a crime committed against them. Almost 90% of those crimes were never reported to authorities because the victim did not know how to navigate the system, or for fear of not receiving help due to their immigration status and language and cultural barriers. We then realized that in Virginia there does not exist an agency that provides services for victims of crimes that can guarantee immediate access to a Spanish-speaking advocate. Being aware of the barriers that Spanish-speaking victims of violence encounter, The LIVE Center renewed its mission to focus on providing education, advocacy, and support to Spanish-speaking individuals affected by violence and injustice in Virginia, and to ensure that they can access services that will empower them to become happy, healthy and self-sufficient.
Today, The LIVE Center utilizes the 'Líderes' program developed by Casa de Esperanza, now a nationally recognized domestic violence organization. The program draws on an Immigrant's natural strengths and creates an opportunity for Latino survivors of violence to be actively involved in creating a change in their community. Through this program, we are able to provide direct services while also expanding the level of impact on both program alumni as well as the community by partnering with the 'Líderes' within the community.
If you would like more information, email us at 
hola@latinosenvirginia.org