Organizing Uncertainty: Public Lecture with Philip Mirowski

Wednesday, December 10, 2014 from 3:00 PM to 5:00 PM (PST)
Event Details
Philip Mirowski: 'Economists as the Prophets of the Information Economy: the Neoliberal Lowdown'
On December 10, the Department of Organization and the Public-Private Platform is proud to welcome Professor Philip Mirowski, who will give a public lecture at CBS.
People think the "Information Economy" was a reaction to the Internet in the 1990s; but economists were busy theorizing something like it from the 1930s onwards. Although computer technologies did play a supporting role, the main impetus came from the rise of the political theory of Neoliberalism. This lecture describes how that happened.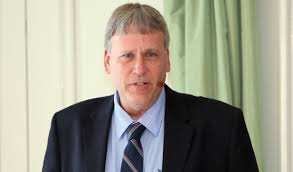 Philip Mirowski is a historian and philosopher of economic thought at the University of Notre Dame, Indiana. Some of his books include More Heat than Light, Machine Dreams, The Road from Mont Pèlerin, Never Let a Serious Crisis Go to Waste, and the forthcoming The Knowledge We Have Lost in Information. He has appeared in Adam Curtis' BBC documentary The Trap, and in a series of filmed lectures from INET.
Program
15.00-15.10: Welcome by Professor Paul du Gay, CBS
15.10-16.10: Public Lecture by Professor Philip Mirowski, University of Notre Dame
16.10-16.30: Q&A
16.30-17.00: Reception
 
The event is free of charge and open for all interested.
This seminar is arranged by The Department of Organization (IOA) in collaboration with the CBS Public-Private Platform.

When & Where

Copenhagen Business School
14A Kilevej
Lokale Ks.48
2000 Frederiksberg
Denmark


Wednesday, December 10, 2014 from 3:00 PM to 5:00 PM (PST)
Add to my calendar
Organizer
Many pressing matters of public concern - political, economic, social and cultural - are no longer seen as amenable to being solved in terms of a traditional divide between public and private sectors and actors: whether we focus attention on the environmental and financial crises, healthcare, educational modernization, or the efficient, effective and equitable delivery of 'core' public services, these issues are  increasingly seen as simply too complex to be solved by single agencies, whether public or private.

The CBS Public-Private Platform will open up a serious society-wide discussion about changing public/private relations, their possibilities and their pitfalls. A key feature of this engagement takes place through the platform's yearly workshop 'The Collaboratory'. Here, a host of key stakeholders – business leaders, politicians, managers, intellectuals and citizens – come together to exchange views and discuss approaches to specific problems with the aim of initiating collaborative research programmes and discreet projects to explore novel solutions to these issues.