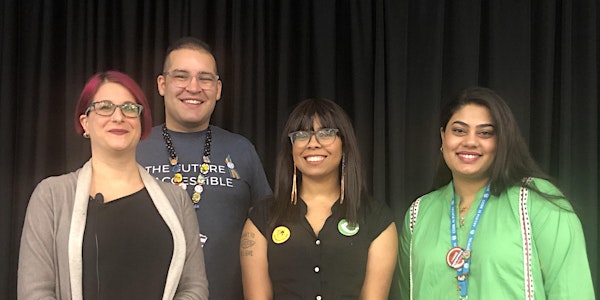 Organizing Diverse & Inclusive WordPress Events
A 2.5-hour interactive watch party online to learn how to create a welcoming and diverse WordPress Meetup or WordCamp.
About this event
A 2.5-hour interactive watch party online to learn how to create welcoming and diverse WordPress Meetups and WordCamps for your WordPress community.
This is not just for organizers, but anyone who wants to champion this kind of environment at official WordPress events, now or in the future.
Do you run or attend WordPress events and notice only one type of person is attending? You'd love to see more diversity represented, but people are either not showing up — or they attend once and don't come back. What can you do to be a good ally to foster, promote, and support diversity and an inclusive space?
This workshop is beneficial for all levels of Diversity and Inclusion knowledge, from complete beginners to experienced event organizers who are already incorporating good practises.
In this workshop, we'll cover 5 topics:
1. Mindset shift: Shifting the way you think about diversity
2. Community: How to attract and foster a diverse community
3. Environment: Creating a welcoming environment, both in-person and online
4. Speakers and Leaders: How to encourage more people from diverse backgrounds to step up to be speakers and leaders
5. Inclusion: How to be more inclusive.
You will walk away with an action list to start making changes right away!
We will be watching the videos on Learn WordPress and stopping to do the exercises in the workbook PDF together.
In order to create a space where people can feel supported to talk through real life challenges, this watch party workshop will NOT be recorded.
This workshop was created by Allie Nimmons, Aurooba Ahmed, David Wolfpaw, and Jill Binder for WordCamp US 2019.
Please try to arrive 10 minutes early so that we can start on time.
After the workshop, to help you take action and overcome challenges, there will be a follow-up discussion in the #community-events channel in the WordPress Slack a month later at the same time and day of the week.
Testimonials:
"I love how actionable the workshop is."
– Anonymous
"I loved being with other organizers and hearing what they've done. The checklists in the workbook are helpful in terms of tracking what I have done and what I can still improve. I'd love to see ALL THE ORGANIZERS go through this. This felt like a great complement to other material that WordPress has about not disparaging people; the focus of the Inclusion workshop was on how to be actively welcoming."
– Sallie Goetsch, organizer, East Bay WordPress Meetup
"I thought I was holding inclusive events already, and this workshop showed me ways to make things even more inclusive that I hadn't thought of before. I especially liked learning that changing just a few words can make my Meetups and WordCamps even more welcoming to more people."
– Shanta R. Nathwani, President & CEO, Namara Technologies Inc., Canada
----
Photo credit: David Bisset at WordCamp US 2019