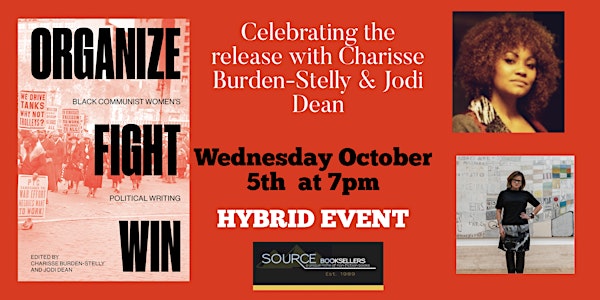 Organize Fight Win Author Event
Celebrate the release of Organzie, Fight Win with Charisse Burden-Stelly and Jodi Dean on October 5th.
When and where
Location
Source Booksellers 4240 Cass Avenue #105 Detroit, MI 48201
About this event
We welcome you to hear from Dr. Burden-Stelly and Dr. Jodi Dean on the release of their new collection of writing by Black Communist Women. The Detroit community has a rich radical history and is ready for this rich conversation about the women in this book.
Join the event with us in store or online. Tickets are required for in store and to join online.
Calling all people interested in Women's History and anyone folks interested in radical political thinking and scholarship.
SAVE YOUR SPOT!
About this event
What is the event about? The event is to celebrate the release of Organize, Fight, Win : Black Communist Women's Political Writing edited by Dr. Burden-Stelly and Dr. Dean.
This event will be part conversation and part book signing. In addition, there will be space for questions.
The first collection of the writing of Black communist women
Black Communist women throughout the early to mid-twentieth century fought for and led mass campaigns in the service of building collective power in the fight for liberation. Through concrete materialist analysis of the conditions of Black workers, these women argued that racial and economic equality can only be achieved by overthrowing capitalism.
The first collection of its kind, Organize, Fight, Win brings together three decades of Black Communist women's political writings. In doing so, it highlights the link between Communism and Black liberation. Likewise, it makes clear how Black women fundamentally shaped, and were shaped by, Communist praxis in the twentieth century.
Organize, Fight, Win includes writings from card-carrying Communists like Dorothy Burnham, Williana Burroughs, Grace P. Campbell, Alice Childress, Marvel Cooke, Esther Cooper Jackson, Thelma Dale Perkins, Vicki Garvin, Yvonne Gregory, Claudia Jones, Maude White Katz, and Louise Thompson Patterson, and writings by those who organized alongside the Communist Party, like Ella Baker, Charlotta Bass, Thyra Edwards, Lorraine Hansberry, and Dorothy Hunton.
Editiors:
Dr. Charisse Burden-Stelly is currently an Associate Professor of Africana Studies at Wayne State University. A scholar of critical Black studies, political theory, political economy, and intellectual history, Dr. Burden-Stelly is the co-author, with Dr. Gerald Horne, of W.E.B. Du Bois: A Life in American History. She is currently working on a book manuscript titled Black Scare/Red Scare: Antiblackness, Anticommunism, and the Rise of Capitalism in the United States and is also the co-editor, with Dr. Jodi Dean, the book Organize Fight Win and the co-editor, with Aaron Kamugisha of an anthology of writings by Percy C. Hintzen titled Reproducing Domination: On the Caribbean Postcolonial State. She is the guest editor of the "Claudia Jones: Foremother of World Revolution" special issue of The Journal of Intersectionality, and her published work appears in journals including Small Axe, Souls, Du Bois Review, Socialism & Democracy, International Journal of Africana Studies, and the CLR James Journal. Burden-Stelly's public scholarship can be found in venues including Monthly Review, Boston Review, Black Agenda Report, and Black Perspective Check her website out for More
Dr.Jodi Dean is Professor of Political Science at Hobart and William Smith Colleges in Geneva, NY. She is the author or editor of thirteen books, including Democracy and Other Neoliberal Fantasies (Duke 2009), The Communist Horizon (Verso 2012), Crowds and Party (Verso 2016), and Comrade: An Essay on Political Belonging (Verso 2019).
Vaccination Requirements: You may be asked to show proof that you are fully vaccinated against COVID-19 or a COVID Free Test Result for entrance to this event. We will accept a physical vaccination card, digital card, or a photo of the card on your phone. We are masked in store. We want to make a safe environment for the authors and for the community.
Getting to the event: There is a parking lot on Cass and Canfield that is open for parking in the evening and on weekend days, and the street parking is available through the kiosk or mobile app Park Detroit until 10 pm and is free on Saturday and Sunday. If you are riding Q line transit, we are at the canfield stop at Canfield and Woodward avenue. If you can, please park in the Traffic Jam & Snug parking lot on Canfield. We know it costs, but it may be the only source of income because the restaurant recently burned in a fire. Show them some love if you can.
Joining us online Attendance: If you join us online you will receive an event access link via email prior and one hour before the event. Please send questions to alyson.sourcebooksellers@gmail.com.