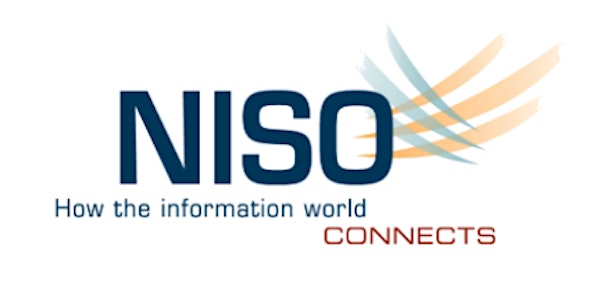 Organizational Planning for DEIA: A 100 Level Course
NISO's 8-week series will aid in your organization's planning of DEIA initiatives. Register now!
Refund Policy
Contact the organizer to request a refund.
About this event
Scope:
Embarking on an initiative to improve diversity, equity, inclusion, and accessibility (DEIA) requires organizational willingness to consider how internal structures, practices, and hierarchies may inadvertently reinforce existing inequities. This training series offers registrants an opportunity to organize their thinking about the nature of these inequities when planning their DEIA initiatives. What needs to be considered? What efforts can help lower the barriers to inclusion? This series will look at DEIA initiatives in the context of the needs and concerns of a variety of stakeholder institutions and organizations (libraries, agencies, commercial companies, societies/associations, etc.)
Who Will Benefit From Participation?
Representatives from small to mid-sized organizations who may be tasked with organizing and facilitating DEIA initiatives
Mid-level managers seeking to improve internal operations while paying attention to the needs of all staff
Those seeking to raise awareness within their organization regarding existing inequities in the workplace
Course Duration and Dates
Friday, September 17, 2021 - Friday, November 5, 2021. The series consists of eight (8) segments, one per week and each lasting approximately 60-90 minutes. Each segment is intended to cover a Friday lunch period (11:30am - 1:00pm, US. Eastern).
Guest lecturers will be featured in specific segments, as the course moderator deems appropriate.
Each session will be recorded and links to that archived recording will be disseminated to course registrants within 2 business days of the close of the specific session.
Course Moderator
Dr. Antonia "Toni" Olivas (she/her/hers) is the Engagement and Inclusion Librarian at California State University San Marcos (the traditional territory and homelands of the Luiseño/Payómkawichum people). She earned her Master's degree in Library and Information Science from the University of Arizona (2002) and her Doctorate in Educational Leadership from the University of California, San Diego (2014). Toni has experience in both public and academic libraries and has been a librarian for nearly 20 years. She is also a veteran instructor who has over 20 years of experience in the classroom, but she thrives on being a life-long learner. Toni's research interests and accomplishments are rooted in social justice (diversity, equity, inclusion, and access); including her 2017 book Choosing to Lead: The Motivational Factors of Underrepresented Minority Librarians in Higher Education and her most recent article publications on validation theory and critical race theory in libraries (with fellow social justice librarians Torie Quiñonez and Lalitha Nataraj). In addition to her full-time career as an academic librarian, Toni also teaches DEIA and management courses at various ALA accredited library schools, and she consults academic libraries across the country on DEIA topics and projects.
Event Sessions
Session 1: September 17 - Aspirations and Assessment
Session 2: September 24 - Navigating Initial Sensitivities and Hesitations
Session 3: October 1 - Vocabulary and Its Use
Session 4: October 8 - Gathering the Data
Session 5: October 15 - Identifying Organizational Areas of Inequity
Session 6: October 22 - Analysis or What The Data Demands
Session 7: October 29 - Communicating Organizational Commitment
Session 8: November 5 - Implementing Change
Please note that it is not possible to register for individual program segments or lectures.
Location
This is an 8-week series, with each weekly segment having a duration of 60-90 minutes. It is a virtual event. NISO uses the Zoom platform to deliver our virtual events. Please check your system in advance to make sure it meets Zoom (US) requirements.
Additional Information
If you have not received your Login Instruction e-mail by 12 Noon (U.S., Eastern) on the day before a scheduled Friday segment of the series, please contact the NISO office at nisohq@niso.org for immediate assistance.
Registration is per site (access for one computer) and includes access to the online recorded archive of the conference. You may have as many people as you like from the registrant's organization view the conference from that one connection. If you need additional connections, you will need to enter a separate registration for each connection needed.
If you are registering someone else from your organization, either use that person's e-mail address when registering or contact nisohq@niso.org to provide alternate contact information.
Conference presentation slides and Q&A will be posted to this event webpage following the live conference.
Registrants will receive an e-mail message containing access information to the archived conference recording within 48 hours after the event. This recording access is only to be used by the registrant's organization.
For Online Events
You will need a computer for the presentation and Q&A.
Audio is available through the computer (broadcast) and by telephone. We recommend you have a set-up for telephone audio as back-up even if you plan to use the broadcast audio as the voice over Internet protocol (VOIP) isn't always 100% reliable.
Please check your system in advance to make sure it meets Zoom (US) requirements. It is your responsibility to ensure that your system is properly set up before each webinar begins.
Want to get updates about future NISO events and our other news? Complete this simple form to share your preferences and sign up for our emails!