Organizational Culture Change Video Training

Weekly Event - Every Monday: 1:00 PM to 4:00 PM (PDT)
Event Details
Welcome to the the most comprehensive online training on organizational culture change: learn how to engage people to change their ways of thinking and doing things in the workplace! For only new behaviors that stick will make up a successful change.
This content-packed online video training on organizational culture change doesn't just tell you what to do… we help youhow to do it. Practically, step by step.
You too can engage in successful, sustainable organizational culture change using the validated Organizational Culture Assessment Instrument (OCAI) and its accompanying easy-to-follow change plan.
Nice to meet you! We are Marcel Lamers MSc and Marcella Bremer MScBA working as consultants in the field of organizational culture change.
We help leaders, HR and change managers, executives and other consultants change organizations to achieve their goals in a way that is engaging, sustainable and very practical. We provide the
OCAI
tool online next to various online courses, consulting and more. Our motto is to develop the workers, the workplace and the world.
Organizational Culture Change in 7 feasible steps
In an easy-to-follow framework of 7 steps you take your (client's) organization from assessment (15 minutes) to a quantified, visual profile to adding qualitative examples, raising engagement and awareness, assessing the future, understanding the preferred culture to the levels of behavior and outcomes, and finally to a change plan that people take ownership for because they co-created it.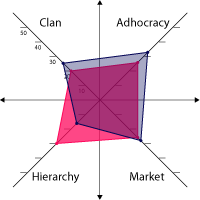 Time spent up front in engaging your people returns your investment in a successful organizational culture change.
This might be the best tip for successful change you ever got – but you won't know until you go the whole nine yards.
This video training on organizational culture change teaches you exactly how to do that! It is your practical, how-to user's guide to organizational (culture) change.
This content-packed video training on organizational culture change entails:
18 videos; over 12 hours of practical "how-to" learning including our experiences as consultants
5 extra essays including "Positive Energizers"
2 ready-to-use OCAI work kits including PowerPoint presentations and workshop manuals
personal advice from us and meeting the other participants
Normally bringing about organizational culture change will cost you: expensive consultancy or extra education, lots of meetings and effort, lengthy interviews, hours of paperwork and so on, but now it is available online for your organization or your client's. Start right now with this training at your own pace.
If you're ready for positive change, join this online video training today!
Organizational Culture Change videos:
0. Introduction
1. What is organizational culture and why it matters
2. Competing Values Framework and OCAI
3. Comparison of some industry groups
4. Advantages and disadvantages of using OCAI
5. Successful change: Necessary conditions
6. Practical choices in the use of the OCAI
7. Internal communications
8. An OCAI Case: Care Center for Disabled people
9. Practical choices when organizing workshops
10. OCAI Workshop: The start
11. OCAI Workshop: Future and Preferred culture
12. OCAI Workshop: Developing a Change Plan
13. An OCAI Case: Merger
14. Culture types in various expressions
15. OCAI change process: Leadership
16. Different interventions and persistance
17. Positive Leadership: A case with the Abundance Approach
18. Modern desire for Clan & Adhocracy Cultures
After this training on Organizational Culture Change you will be able to:
Professionally diagnose current and preferred culture with the OCAI
Identify different sub cultures, eventual resistance but also readiness to organizational culture change
Use the basics of change management to stimulate sustainable organizational culture change
Conduct OCAI workshops to customize the outcome to this specific situation
Work with culture from identity & values down to daily behavior and performance so the organizational culture change becomes very specific and tangible
Engage people to organizational culture change by participation
Guide Organizational Culture Change using collective ideas and efforts
If you're ready for positive organizational culture change, join this online video training today!
Marcella Bremer MScBA
Marcel Lamers MSc
consultants & founders of OCAI Online
Organizer
OCAI Online
OCAI Online offers the Organizational Culture Assessment Instrument (OCAI) developed by Cameron & Quinn online. It's free for individual respondents so try it at http://www.ocai-online.com

Learn how to utilize the OCAI tool in the online video training at http://www.organizationalculturechange.com
Buy the book: "Organizational culture change: Unleash your organization's potential in circles of 10" on Amazon: http://www.amazon.com/dp/9081982516/
Marcella Bremer is associate partner at OCAI Online and she's an experienced professional in the field of corporate culture change.  Her motto is: "Develop the workers, the workplace and the world." She helps organizations and consultants diagnose and change culture so they can utilize culture to create a great place to work (including organizational effectiveness).