Location
Res
50 Resolution Way
Enclave 1-3
London, SE8 4AL
Description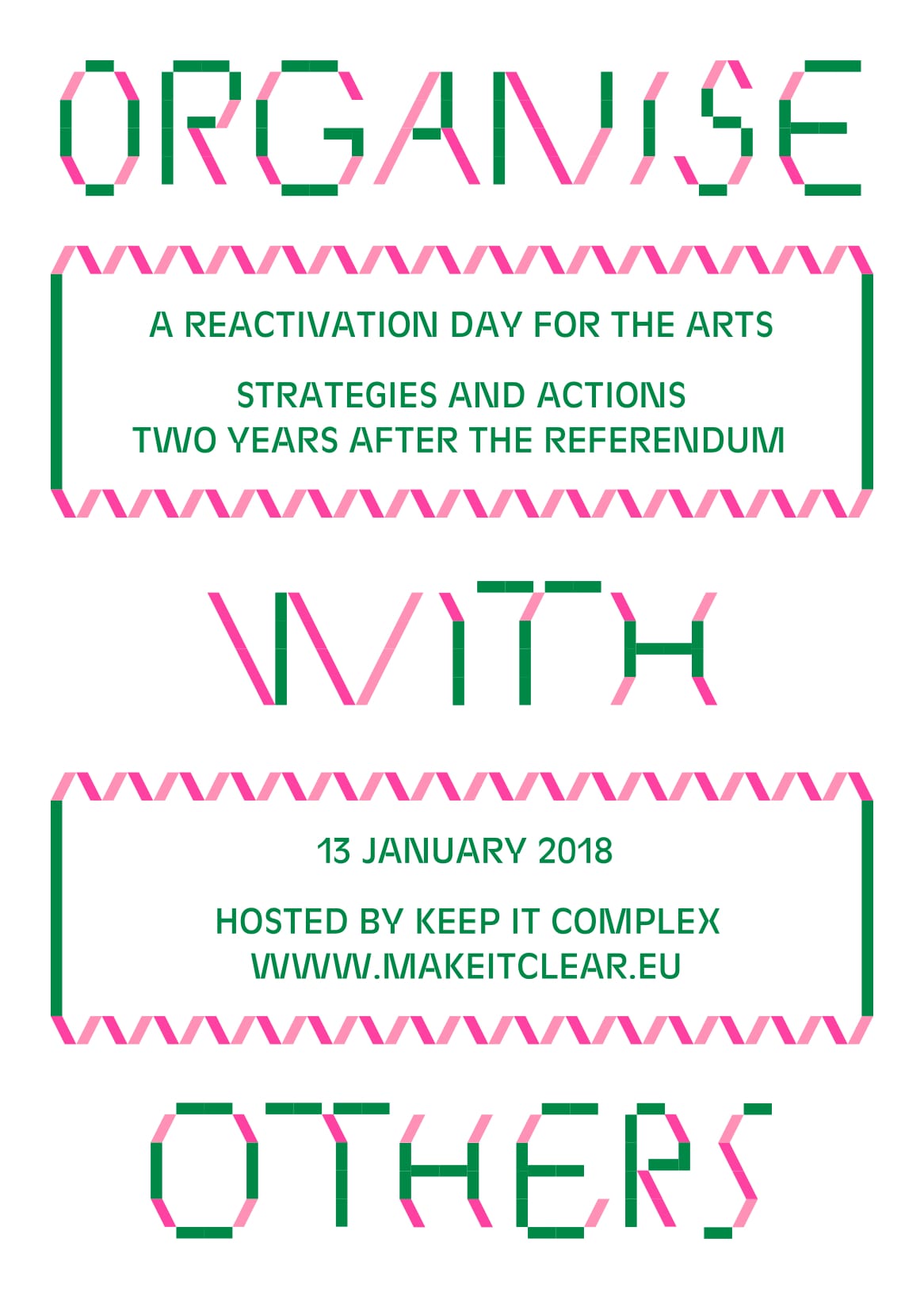 Keep It Complex is getting ready for a new year of art and politics. One year since Unite Against Dividers activation weekend, we're reconvening to ask: Has anything changed in the arts since the Brexit vote? How should we continue to organise? What works – and what doesn't?
The premise of the Unite Against Dividers weekend was to galvanise 500 angry mice into action.*
Organise With Others will be a one-day event to find out if these intentions became a reality. We have reinvited cultural workers and politicians who helped us shape last year's activation and will also introduce you to people we have worked with since. Contributors (more TBA) are: Fozia Ismail, Julie Ward MEP, Magda Fabianczyk, Shiri Shalmy/Artists Union England, Amal Khalaf, One Day Without Us, Rose Gibbs, Counterpoints Arts, Jenny Moore/F*choir, Rosa Carbo-Mascerell
We will release a more detailed programme nearer the date. In the afternoon we will have lots of small group discussions, rather than the typical panel set up. As usual, there will be lots of food (vegan curry & Theresa May cakes), as well as non-alcoholic drinks supplied by Company drinks. In the evening you can either take part in an open rehearsal of F*CHOIR (no singing experience necessary, but please book a separate ticket here) or go for a reflective lantern walk.

* "There's always talk about unity; we need unity, unity, unity. But I always say if you were the […] government, and […] you had guns, which would you rather see come through the door: one lion, unified, or five hundred mice? My answer is the five hundred mice can do a lot of damage." Zella/Flo Kennedy, Born in Flames
Good to know:
~ As you know, Eventbrite takes a large cut from all ticket sales. To avoid having to pay this fee, we ask you to bring £3-5 on the day.
~ To help us reduce waste, please bring a cup and a bowl.
~ We have produced three jumpers with Ciara Phillips, Sofia Niazi and An Endless Supply to fundraise for the event. You can buy them here
~ If you would like to help us organise or have any questions, email keepitcomplex2016@gmail.com
~ If you would like to be one of the people who present their work/project/group/party/cause, email keepitcomplex2016@gmail.com
~ Email or message us if you need childcare to be able to attend. If there is enough demand, we will have a creche again.
~ Email or message us if we can make it easier for you to attend. The venue has wheelchair (and other mobility aids) access. If there is demand, we can also book interpreters.
~ Like last year, we will make our finances public and publish a handbook. If you can't make it on the day, you can download our handbook from the website soon.
~ Keep It Complex is a collective of women artists, designers and arts administrators who got together during the EU referendum. We're a self-organised and mostly self-funded group who try to make political action possible for ourselves and others.