Description
Ennovent, in partnership with trainconsulting and with support from the Austrian Development Agency, is organising a 1-Day interactive workshop on Organisation Design workshop for social enterprises. The workshop will focus on concepts such as matching organisation design to principles, understanding strengths and weaknesses of your social enterprise, and learning from global and local case studies. Within the framework of an intensive learning process, dedicated participants can attain the knowledge, skills, and tools to successfully steer change processes and build the optimal foundation for the dynamics of your social enterprise's success.
When
5th December 2016: Delhi (Stirring Minds, Asaf Ali Road, Near Connaught Place)
7th December 2016: Mumbai (The Garage, Lower Parel)
9th December 2016: Bengaluru (Workbench Projects, Halasuru)
We will begin at 9.30 am and end at 5pm followed by tea and networking.
Who Should Attend
The workshop is primarily targeted at social enterprises that are keen to learn about organisation structure design and evolution. Participants should be mid or high-level and have a good understanding of their social enterprise's mission and goals, challenges faced and best practices followed by the social enterprise, and funding and other needs of the social enterprise – including the customer base, funding sources, and leadership style.
This workshop is designed to be highly interactive and participatory. If you are interested in gaining additional knowledge on organisation management and effective design from leaders in the field, then this workshop is for you!
Cost to Participate
The workshop is free. Course materials, lunch, and snacks will be provided. Ennovent will not cover the cost of transportation to the city or venue of the workshop.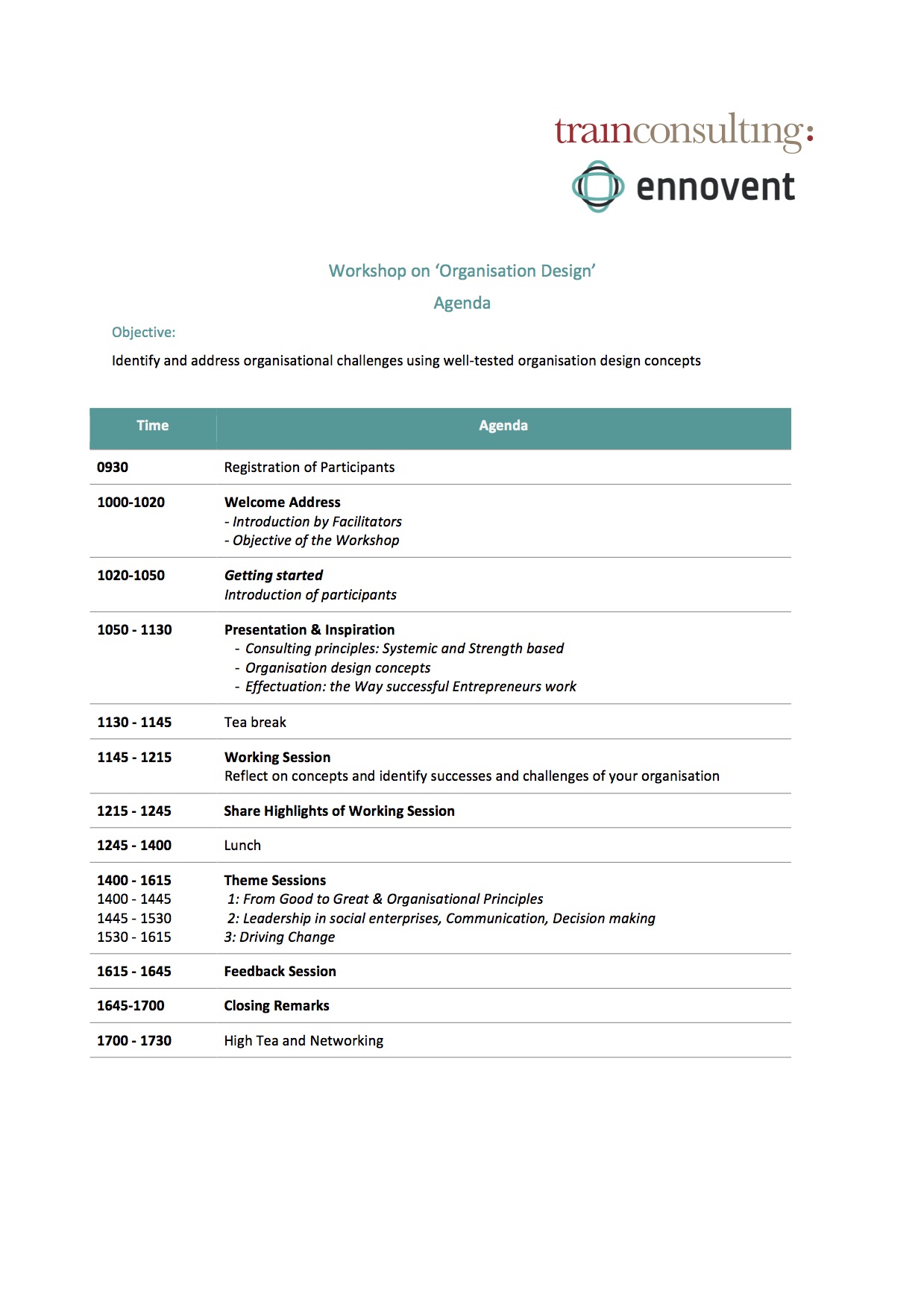 For more information, contact Naushita at naushita.jaising@ennovent.com.