With the organics waste diversion law coming into affect, this year's theme is Organics on the rise! Hope you can join us!
About this event
The NJ Composting Council and the Rutgers EcoComplex are pleased to announce the 2021 Organics Waste Management Summit: Organics on the Rise!
Organics processors, composters, haulers, regulators, academics,  organics waste management professionals, sustainable community organizations, and nonprofits are invited to join the conversation about New Jersey's organics management practices.
Keynoting the event will be a fireside chat with NJ DEP Sean Moriarty, Deputy Commissioner of Legal, Regulatory and Legislative Affairs. Sean leads DEP's internal legal team and serves as its general counsel on all matters of regulatory compliance and rule-making, and will oversee the newly created Office of Enforcement Policy. 
The Summit will host panels featuring experienced industry professionals, academics and regulators on topics of:
Food Waste Law - examples from our neighbors
The Future of Organics
Trends and technologies in organics recycling
Digesters are coming!
Join us early for a continental breakfast, and then stay for a fantastic day of learning, lunch and networking all complimentary with your ticket.
Also be sure to visit our exhibitors to learn about some great organics recycling businesses in the state!
USCC Professional certification credits and Rutgers Recycling Continuing education credits will be available for attendees. 
NJ State and Rutgers COVID policies will be honored including masks are currently required while indoors at the EcoComplex at this time. We will provide additional updates as they become available.
Municipal and government employees! Need a PO? Contact us immediately! 
Day of tickets will incur a $10 fee. Please book now.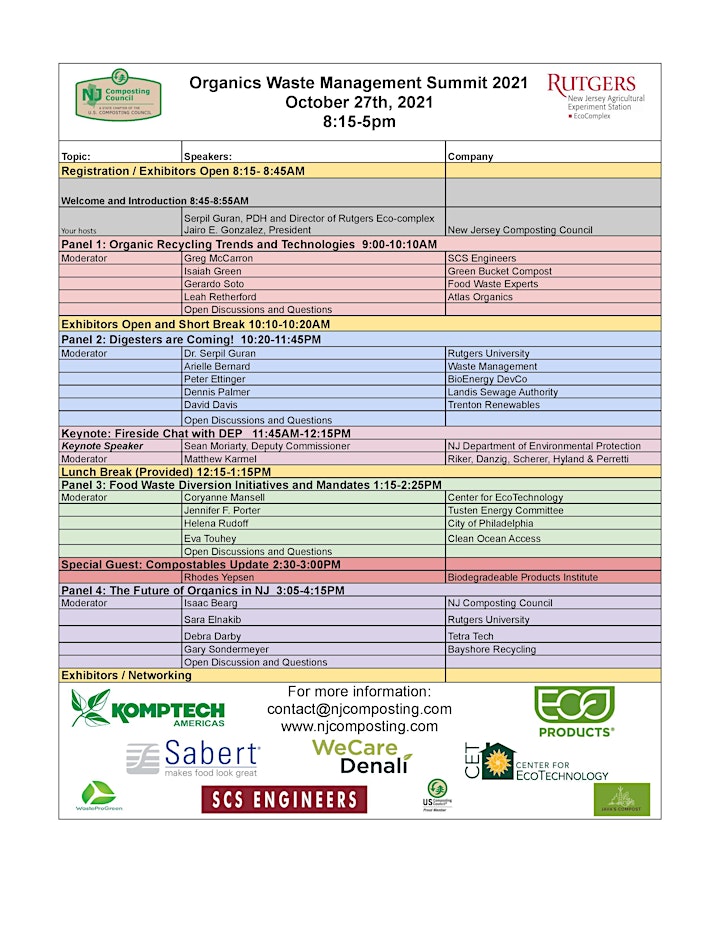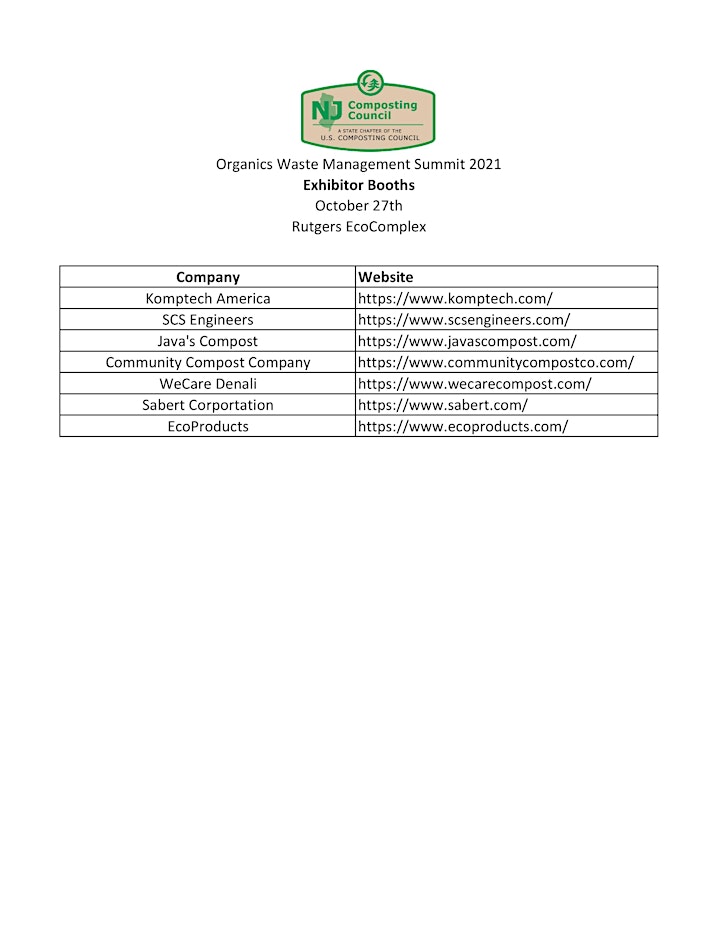 Organizer of Organic Waste Management Summit 2021
The NJ Composting Council, a nonprofit industry group, advances compost manufacturing, compost utilization, and Organics Recycling to benefit our members, society, and the environment.
We believe compost manufacturing and compost utilization are central to Organics Recycling, creating healthy soils, supporting community gardens, clean air and water, and a sustainable society.