Description
Come join us for a delicious and healthy NYE dinner at Quintessence!

4-course Prix-fix Dinner Pop-up guest chef, Pas Niratband, whose passion is to create spectacular dishes that bring comfort, joy, and health is going to prepare an unforgettable NYE dinner for you. More about Pas below.
New Year's Eve Raffle! Quintessence is partnering with Hilary Walmsley, founder of TEAMWEAVER®, to help you achieve your New Year's diet resolutions. Hilary Walmsley MSEd MBA, is an internationally recognized life and leadership coach and author. Winners will get a free 1-hour coaching session with Hilary to start you off in the right direction in 2018! More about Hilary below.
And shhhh....we have a little surprise gift for you to celebrate Q's 18th Birthday!
---
4-course Prix-fix Menu
Soup - Chestnut Bisque
Appetizer - Kimchi Tacos & Papaya Salad Tacos
Entree - Poke Bowl
Dessert - Tiramisu
BYOB (no corkage!)
SALES END ON 12/29/17. No Refund.
***Please contact the organizer to notify of dietary restrictions and food allergies. Please understand that notifications must happen 3 days in advance to accommodate.
---
PAS NIRATBHAND
Chef Pas is a Thai Native who moved to New York City in 1992. After finishing an MFA at Pratt Institute, his love for New York and its food got the best of him and so he has been living there ever since.
He ate everything from every buzzed-about restaurant. He gained weight and got sick before he realized that the expression, "you are what you eat", was actually true.
He used to live by the words of Alexander Woolcott, "All the things I really like to do are either illegal, immoral, or fattening." So when he adopted a plant-based diet, he shocked and saddened all his friends.
Pas brings creativity and a personal touch to create engaging, memorable events. He champions plant-based local businesses by providing a platform for them to reach new audiences.
Pas has been feeding his friends at his Sunday brunch for years and is now feeding the curious minds and stomachs at the various pop-up restaurant in New York City and at The Brampton. His approach is to have fun with food and bring joy & comfort using local ingredients through his dishes. http://www.thebrampton.nyc/blog/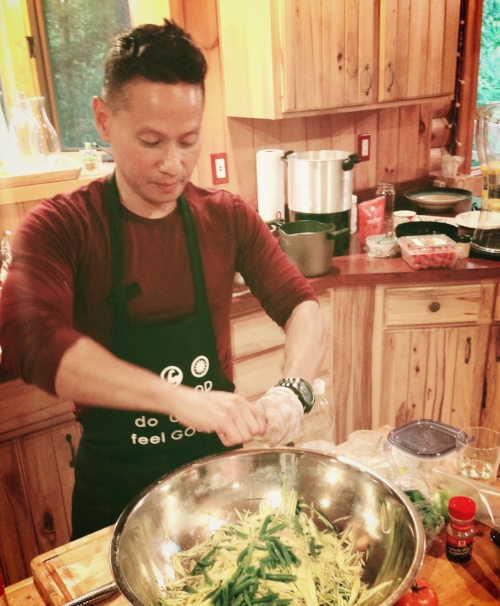 ---
HILARY WALMSLEY MSED MBA
Hilary, owner of TEAMWEAVER®, is a certified professional coach and author (Counselling Techniques for Managers, and transform Your Management Style), with an international background in personnel, management, team, and organizational development. Changing her diet was instrumental in healing her chronic health issues, and she now helps others to achieve their diet goals as well as their business goals.
In support of Quintessence, one of her top favorite NYC restaurants, she is offering four free one-hour diet goal coaching sessions. These will be raffled off on NYE, two per dinner. So join us on Dec 31st for this special opportunity!
---