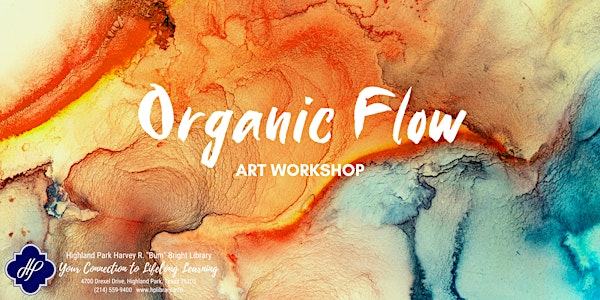 Organic Flow Art Workshop
Join us as artist Brenda McKinney guides us through making expressive, abstract images on tiles. All materials provided.
Date and time
Saturday, March 4 · 11am - 12pm CST
Location
HIGHLAND PARK HARVEY R. "BUM" BRIGHT LIBRARY 4700 Drexel Drive Dallas, TX 75205
About this event
Organic Flow is a process to have fun with markers and isopropyl alcohol. This workshop is designed to introduce you to the possibilities of using markers on a smooth surface and manipulating the inks using various tools to create an abstract image. There is no right or wrong; it is just an expression of you through making marks. All materials provided.
Adults 18 and up.
About Brenda McKinney
https://www.stargazergallery.com/
Brenda McKinney is a painter and mixed media artist living in Carrollton, Texas.
McKinney earned her Bachelor of Fine Arts from the University of North Texas in fashion design and her Masters of Fine Art from Texas Woman's University in painting.
Her works include multi-media from oil painting, ink drawing, recycled papers to fiber and small sculptural artworks. McKinney's curiosity to different mediums and processes are what keep her inspired. Process, to her, is the excitement that drives the action.
McKinney's work has been exhibited in National and International exhibitions in the US and abroard. She has won awards for her artwork that are included in permanent collections: Texas Woman's University, Institute of Health Sciences in Houston, Texas, Texas Woman's University, Institute of Health Sciences in Dallas, Texas, Presbyterian Hospital Dallas, Oncology Center, UT Southwestern in Dallas, Texas and Dallas College, Brookhaven Campus, Farmers Branch, Texas.
McKinney is an active advocate for the arts in the Dallas area. She has served as the past President of the Dallas Area Fiber Arts and the Texas Visual Arts Association and curator to the Discovery Gallery at the Texas Discovery Garden in Fair Park.