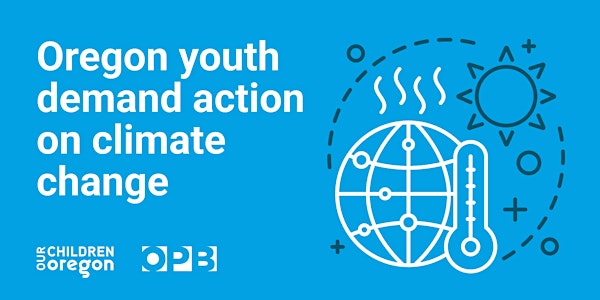 Oregon youth demand action on climate change
Join OPB's "Think Out Loud®" and young leaders from Our Children Oregon for a virtual conservation about climate change.
About this event
It's hard to overstate the effect that a changing climate is having around the world. And a group of young social activists in Oregon are calling attention to the disconnect between the extreme urgency of the climate issue and the lack of adequate policies to make a real difference. The effects of extreme heat waves, wildfires and drought are getting worse, not better. The young leaders of Our Children Oregon have a message: we need real action now. They say they want a voice in shaping the policies that affect them most of all, that they deserve a seat at the table. We'll hear more from them in conversation with OPB's Allison Frost, as well as climate change activists and advocates in Oregon.
To attend the event, please register here with your name and email address. Prior to the event, you will receive an email through Eventbrite with a direct link to the Zoom screening.
About "Think Out Loud®"
"Think Out Loud®" is an engaging OPB original daily radio program and podcast that has established itself as the centerpiece of the Pacific Northwest's coverage of news, politics, culture and the arts. The show explores issues, ideas and events making news in our region and encourages discussion of a variety of perspectives.
About Our Children Oregon
Our Children Oregon is advancing equitable policymaking and whole-child advocacy statewide to ensure our children and youth have what they need, regardless of their race, their ability, or where they live, to thrive by activating meaningful change for children and families.