About this Event
The Oregon Wine Board is hitting the trail with 60 Oregon wineries and our friends at Olympia Provisions, Jacobsen Salt Co., Stumptown Coffee Roasters, and more for a grand happening of Oregonian wine, food and personality. No white table cloths, no orange cheese cubes. Instead, a generous pour of Oregon's fine wines and pioneering spirit.
You see, Oregon is a state, and a damn fine one. But Oregonian is a state of mind. You've got to experience it to truly get it. Join winemakers and owners representing Oregon's broad geographic and varietal diversity for an evening evocative of Oregon wine country in NYC. From legacy Pinot noir to unexpected whites and surprises in between, we invite you to grab a glass and find your Oregon wine trail.
PARTICIPATING WINERIES
Abacela Winery
Airlie Winery
Alexana Winery
Amalie Robert Estate
Anne Amie Vineyards
Antiquum Farm
Apolloni Vineyards
Archer Vineyard
Argyle Winery
Beckham Estate Vineyard
Belle Pente Vineyard & Winery
Brittan Vineyards
Carlton Cellars
Chateau Bianca Winery
Chehalem Winery
Citation
Coleman Vineyard
Del Rio Vineyards
Dobbes Family Estate
Domaine Roy
Domaine Verdant
Elk Cove Vineyards
Eola Hills Wine Cellars
Erath Winery
Foris Vineyards
Fullerton Wines
Golden Cluster
Grochau Cellars
Hamacher Wines
Holloran Vineyard Wines
Hyland Estates
Illahe Vineyards
King Estate
Knudsen Vineyards
Lange Estate Winery and Vineyards
Le Cadeau Vineyard
Left Coast Cellars
Montinore Estate
Patricia Green Cellars
Patton Valley Vineyards
Perkins Harter
Phelps Creek Vineyards
Portlandia Vintners
Quady North
Raptor Ridge Winery
REX Hill
Oregon Solidarity
Stoller Family Estate
Trathen Hall Wines
Troon Vineyard
Union Wine Company
Upper Five Vineyard
Van Duzer Vineyards
Westmount Wine Co.
Willakenzie Estate
Willamette Valley Vineyards
William Rose Wines
Winderlea Vineyard and Winery
Yamhill Valley Vineyards
CULINARY PARTNERS
Olympia Provisions - Founder Eli Cairo will be on hand serving an array of handmade and authentic charcuterie and meat.
Jacobsen Salt Co. - Founder Ben Jacobsen will also join us to share Jacobsen salts and Bee Local Honey.
Stumptown Coffee Roasters - The fine folks from Stumptown will keep you perky with hot and cold brewed coffees.
Oregon Cheese Guild - A collection of small batch Oregon cheeses will be on display to pair with your wine.
Lots more - Guests will enjoy several other Oregon culinary treats throughout the night, including Oregon Dungeness Crab and our famous filberts (hazelnuts to you).
Click here for more information.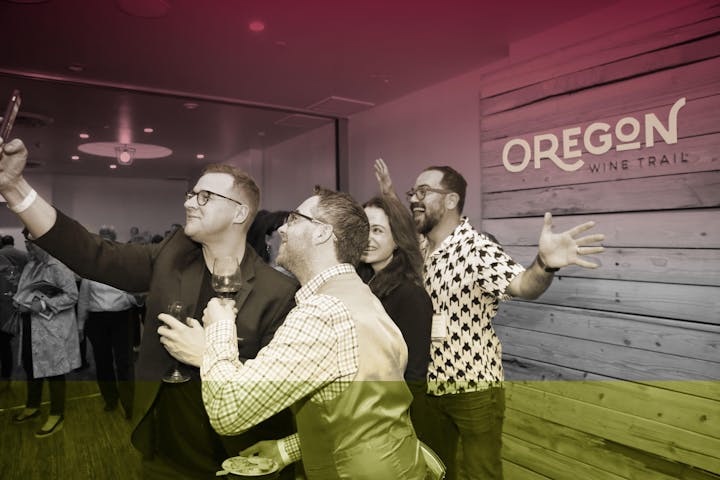 OREGON WINE BOARD
The Oregon Wine Board represents the more than 700 wineries and 1,000 vineyards across Oregon's diverse winegrowing regions. Come say hi.