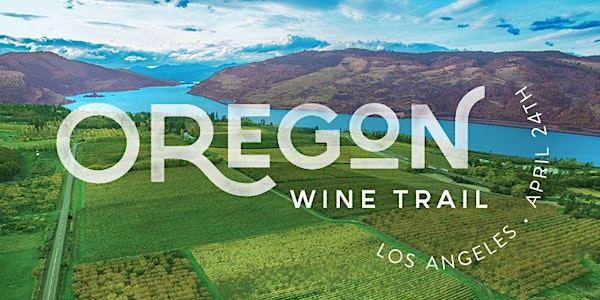 Oregon Wine Trail Los Angeles
When and where
Location
The Line Hotel 3515 Wilshire Boulevard Los Angeles, CA 90010
Description
The Oregon Wine Board is hitting the trail with 50 Oregon wineries and our friends at Olympia Provisions, Salt & Straw Ice Cream and Stumptown Coffee Roasters for a grand happening of Oregonian wine, food and personality. No white table cloths, no orange cheese cubes. Instead, a generous pour of Oregon's fine wines and pioneering spirit.
You see, Oregon is a state, and a damn fine one. But Oregonian is a state of mind. You've got to experience it to truly get it. Join winemakers and owners representing Oregon's broad geographic and varietal diversity for an evening evocative of Oregon wine country in Los Angeles. From legacy Pinot noir to unexpected whites and surprises in between, we invite you to grab a glass and find your Oregon wine trail.
PARTICIPATING WINERIES
WILLAMETTE VALLEY
A to Z Wineworks
Adelsheim Vineyard
Airlie Winery
Alexana Winery
Argyle Winery
Ayres Vineyard and Winery
Battle Creek Cellars
Belle Pente Vineyard & Winery
Brittan Vineyards
Chateau Bianca
Citation Wines
Coeur de Terre Vineyard
Colene Clemens Vineyards
Cooper Mountain Vineyards
Crowley Wines
Dobbes Family Estate
Domaine Roy et fils
Elk Cove Vineyards
Erath Winery
Flaneur Wines
Hazelfern Cellars
Iris Vineyards
J.K. Carriere
Lange Estate Winery and Vineyards
Le Cadeau Vineyard/Jolete Wines
Left Coast Cellars
Montinore Estate
Patton Valley Vineyard
Quintet Cellars
Raptor Ridge
Sokol Blosser Winery
Stoller Family Estate
Van Duzer Vineyards
Willakenzie Estate
Winderlea Vineyard and Winery
Yamhill Valley Vineyards
SOUTHERN OREGON
Abacela
Brandborg Vineyard and Winery
Cowhorn Vineyard & Garden
Foris Vineyards
Henry Estate Winery
Irvine & Roberts Vineyards
Quady North
Reustle-Prayer Rock Vineyards
Serra Vineyards
Trium Wines
Troon Vineyard
COLUMBIA GORGE
Cathedral Ridge Winery
Phelps Creek Vineyards
Viola Wine Cellars
CULINARY PARTNERS
Olympia Provisions is an authentic and house-made charcuterie and meats company based in Portland, Oregon. In order to achieve a finished product that tastes as good as it possibly can, fastidious attention is paid to the details and only the best and freshest ingredients are used.
Salt & Straw Ice Cream is a family-run, ice cream company known for their taste provoking, imaginative ice cream creations. Every ice cream flavor is handmade in small five to ten gallon batches in local kitchens using only all natural cream from nearby farms and the best local, organic and sustainable ingredients.

Stumptown Coffee Roasters has been roasting heirloom coffee daily since 1999. They don't buy in bulk on a trading floor. They buy directly from the people who are making the coffee. It's not a transaction; it's a partnership.
Oregon Cheese Guild is dedicated to the art and craft of making cheese. The Guild is a collaborative effort to increase awareness of Oregon's artisanal cheeses, create educational opportunities, and provide a platform for cooperation and shared resources among Oregon cheesemakers.
CHARITABLE PARTNER
Chefs Collaborative is a national nonprofit network with a mission to inspire, educate, and celebrate chefs and food professionals building a better food system.

OREGON WINE BOARD
The Oregon Wine Board represents the more than 700 wineries and 1,000 vineyards across Oregon's diverse winegrowing regions. Come say hi.