Location
End of the Oregon Trail
1726 Washington Street
Oregon City, OR 97045
Refund policy
Contact the organizer to request a refund.
Eventbrite's fee is nonrefundable.
The Oregon Trail Brew Fest is back! Come and sample 30+ stellar craft beers while enjoying live music, local food carts, and fun lawn games.
About this event
The Oregon City Brewing Co annual Oregon Trail Brew Fest is back and we couldn't be more excited. Come down and sample 30+ craft beers and ciders while enjoying live music and delicious food carts from local food vendors.
The Oregon Trail Brewfest celebrates beer from some of the finest craft breweries from along the Oregon Trail. The festival will be held at the End of the Oregon Trail Interpretive Center around their expansive lawn under the backdrop of giant covered wagons to further celebrate the pioneer spirit.
Thousands of beer lovers travel annually from around the state to sample from the wide variety of beer styles served, all of which highlight the influences that different regions have on the brewing process.
Six amazing local bands will rock us out on the main stage while a variety of tasty food options keep you fueld up. It's been a long while since we gathered, we can't wait to see you! This is an all-ages summertime blast.
Cheers Pioneers!
*Beer. Lots and lots of beer, that's what we'll have. Want to help pour it? Check out our festival page for volunteer opportunities and get your entry for free! Oregon Trail Brewfest Event Page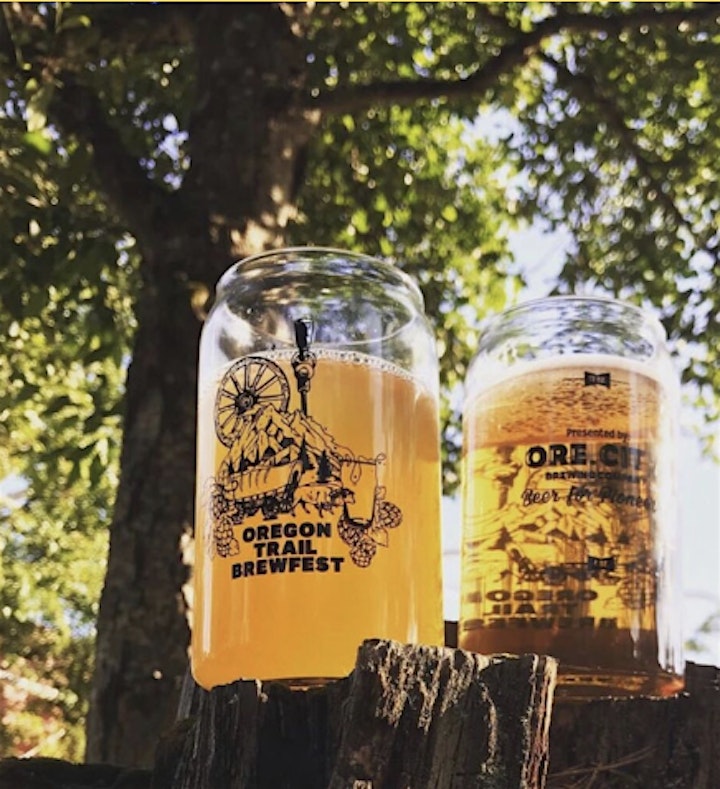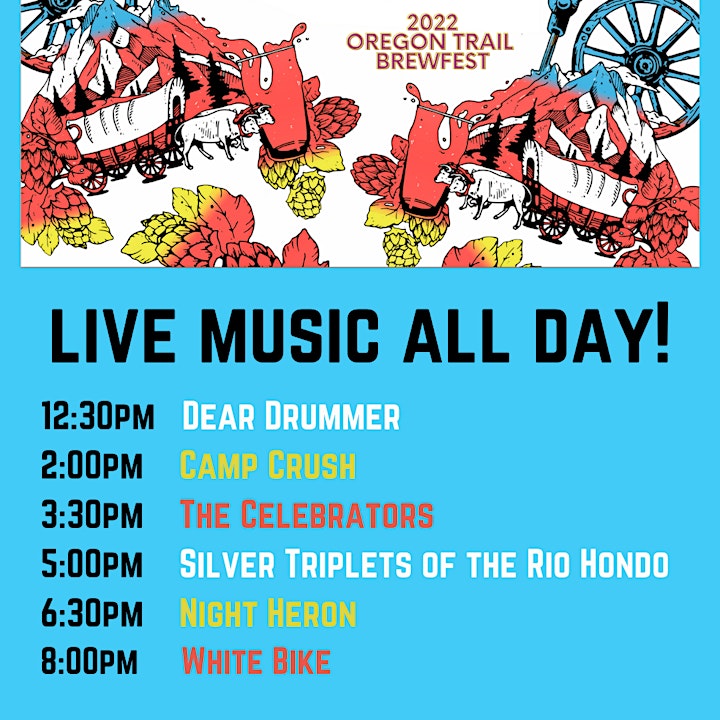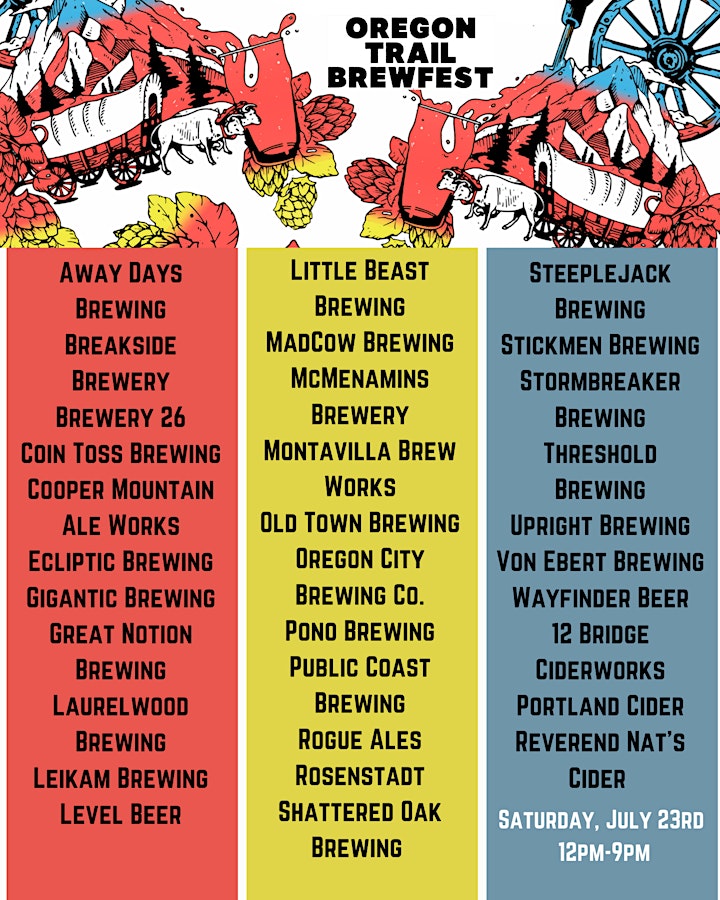 OREGON TRAIL BREWFEST FAQ'S
WHEN IS THE FESTIVAL?
The festival will take place on Saturday, July 23rd from 12 pm - 9 pm.
WHERE DOES THE OREGON TRAIL BREWFEST TAKE PLACE?
The festival takes place on the lawn at The End of The Oregon Trail Interpretive Center located off HWY 213 in Oregon City. The physical address is 1726 Washington St., Oregon City, OR 97045.
HOW MUCH ARE TICKETS TO THE BREWFEST?
The Oregon Trail Brewfest does not charge admission to enter the festival grounds. In order to consume beer or cider, the purchase of a current year's souvenir tasting glass is required (the festival does not fill previous year's glasses). The 2022 tasting package is $20, which includes a souvenir glass and 10 tasting tickets. Additional tasting tickets can be purchased at 10 for $10. The purchase of a tasting package can be made online in advance at Oregon Trail Brewfest or Eventbrite, or day of on-site from the ticket booth located just inside the entrance. Glass/ticket sales are open from 12 pm to 8 pm. Glasses and tickets are non-refundable.
HOW MUCH DOES A BEER OR CIDER COST?
Beer and cider is purchased with tickets, which cost $1 apiece. Patrons pay five tickets for a 12 oz pour or two tickets for a 4 oz taster.
HOW CAN I VOLUNTEER?
The Oregon Trail Brewfest is always looking for volunteers. In addition to having a great time, you'll receive a festival tasting glass, 10 tickets for beers, a festival T-shirt and 50% off all Oregon City Brewing Merchandise. You must be at least 21 years of age and hold a current OLCC license to volunteer. Learn more at Oregon Trail Brewfest Volunteer
WHERE CAN I FIND PARKING?
Limited parking is available on site at the End of The Oregon Trail Interpretive Center located at 1726 Washington St. Additional parking is located around the corner at the Clackamas County Abernethy Parking Lot located at 902 Abernethy Rd. You may also park on any surrounding public city street or parking lot. Please click on the "parking" link on the festival website for details.
Please consider carpooling, ride sharing, or taking public transportation as parking is limited. The closest transit station is the Oregon City Transit Center located 0.7 miles away. Check TriMet for routes and schedules.
CAN I PURCHASE BEER TASTING TICKETS IN ADVANCE?
A Beer Tasting package can be purchased in advance on the festival website at Oregon Trail Brewfest or at Eventbrite- Oregon Trail Brewfest Buying in advance saves you from waiting in line at the festival!
WHAT IS THE APPROPRIATE ID TO PURCHASE BEER TASTER TICKETS?
You must be 21 or over on the day of the festival to drink beer and/or cider. Please be prepared to show proper identification of proof of age in order to purchase beer tasting tickets. Valid ID includes a valid state driver's license with a photo; a valid ID card issued by a state with photo, name, date of birth and physical description; a valid passport; or a valid United States military identification card. We are unable to accept any foreign driver's licenses (with the exception of Canada). Note that the identification cannot be expired at the time of the festival.
CAN I BRING MY CHILD?
Minors are allowed during all hours of the Oregon Trail Brewfest while accompanied by a parent. Parents of minors accept full responsibility for the minor(s) while onsite. Minors must be supervised at all times. No bikes please.
CAN I BRING MY ANIMAL?
Well behaved dogs are welcome at the festival. Dogs must be kept on a leash at all times and must be cleaned up after as per Park rules. There is an island area in the parking lot, just outside from the event itself, that may be used as a canine rest area.
CAN I BRING A BLANKET OR CHAIRS?
Absolutely! There will be plenty of lawn space to spread out.
CAN I BRING A GLASS OR TICKETS FROM ANOTHER YEAR?
No. The 2022 souvenir tasting glass is the only vessel that will be filled; glasses from past years will not be filled. Tickets from previous years are not valid.
WHEN DO YOU STOP SELLING TICKETS AND GLASSES?
We stop selling tickets and glasses at 8:00 pm.
WHEN DOES THE FESTIVAL STOP POURING?
Last call will be at 8:30 pm. That means no alcohol is poured after that time. You can hang out for a little while after that, but security will do a sweep around 8:45 pm.
WILL THERE BE ANY FOOD ON SITE?
Yes! There will be several food carts at the festival offering a variety of food, snacks, and non-alcoholic beverages. These vendors do NOT accept tickets.
CAN I BRING IN MY OWN FOOD OR BEVERAGES?
No. There will be several food and drink options inside the festival.
IS THERE ANYTHING NON ALCOHOLIC TO DRINK?
Yes! There will be six food carts, many of whom will be offering non-alcoholic beverages such as sodas, lemonade and water.
ARE THERE ANY GLUTEN FREE OPTIONS?
Yes! There will be offerings from Groundbreaker Brewing along with four different cideries.
IS THERE ANYTHING TO DO BESIDES DRINK BEER AND CIDER?
Tasting beer and cider made along the original Oregon Trail is the focus of the Oregon Trail Brewfest, but there are other activities as well. There will be live music all day, a souvenir booth selling OTBF t-shirts and Oregon City Brewing Co. merchandise (cash or credit accepted), and lawn games like Cornhole, Giant Jenga & hula hoops.
CAN I SMOKE?
Sorry, no smoking. The Oregon City Council passed a total smoking ban in city parks in 2016, so smoking is not allowed at the Oregon Trail Brewest. The ban applies to all tobacco, e-cigarettes, marijuana and vaping products.
IS THERE WINE?
There is no wine available at this year's event.
IS THERE WATER AVAILABLE FOR DRINKING?
We will have a water bottle filling station, where you can also rinse your festival glass, on the path between the beer trailers and covered wagons that pour potable (safe for human consumption) water. Additionally, most of the food vendors sell bottled water.
IS THE EVENT ADA ACCESSIBLE?
Yes. There is a paved path from the entrance around the perimeter of the festival area including access to an ADA accessible restroom, water, and the food court. Access to beer trailers will be on grass. There are some gravel areas and up and down slopes around the backside of the museum outside the festival area with ADA Access.
WILL THE OREGON TRAIL INTERPRETIVE CENTER BE OPEN?
Yes. The museum will open during regular business hours.