An awards program and live screening of international independent films in The Dalles, Oregon.
About this event
The ninth edition of the Oregon Short Film Festival will take place on Saturday November 6th, 2021 at The Sunshine Mill Winery And Drive-Up Theater in The Dalles, Oregon (not Dallas) presented by Film Festival Circuit. The official selection laurels are located at this link. The Oregon Short Film Festival usually gets 250+ attendees throughout the day for this live screening. This event was hosted by Mikel Fair, Festival Director and author of the Film Festival Submitter's Handbook. The tickets for this event are sold PER CAR not PER PERSON. Each carload is $37 per ticket. Food and beverages are available for purchase separately.
Schedule
3:00 PM - Film Industry Networking and Photos (Indoors)
4:00 PM - Awards Presentation and Film Introductions (Indoors)
5:30 PM - Outdoor Film Screenings
Midnight - End Of Program
*Please note: Masks are required for indoor events.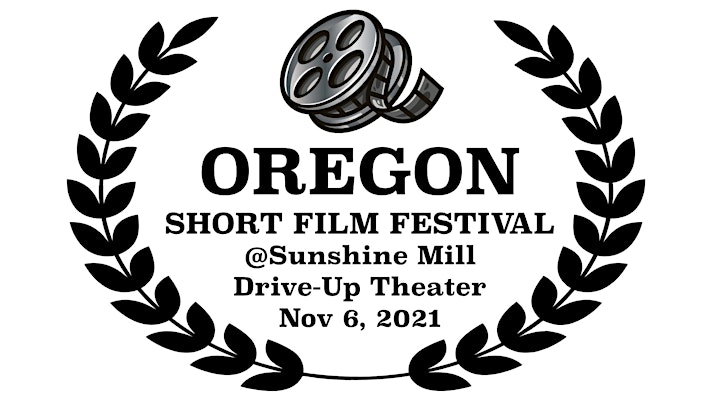 Photos from a previous Oregon Short Film Festival event at the Sunshine Mill Winery And Drive-Up Theater. (Below)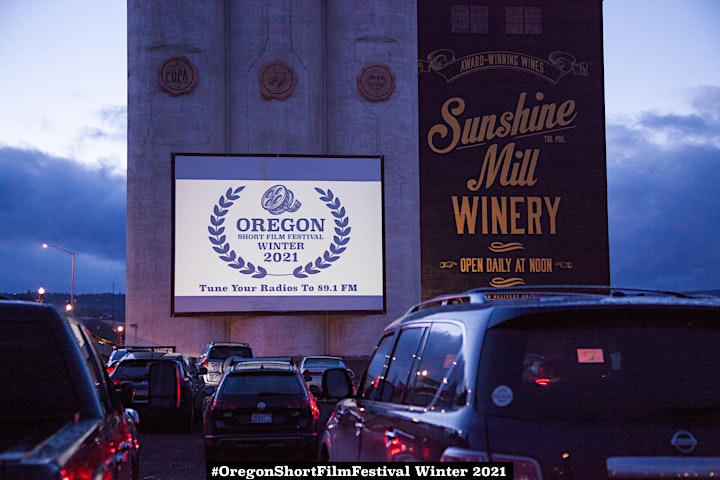 Screening Order of Films Starting at 5:30p
Attending Filmmakers screen in the first 4 hours of the program. If you are attending and do not see your film on this list, please email the festival director ASAP.
Block 1: 530p - 800p
Oregon Short Film Festival Intro Video (5 minutes)
The Round Table, Directed by Ash Blodgett (California)
40ish..., Directed by Traci Hays (California)
A Helping Hand, Directed by Alexa Alberda (Montana)
A History of Worry, Directed by Charles Austin Muir (Oregon)
A Place to Grow, Directed by Ricky King (Oregon)
After the Beep, Directed by Jared Waters, Dan Klamerus (Oregon)
Again and Again, Directed by Court Ross (Oregon)
Artifact, Directed by Kyle Michael Porter (Oregon)
Birthday at Jiggly Gigglies, Directed by Jon Garcia, Sarita Cronyn (United States)
Breaking & Entering, Directed by Michael William Hogan (California)
Block 2: 800p-1030p
Buddy Bot, Directed by Joey Jordan (California)
Charlotte On The Rebound, Directed by Evan A. Baker (Oregon)
Common Monsters: Chapter 1, Directed by John Irvine (United States)
Dearly Departed, Directed by Sebastian Ibanez (California)
Doobie Run, Directed by Jenna Wallace and Annalena Barrett (California)
Drag Queens Must Die!, Directed by Robby Kendall (California)
Dreaming, Directed by Minjun Kim (United States)
Father Mary, Directed by Sarey Martin (California)
Front Porches, Directed by Katie Prentiss (Oregon)
I Feel A Stillness Growing 3, Directed by Jonah Lorsung (Oregon)
Invisible Pain, Directed by Elly Aronson (United States)
Aturdir, Directed by Ruth Mataya Gango (Oregon)
Block 3: 1030p-1230a
Just a Man and a Woman, Directed by Oscar Torre (California)
Masks, Directed by Samm Azen (California)
Muted Canary, Directed by Jin Ryu (Oregon)
My Son, Directed by Kubendran Periasamy (Virginia)
Realationship, Directed by Bo Nawacharee (California)
Rocky is Dead, Directed by Drew Crosby (Oregon)
Spring Cleaning , Directed by Joe Boothe (California)
The Old Growth, Directed by Aaron Nelson (United States)
The Twerker, Directed by Dustin Norton (United States)
Transcending Duality, Directed by Alexa Lautenschlager (Oregon)
Le Pigeon, Directed by Molly Stark-Ragsdale (Oregon)
Efflictim, Directed by Xander Alvarado (California)
Call(The)Girl, Directed by Hee chul Kwon (Korea)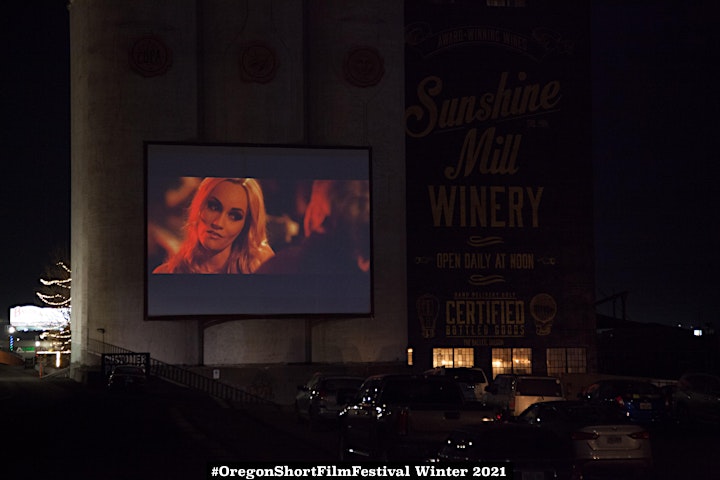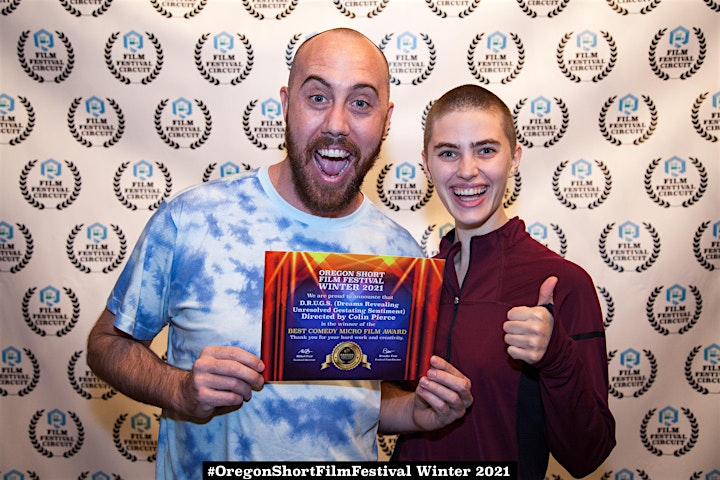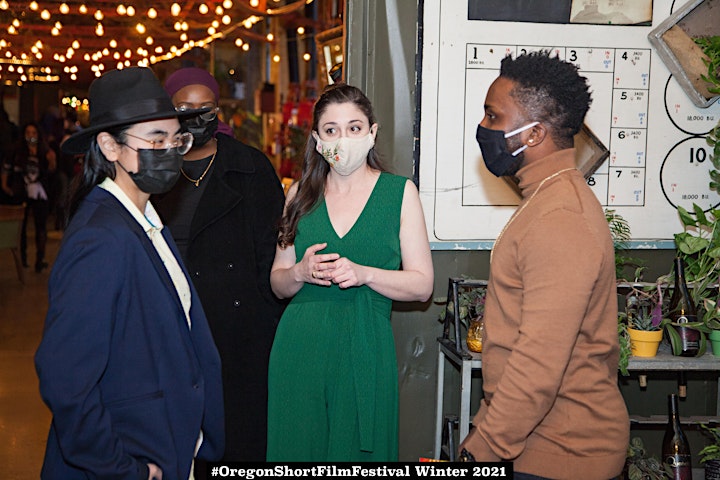 Screening Order of Films (Non Attending Filmmakers)
*We are still waiting for files and verification from some of these filmmakers. If your film is on this list and you plan to attend, please contact the festival director ASAP. We will move you into the first group of attending filmmakers. Please note, some films have cancelled at the last minute due to flight disruptions and will screen at Oregon Short Film Festival Winter 2022 which will take place of February 20, 2022.
Jeff Can't Swim, Directed by Michaela Myers (United States)
La Mouche (The Fly), Directed by Stuart Trautenberg (California)
Mike Sizzer | a chair wrestling documentary, Directed by David Over (Washington)
My Family Trees, Directed by Roshi Givechi (New York)
(The Making of) Please Don't Make Me Play Piano Man, Directed by Steve Nerangis (Virginia)
21, Directed by Damian Gonzalez, Jeremy Weinstein (California)
A Machine For Boredom, Directed by Marc Cartwright (California)
A Midwinter Nightmare, Directed by Kristina Hampton (Canada)
Abby and Emily Go To Palm Springs, Directed by Hellin Kay (California)
Behind the post , Directed by Nicole Georgiou (United Kingdom)
Bettgeflüster (PIllow Talks, Comedy), Directed by Domenico Distilo (Germany)
Blocks On Gina, Directed by Lauren Sevigny (California)
Boundary, Directed by Justin Odell Stuckey (Washington D.C)
Brain Sync, Directed by Jon Kruzic (Pennsylvania)
Brutal Honesty, Directed by Jake Isaac, Dominic Döring (United Kingdom)
CASE #3809 - The Eldritch Mortician, Directed by Jose Evangelista (California)
ChickenQueen Paradise, Directed by Ken Blindenbacher (Switzerland)
Coffee Bikes, Directed by Ryan Austin (Canada)
Complicated, Directed by James Faucett (Georgia)
Conductor, Directed by Royce Leii (New Mexico)
Contact High, Directed by Woody Woodhall (California)
Continuum, Directed by Calum Hotchkiss (Canada)
DDD, Directed by Eric Unusual (Texas)
Defenseless, Directed by Javier Augusto Nunez (California)
Dinner For Two, Directed by Joe Lobianco (New York)
Efflictim, Directed by Xander Alvarado (California)
Equus Landing, Directed by John Mannion (United States)
Erin , Directed by Sophia Costanzo (United States)
Expedition 37, Directed by Maggie Colligan (New York)
feellove "If I Could Hold It", Directed by Tamrikø Abøyantz (Russian Federation)
Fig Jam, Directed by Frank J. Avella (United States)
First Note, Directed by Ziyao Susan Xie (California)
Frozen Heart, Directed by Nina Guseva (Russian Federation)
Frozen in Time, Directed by Andrew Neylon (Texas)
Giraffe, Directed by Dan Nicholls (Canada)
Glass Darkly, Directed by Dave Penner (California)
Gus Alva | Paradigm+++Mas, Directed by Vic Huber (California)
Home For Dinner, Directed by Tim C Johns (Oregon)
I Don't Want Him Either, Directed by Heather Hawthorn Doyle (Canada)
If I Tell Them, Directed by Oliver Sutro (Colorado)
If You Give a Beach a Bottle, Directed by Max Romey (United States)
Ill Nil, Directed by Chris Howarth (Canada)
In Case We Get Found, Directed by Sarah Young (New York)
Inima Pottery, Directed by Hajime Kadoi (Japan)
K&A: Lost & Found, Directed by Katie Shannon (Massachussetts)
La Plata Del Real, Directed by Caleb Sean Hatton (Mexico)
Lemons, Directed by Danny Lewis (Florida)
Life's Work, Directed by Jon Mancinetti (California)
Litmus, Directed by Travis Darkow (United States)
Matched, Directed by Russell Sorbello (Maryland)
Mute, Directed by Kyle Dunbar (Canada)
No Clownery, Directed by Kiersten Houser (North Carolina)
Not Worth Killing, Directed by Eric M. Ivey (California)
Nyctophobic, Directed by Theo Francocci (California)
Once Beautiful Woman, Directed by Frankie Guerrero, Jr. (California)
Ourselves, in Stories , Directed by Marjee Chmiel (Maryland)
Pacifica, Directed by Lexy McAvinchey (California)
Pickled, Directed by Jingyu Zhang (California)
Pointy Things, Directed by Nathaniel Goselwitz (Canada)
Posies, Directed by R.H. Stavis and Katherine Fisher (California)
Post Pandemic Dinner Party, Directed by Nathaniel Akin (Canada)
Prisoner #1616, Directed by Michael Fodera (New York)
rêver, Directed by Nath Milburn (United States)
Ripple, Directed by Ryanna Kim (Washington)
Shapes, Directed by John Ahle Kellar, Tyler Posey (California)
Shevolution, Directed by Seidy Lopez (California)
Signals Intelligence, Directed by Nigel Gould-Davies (United Kingdom)
Sound of Judgment , Directed by Julia Wall (North Carolina)
Steve & Steve, Directed by Merve Caydere Dobai (Oregon)
Takilma Stories, Directed by Philip Lauri and Steven Oliver (Michigan)
The Beast, Directed by Lastrajoli Pascal (France)
The Farmer and the Lightning Storm, Directed by Danielle Browne (Maryland)
The First Jewish Surfer, Directed by Brett Maline (California)
The Innocent Butler, Directed by Rowen Kahn (California)
The Letter, Directed by Kexin Cai (California)
The Life of Sophie, Directed by Rafael Star (Australia)
The Meeting, Directed by DC Evans (Ohio)
The Monster Inside, Directed by Ashley Hammelman (Indiana)
The One You Want, Directed by Bryan T Bostic (United States)
The Papers, Directed by Jess Carson (United States)
The Puppet from Planet H , Directed by Courtney James (Canada)
The Ravens of Verdugo, Directed by Vance Crofoot (California)
The Roommates, Directed by Jennifer Msumba (Florida)
The Tick, Directed by Rebekah Louisa Smith, Massimo Poli (United Kingdom)
Too Many Buddhas, Directed by C. Fraser Press (California)
Vi Von, Directed by Boris Muzychuk (California)
Voices from the Void, Directed by Theo Burtis (United States)
Organizer of Oregon Short Film Festival Fall 2021