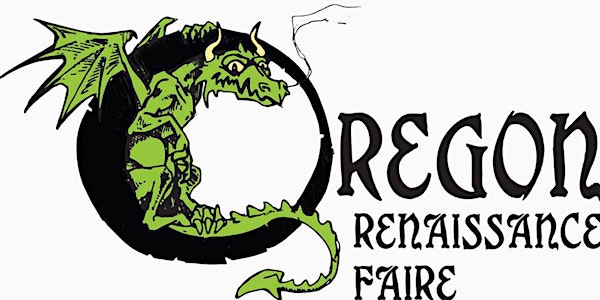 Oregon Renaissance Faire June 5-6 & 12-13, 2021
Welcome to the Oregon Renaissance Faire 2021!
When and where
Location
Clackamas County Event Center 694 NE 4th Ave Canby, OR 97013
About this event
Join us for the 2021 Oregon Renaissance Faire!!
**June 5-6 & 12-13, 2021**
Join Her Royal Majesty Mary Stuart, Queen of
Scotland, England, Ireland, and France as She
arrives in the Vale of Dunrose upon
Her Royal Progress of 1564!
Musicians, jugglers, magicians, and entertainers of all
pedigrees attend Dunrose seeking a chance to
catch Her Majesty's eye upon Her annual visit to
the Scottish countryside.
As the clouds part, even the Heavens prepare for Her Majesty's arrival!! 
Shout "Huzzah!" for  the Knights of the Realm at Her Majesty's Tournament and Joust
and watch in awe as they display acts of gallantry, bravery,
and a skilled arm with sword and lance! 
Explore the streets of Dunrose, ripe with merchants offering fine jewelry and tasty treats.
Discover garments to adorn any peasant or visiting Royalty and trinkets
in all shapes and sizes to please each of your family member's fancy.
Sing a shanty with a pirate or watch the joust while enjoying a
mead, ale, or cider with our Ale wenches at The Cat and Fiddle Public House!
June 5th & 6th, 2021
June 14th & 15th, 2021
Gates open 10am - 6pm
Children 5 and under are Free!
FAQs
Will the Knights be Jousting each day of the Faire?
There are several jousts a day for our guests to enjoy! See our website, www.oregonfaire.com, for an updated schedule of performances. 
What are my parking options at the event?
Parking is at the Event Center. Please go to the Yellow Gate B (past the main Fairgrounds office) for entrance. FREE parking is available. 
Is my registration/ticket transferrable?
Yes, you can transfer your ticket to someone else of your choosing.
Are my tickets only good for a specific date of the Faire?
No, tickets bought for the Faire are good for any of the days/weekends. They are not date specific.
Can I bring my pet?
Only Service animals are allowed on the Fairgrounds. Please do not leave your pet in your car during the Faire.
Is camping available on site for patrons?
Camping is not available on site for Guests, however there are many hotels and local campgrounds available for our out of town guests.      
Is the site wheelchair and stroller friendly?
The site is a grass field but is flat and accessible to wheelchairs and strollers. 
Do you have wheelchairs or strollers to rent?
We do not have wheelchairs or strollers available to rent at this time. 
Do I have to wear a Renaissance Costume? 
It is not required to wear a Renaissance Costume to attend the Faire, however many of our guests do enjoy dressing up to join in the fun and excitement of the Renaissance Era. 
Can my children who are under 18 attend alone? 
ALL children under 18 MUST be accompanied by an adult while on the Faire property. This includes parking, and all Faire areas.
Can I use my weekend pass for both Saturdays instead of Saturday/Sunday? 
Weekend passes MUST be used on ONE weekend (May not be used for two different weekends) 
Can I re-enter the Faire if I leave? 
Re entry into the Faire is allowed on the SAME day only. Make sure to get a hand stamp when you leave the Towne Gate.