| | |
| --- | --- |
| Oregon Fail: You Have Died of Comedy | |
Event Details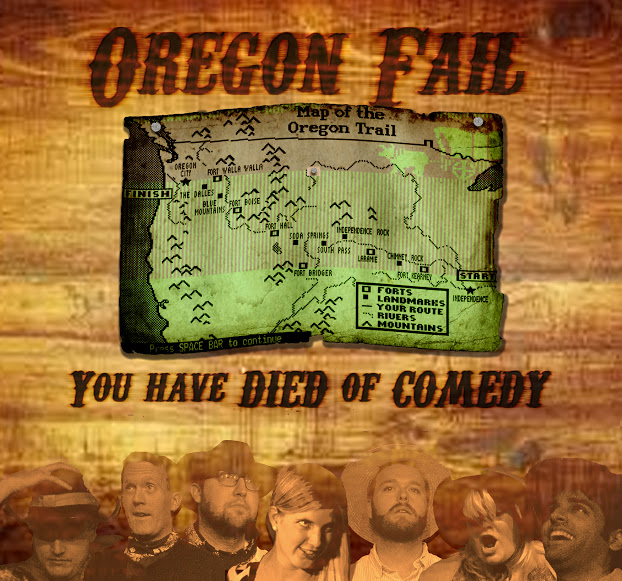 The Oregon Fail combines the adventure and whimsy of an improvised period comedy with a format based on one of the most popular video games of all time. The legends of Oregon describe that land as full of opportunity and wealth, but a cast of brave and decidedly expendable improvisers are going to show that the trail to get there is rife with seemingly randomly-created danger.
An all-powerful Player will make key decisions along the trail, determining how obstacles such as rivers, disease and bandits will be faced by the wagon crew. In between those decision points, the improvisers interact, hunt an ever dwindling buffalo population, and talk about the vast riches they will one day have, should they ever make it to Oregon...
Fridays at 10PM | January 6 - 27
---
TICKET INFORMATION 
Once you purchase, you will receive an order confirmation email from Eventbrite.
Just show up at the door 15 min prior to the show, say your name and head into the theater!
Organizer
NEW ENGLAND'S HOME FOR COMEDY
ImprovBoston has been New England's leading comedy theater and school for over 30 years. Voted "Best of Boston" by The Phoenix, The Improper Bostonian, and The Weekly Dig, ImprovBoston's alum roster includes Emmy Award winning comedians, and acclaimed actors, producers, directors, musicians and writers. You can see our alumni on Last Week Tonight with John Oliver, Conan, The Daily Show and Last Comic Standing, to name a few.