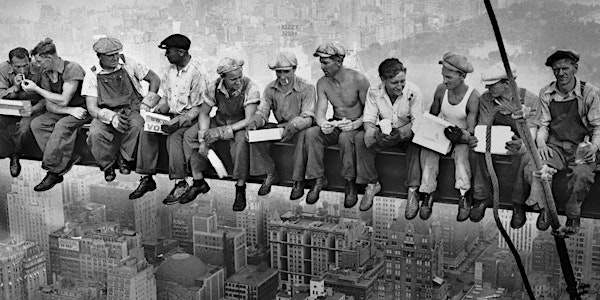 Ordinary People, Extraordinary Lives: A Pictorial History of Working People
The breathtaking and often heartbreaking stories of the workers who built New York City in the Twentieth Century
About this event
Ordinary People, Extraordinary Lives: A Pictorial History of Working People in New York City
Rachel Bernstein, Co-Author, Historian and Director of Labor Arts
Special Guest: Shi Greene
This will be an Online Lecture on Tuesday, July 20th at 6 p.m.
Rachel Bernstein is the co-author of Ordinary People, Extraordinary Lives: A Pictorial History of Working People in New York City, which tells the stories of the men and women who built the City—of towering structures and the beam walkers who assembled them; of immigrant youths in factories and women in sweatshops; of longshoremen and typewriter girls; of dock workers and captains of industry.
In this talk, Ms. Bernstein will discuss the traditions these workers carried with them to this country and how they helped create new ones, in the form of labor organizations that provided recent immigrants, often overwhelmed by the intensity of New York life, with a sense of solidarity and security.
Astounding in their own right, the book's photographic images, most drawn from seldom-seen labor movement photographers, are complemented by poignant oral histories which tell the stories behind the images. Ms. Bernstein will showcase some of these images and oral histories during her lecture.
Among the extraordinary lives chronicled are those of Philip Keating, who, seven years after a fellow worker photographed him painting the Queensboro Bridge in 1949, plunged to his death from another worksite; William Atkinson, who broke the color bar at Macy's and tells of fighting racism at home after fighting fascism abroad during World War II; and Cynthia Long, who fought gender barriers to become, in the late 1970s, an electrician with International Brotherhood of Electrical Workers Local 3. Providing historical context, Ms. Bernstein's lecture will bring the past clearly, emotionally, and fascinatingly alive.
Rachel Bernstein researches and teaches NYC working class history. She directs LaborArts, a non-profit using art, images and events to bring a broad audience to this often overlooked history. She taught in the graduate program in public history at NYU for 25 years, and continues to work on public history projects with NYU's Tamiment Library/Robert F. Wagner Labor Archives and at Brooklyn College's Graduate Center for Worker Education.
Shi Greene is a construction worker, an active member of Laborers' Local 79, and an outspoken advocate for safety in the construction industry. She speaks often about construction safety issues, including an appearance on the Brian Lehrer radio show, and is a mentor and Executive Director of Pathways To Apprenticeship .
The book is available for purchase here
Suggested donation: $15 General Admission; $10 General Society Members, and Senior Citizens; $5 Students.
Advance registration is required to receive the link to the Zoom Webinar Platform.