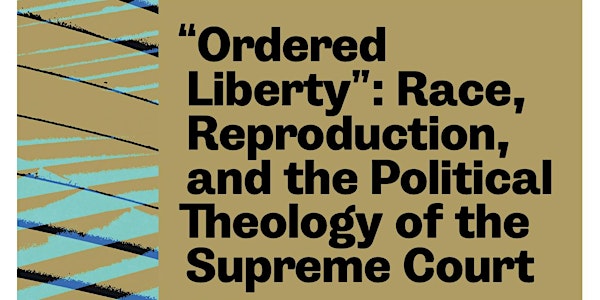 "Ordered Liberty": Race, Reproduction, & Political Theology of the SCOTUS
A talk by Amaryah Armstrong (Virginia Tech), with commentary by Chloé Samala Faux (Columbia); chaired by Andrea White (UTS).
About this event
The recent Dobbs v. Jackson decision puts the function of race in settling the matter of reproductive rights (to say nothing of reproductive justice) on display, showing the two to be crucial in establishing the legitimating reason and unreason of the decision. This talk considers how the convergence of race and reproduction in this decision can be an occasion to examine the enduring tie between the political and theological as manifest in the Supreme Court's function in US governance. A key source of the court's decision to overturn Roe and Casey is the sense that preserving those precedents is inconsistent with both the Constitution and the United States' "history and tradition of ordered liberty." Taking the dependence of the court's ruling on the significance of order to conceptions of liberty, this talk shows how the afterlife of racial slavery and reproduction's entanglement in the decision reveals a political theological sense of epistemological and existential order, and not only sovereignty, that is foundational to the court's authority, power, and function.