Multiple Dates
Order of Malta Lafayette Home Rebuilding Program - March 2018
Event Information
Refund Policy
Refunds up to 1 day before event
Description
Volunteers Needed
Order of Malta Lafayette Home Rebuilding Program
Lafayette, Louisiana
March 4-8, 2018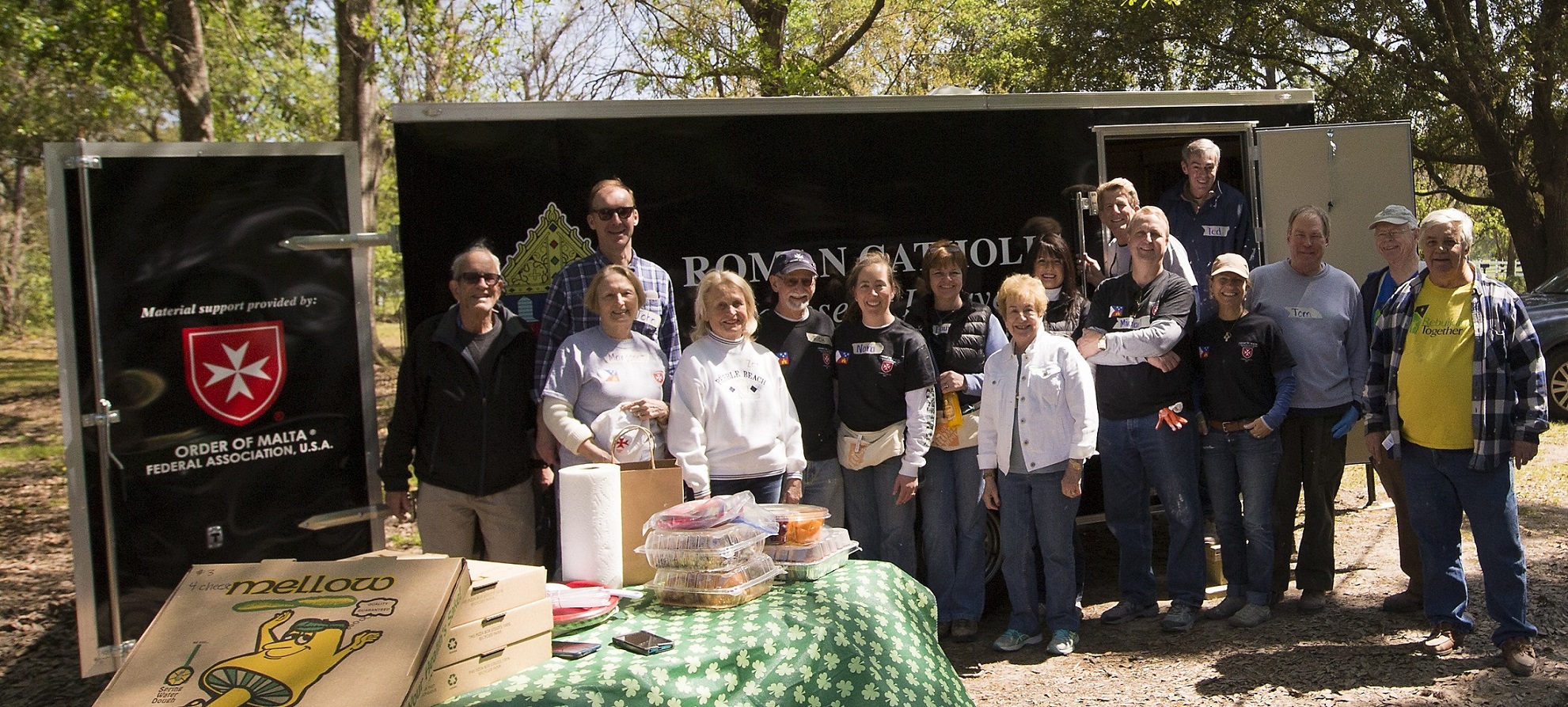 About
The Lafayette Homebuilding Project is a partnership between the Order of Malta, Malteser International, Rebuilding Together Acadiana, & Catholic Services of Acadiana. Our goal is to help displaced homeowners from the Lafayette area to get their homes repaired and habitable again. Volunteers will arrive on their own on Sunday afternoon, and check into the DoubleTree Hotel in Lafayette. We work Monday – Thursday from 8:00 AM – 4:00 PM. Lunch and dinner will be provided except Wednesday evening when volunteers are free to explore the many dining options available locally. There will also be a farewell party on the last night. On Friday, most people depart for home.
The flooding in south Louisiana was truly historic and has been officially classified as a 1000-year flood by the U.S. Army Corps of Engineers. Unlike Katrina in New Orleans, where broken levees caused much of the problems, a tropical system developed unexpectedly overnight in the Gulf of Mexico, moved onshore over South Louisiana and just went stationary. More than 18 inches of rain fell in the first 24 hours, and heavy rains continued for days. The Washington Post noted that the "no-name storm" dumped three times as much rain on Louisiana as Hurricane Katrina, an approximate 7.1 trillion gallons of water. Rivers, bayous, canals and drainage infrastructure were completely overwhelmed. The geographic reach of the flooding and the number of structures damaged also far exceed those of Hurricanes Katrina and Rita in 2005. Over 146,000 homes were damaged by the flooding. The vast majority of these homes were not in flood zones and have never flooded before, it was something no one was prepared for. Because many of the areas that flooded were not in "high flood risk areas", the majority of homeowners affected by the flood did not have flood insurance.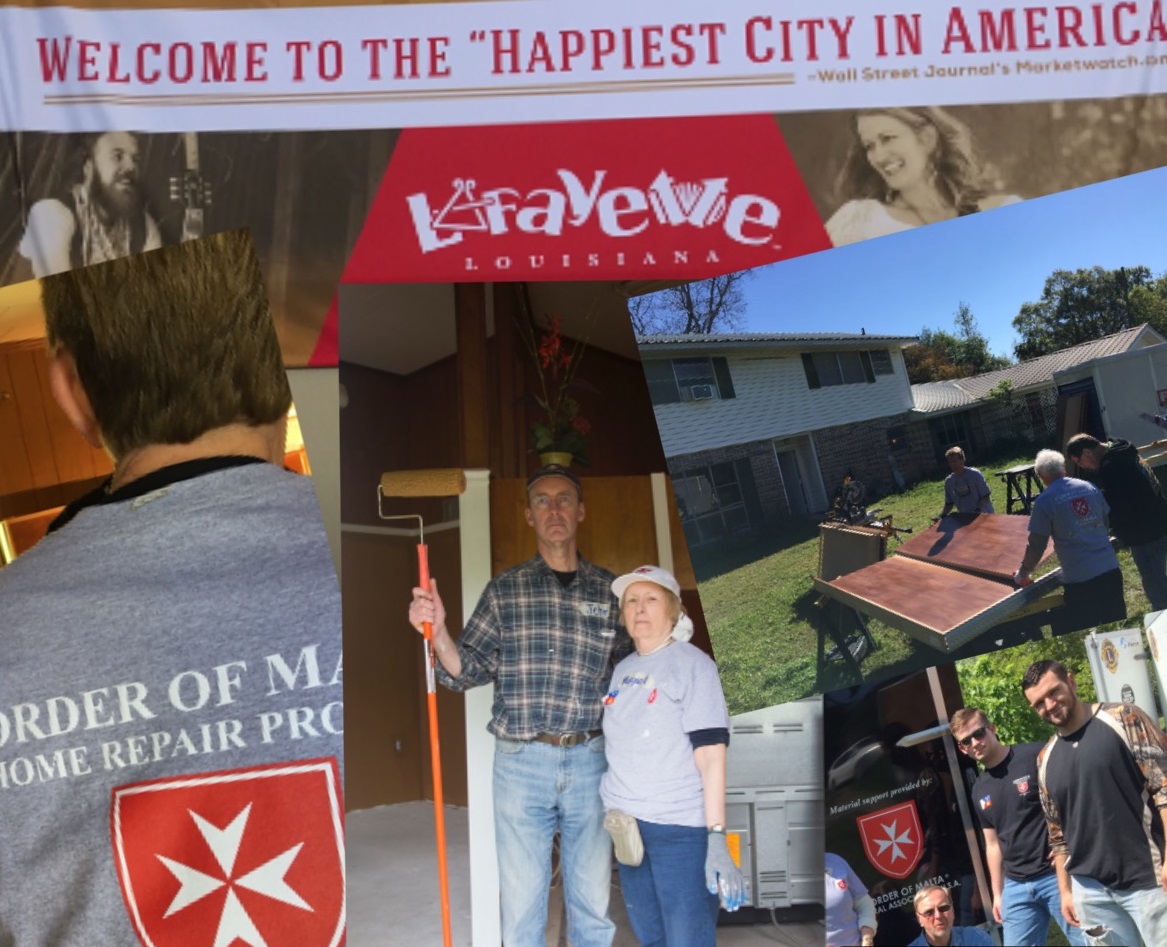 Work weeks
March 4-8, 2018
Work days are Monday through Thursday, arrive the day before on Sunday.
Who can volunteer?
Knights, Dames, candidates, family and friends are invited to participate. Volunteers must be at least 18 years old.

What kind of work will we be doing?
There is a job for everyone! Our volunteers are assigned to help the skilled tradesmen provided by Rebuilding Together. We will be scraping, cleaning, painting, landscaping, dry-walling, taping, installing appliances, and hauling supplies. Nobody will be asked to do anything that they cannot handle.
Where will the volunteers stay?
We stay at the DoubleTree Hilton on Pinhook Road in Lafayette. The hotel has extended to us a special $89/night rate for our stay.
Volunteers can place reservations by calling the hotel directly at (337) 235-6111. The respective code or the group name "Order of Malta" must be mentioned in order to receive our special rate.
How do volunteers get to Lafayette?
Airline service into Lafayette (LFT) is provided by American, Delta and United Airlines. The Doubletree Hilton provides courtesy transportation between the airport and hotel. Volunteers wishing to include a visit to New Orleans in their plans can fly into New Orleans (MSY) and rent a vehicle for the 2 ½ drive via I-10 West to Lafayette.
What about meals and other logistics?
There is breakfast at the hotel, a boxed lunch at the jobsite, and a delicious dinner most nights back at the DoubleTree. There is a briefing meeting before dinner on Sunday night and a Farewell Banquet on Thursday night. Wednesday evening, volunteers are free to explore the many dining options available locally.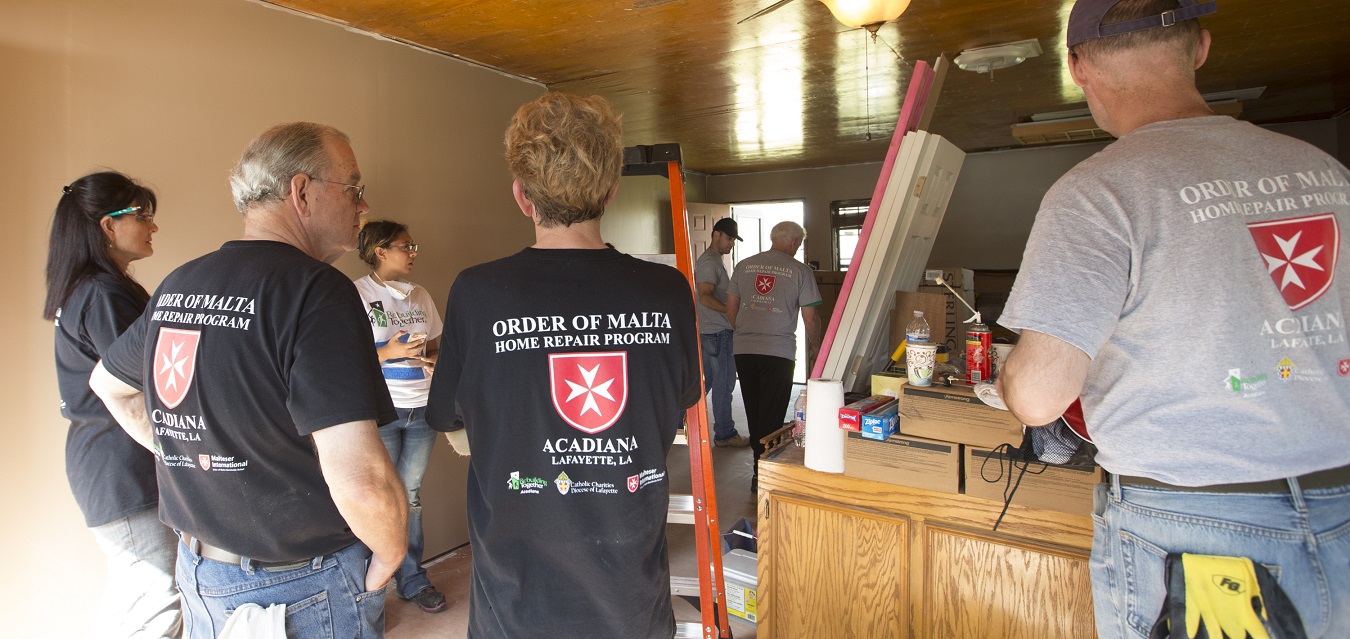 Do I have to pay anything?
Yes. In order to s-t-r-e-t-c-h our funds for the Home Renovation Program we ask all volunteers to pay (almost all of) their way. Members of the Order, candidates, and friends pay $400 + fees for the week. This covers all meals, in-town transportation, shirts, and other expenses. Hotel rooms are not included, book at the DoubleTree.
What do we wear?
Work clothes and sturdy boots / shoes. All volunteers will be outfitted with 4 t-shirts. Gloves and dust masks will be provided at the jobsite.
Documents
A waiver form will be emailed to all volunteers for liability and health insurance documentation. Bring this completed form to the Sunday night pre-job briefing. Blank copies will also be available at the briefing.
What else do we do?
It's not just all work. Mass is planned to be available for our volunteers every day, also some sightseeing opportunities and many music venues locally (Cajun, Zydeco, Blues, Country, etc...) can be explored in the evenings after group dinner.
Questions?
If you have any questions, please contact Paul David at pbdavid1@gmail.com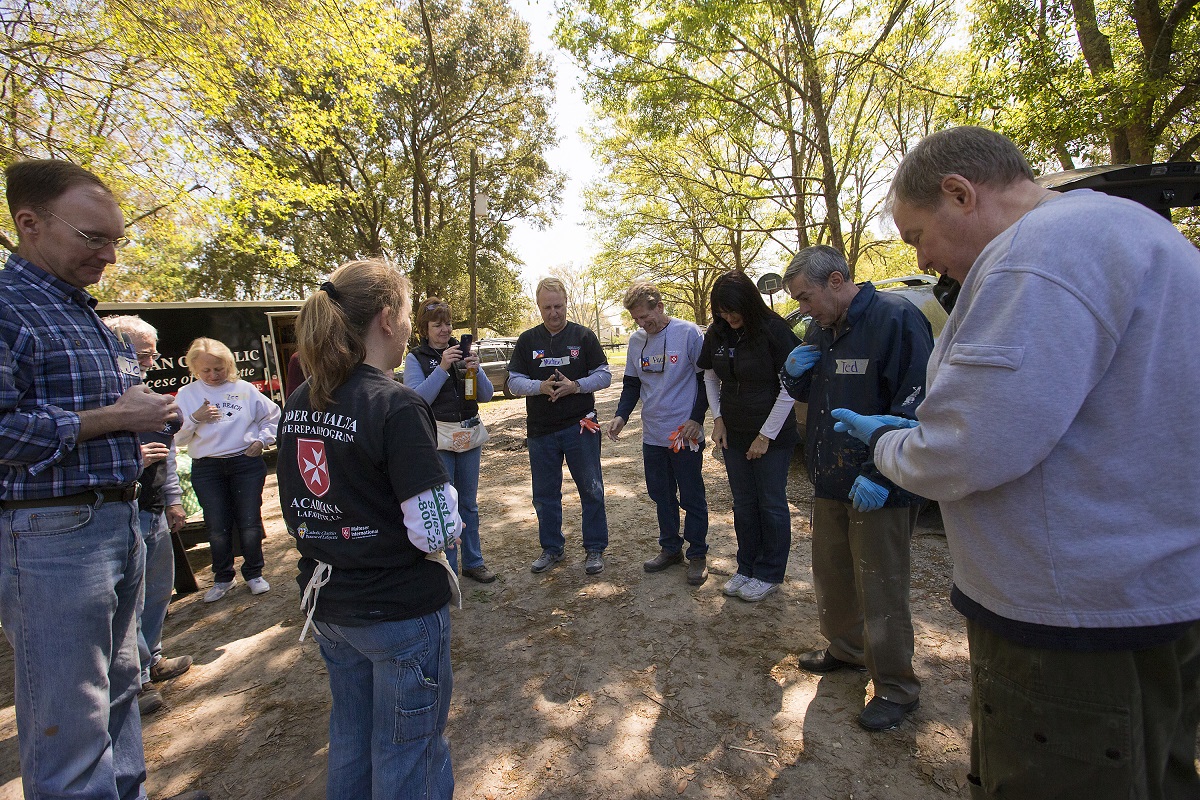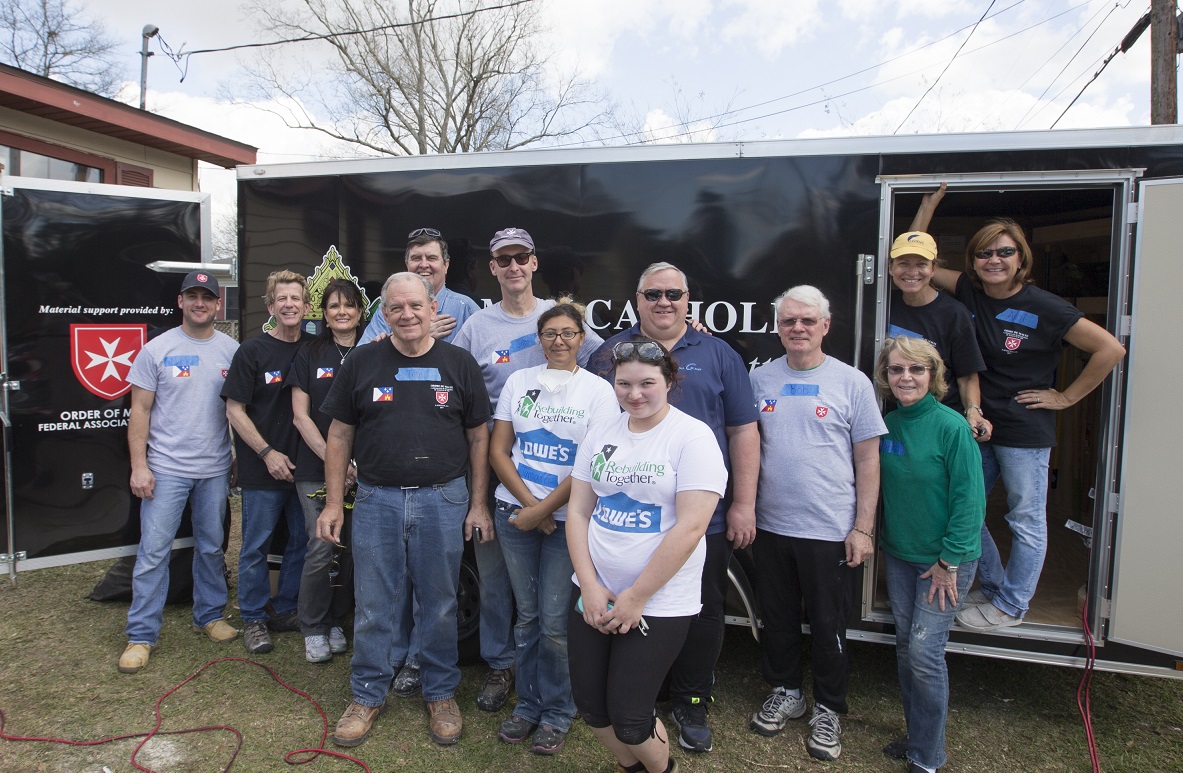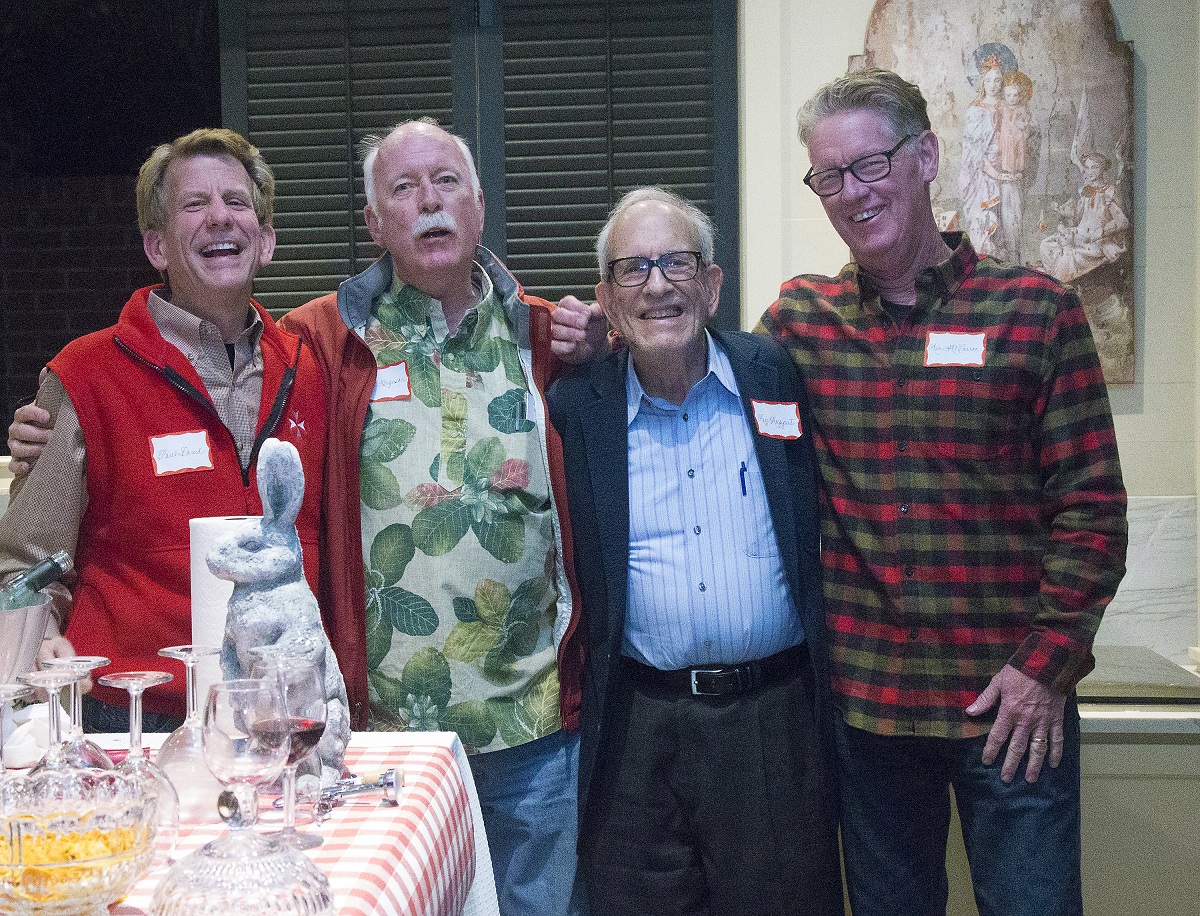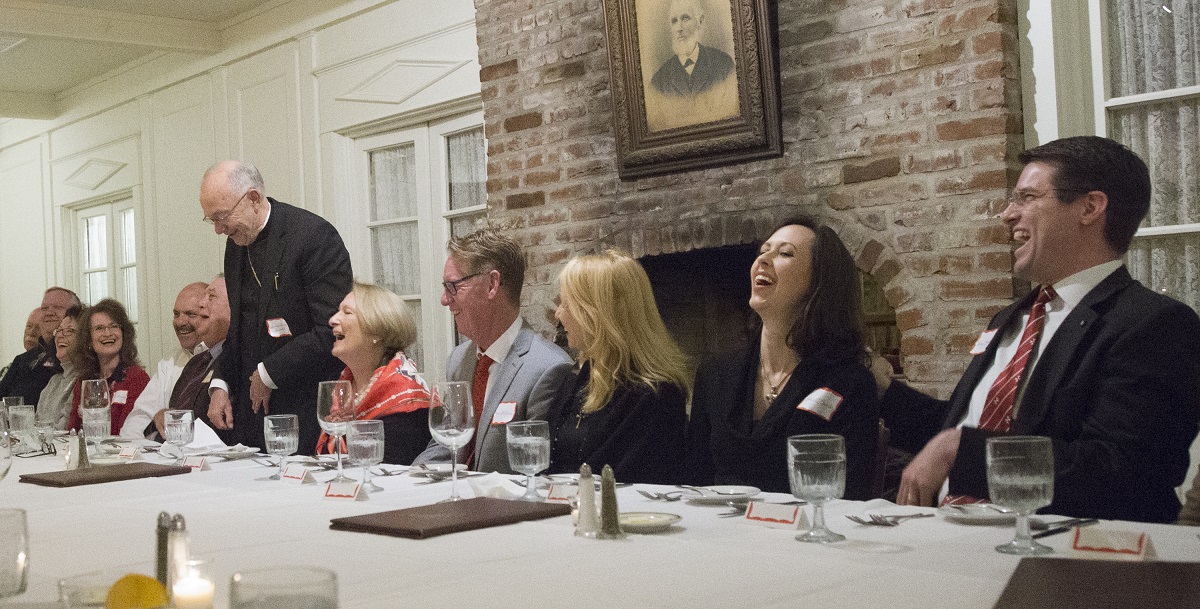 Location
Refund Policy
Refunds up to 1 day before event